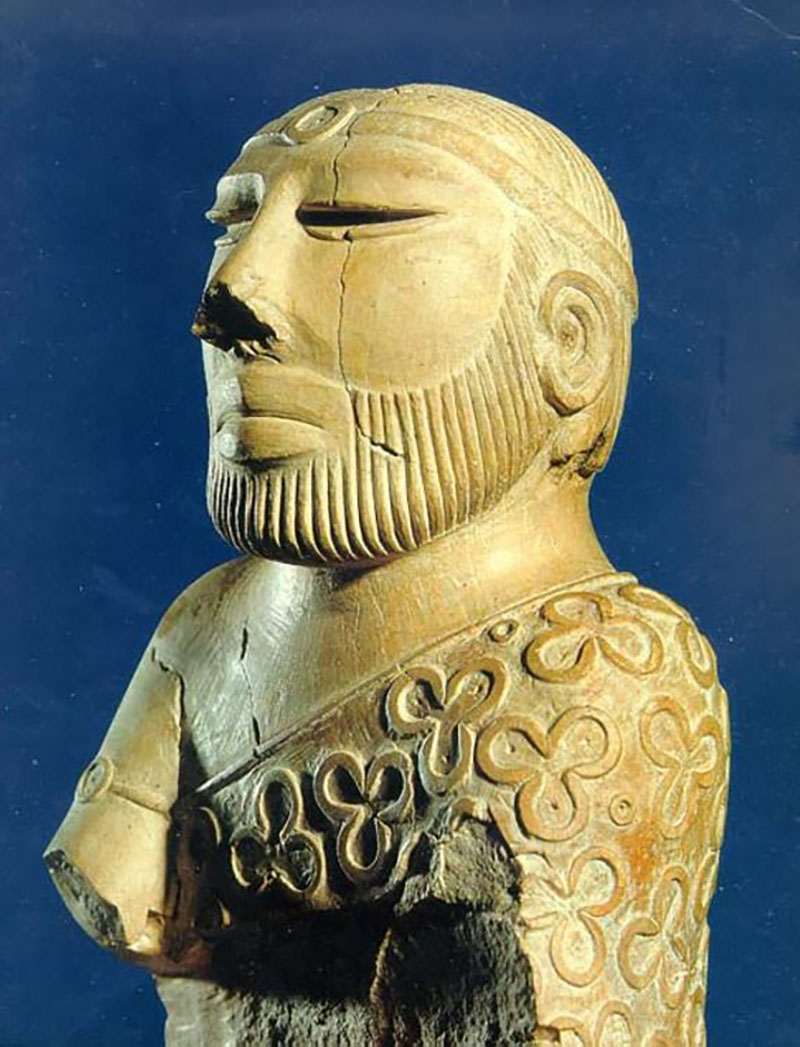 Priest-King Statue; Indus Valley Civilisation; Steatite; World History Encyclopedia
A decorative motif in the shape of a stylised three-petal flower, or a leaf with three leaflets, is known as trefoil. As a graphic form, it has a significant presence in Christian symbolism, gothic architecture and armorial bearings.
The trefoil motif features prominently in Indian textiles especially ajrak apart from jamdani, kalamkari, phulkari and chanderi. Its most famous depiction is its portrayal on the draped shawl of the Priest-king statue discovered at Mohenjodaro. Besides textiles, it has also been found in decorative items such as Tipu Sultan's attar (perfume) casket from the eighteenth century, where the top of the lip forms a scalloped trefoil design. The pattern has been notably present in sculptural tradition where its symmetry was used to form trefoil arches and niches behind deities, with attendants flanking on either side. Among these are statues made out of stone such as The Guardian of the South (Yama) and Ganesha from eleventh century Bhubaneswar, presently housed in Orissa State Museum, as well as bronze statues such as Halo Image of Vishnu from ninth century Kashmir housed in Sri Pratap Singh Museum, Srinagar.
Bibliography
Bilgrami, Noorjehan. "Ajrak: The Sacred Cloth of Sindh." Sahapedia. September 5, 2016. https://www.sahapedia.org/ajrak-the-sacred-cloth-of-sindh
"Casket Case Study: The Casket's Origins in Eighteenth-century India." East India Company ar Home, 1757–1857, University College London. Accessed, September 8, 2021. https://blogs.ucl.ac.uk/eicah/the-attar-casket-of-tipu-sultan/casket-case-study-the-caskets-origins-in-eighteenth-century-india/
Chandra, Pramod. The Sculpture of India 3000 B.C.–1300 A.D. Washington and Cambridge: National Gallery of Art and Harvard University Press. 1985. https://www.nga.gov/content/dam/ngaweb/research/publications/pdfs/sculpture-of-india.pdf
"Past-Continuous: Block Printing on Textiles in India." Craft Revival Trust, Google Arts and Culture. Accessed, September 8, 2021. https://artsandculture.google.com/exhibit/past-continuous-block-printing-on-textiles-in-india/wQGDHiAc
"Trefoil." Artlandia. Accessed, September 9, 2021. https://artlandia.com/wonderland/glossary/Trefoil.html
"Trefoil." Wikipedia. Accessed, September 22, 2021. https://en.wikipedia.org/wiki/Trefoil