ARTICLE
Abanindranath Tagore
(b. 1871; d. 1951)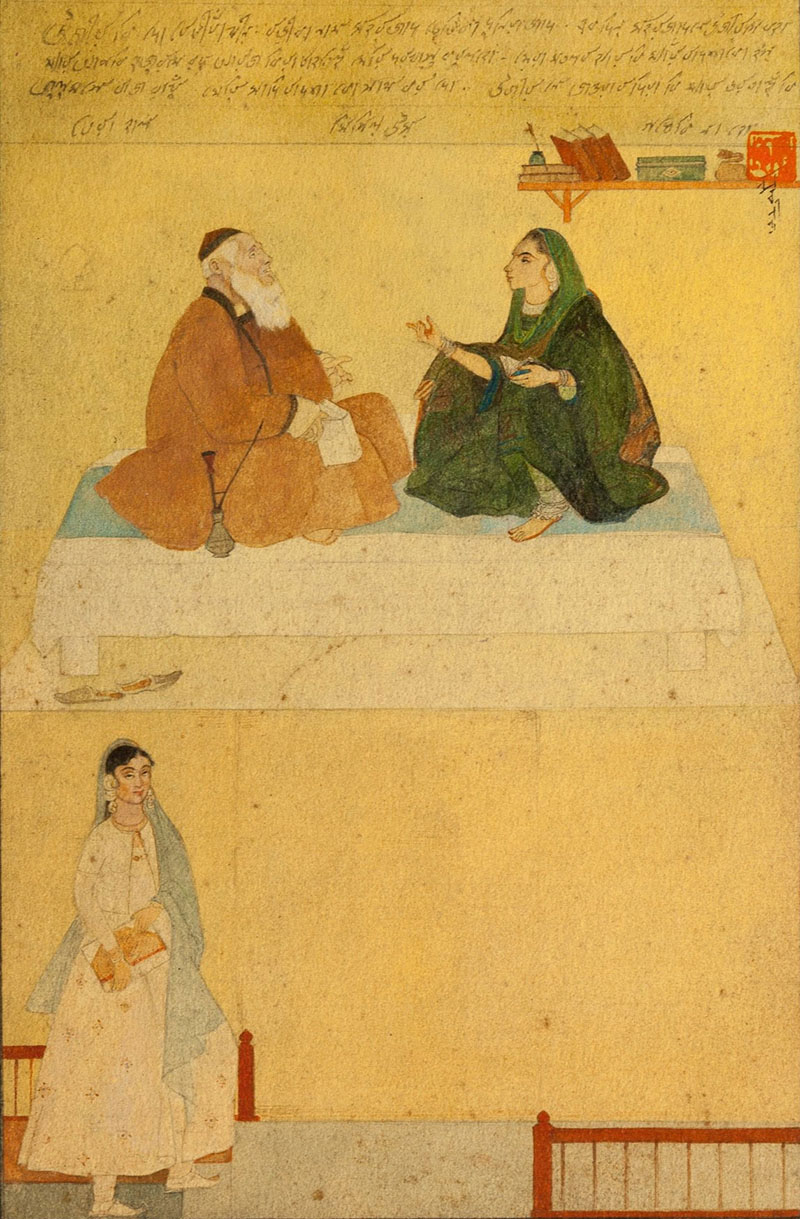 Wazir & Saharjadi.; Abanindranath Tagore; 20th century ; Watercolour ; Wikimedia Commons
Coming from the culturally and socially distinguished lineage of the Tagore family of Jorasanko, Calcutta (now Kolkata), Abanindranath Tagore emerged as an artist and writer towards the end of the nineteenth century, at a time of great political and cultural upheaval in colonial India. He is credited with the first formal response to European artistic and aesthetic conventions and values, founding and spearheading the Bengal School — a movement that aimed to reimagine a distinctly Indian approach to visual art. Through his paintings, he rejected the imported Realist and Western Academic style, promoting instead the ideals of Hindu spirituality and aesthetics to convey an authentic 'Indianness.'
For the development of this framework, he drew inspiration from the Japanese ink wash technique, a sombre colour palette and stylistic elements from Mughal, Rajasthani and Pahari miniature painting. In his depictions — which included themes such as Hindu mythology, history and Indian rural life — he sought to extract a pan-Indian visual motif and identity. As the Bengal School and Tagore's practice were contemporaneous with the Swadeshi movement of the early twentieth century, his work is also interpreted through a nationalist lens. This is nowhere more evident than in his painting Bharat Mata (1905), which personified India in the form of a divine Hindu deity and went on to become an enduring symbol of the nation and India's struggle for independence.
Tagore was homeschooled during his early years, and when his talents became evident, he was later sent to Sanskrit College, Calcutta, in the 1880s to study art. He began his career as an illustrator, with some of his earliest works appearing alongside the poems of his uncles Rabindranath Tagore and Dwijendranath Tagore in the magazine Sadhana in 1892. In 1890, he enrolled in the Government College of Art and Craft, Calcutta, where he met its principal EB Havell, an Orientalist scholar and pedagogue. Havell had advocated and secured curricular changes that incorporated the study of Mughal miniatures and emphasised the importance of traditional handicrafts in the syllabi of the fine arts and decorative arts departments, respectively. His search for a unifying image for Indian art that foregrounded tradition over prevalent Indian and Western conventions found resonance in Tagore's work and outlook. As such, his Modernism emerged as an alternative to that of Western-influenced painter Raja Ravi Varma, announcing a clear break from the practical, aesthetic and social aspects of colonial art production and distribution.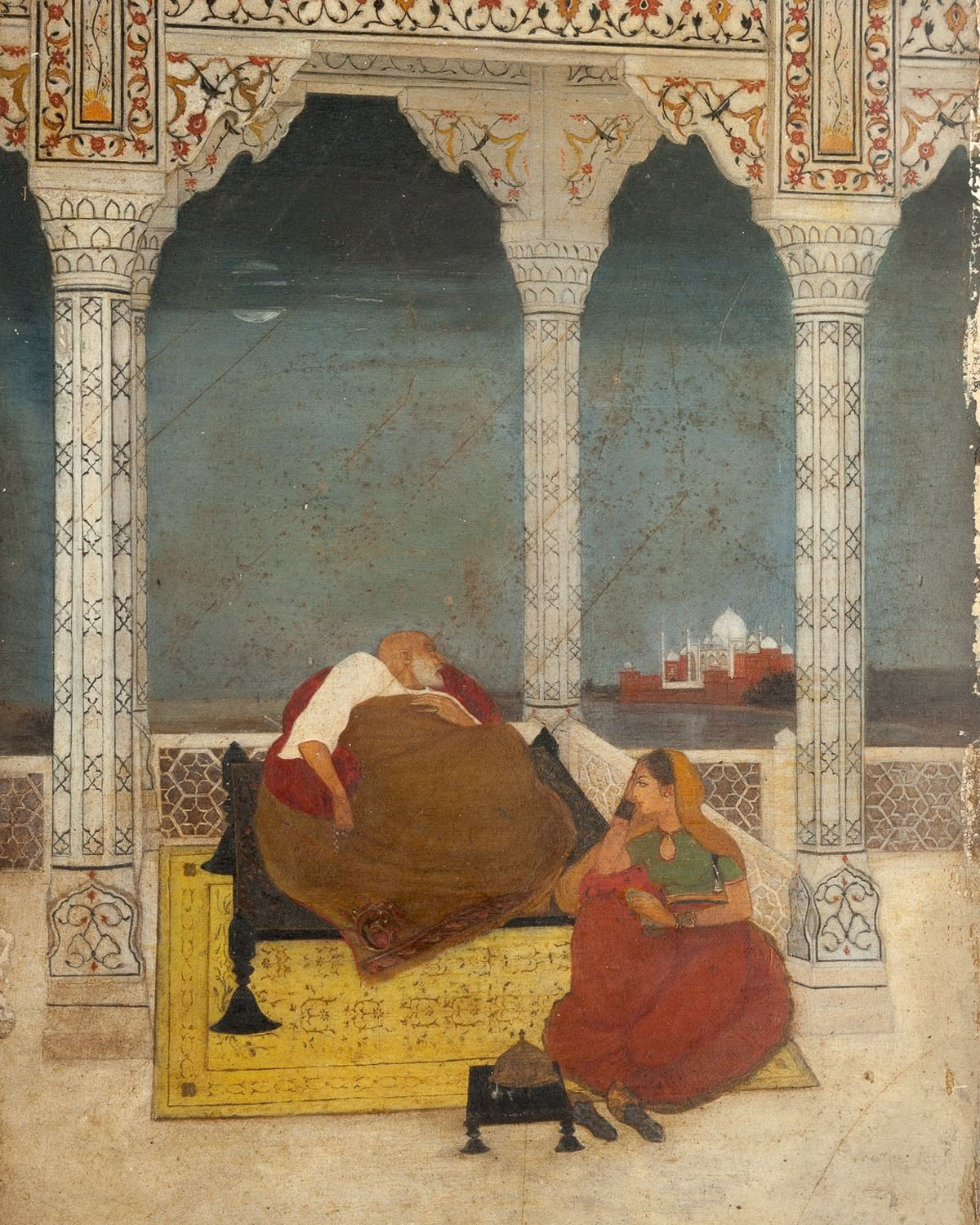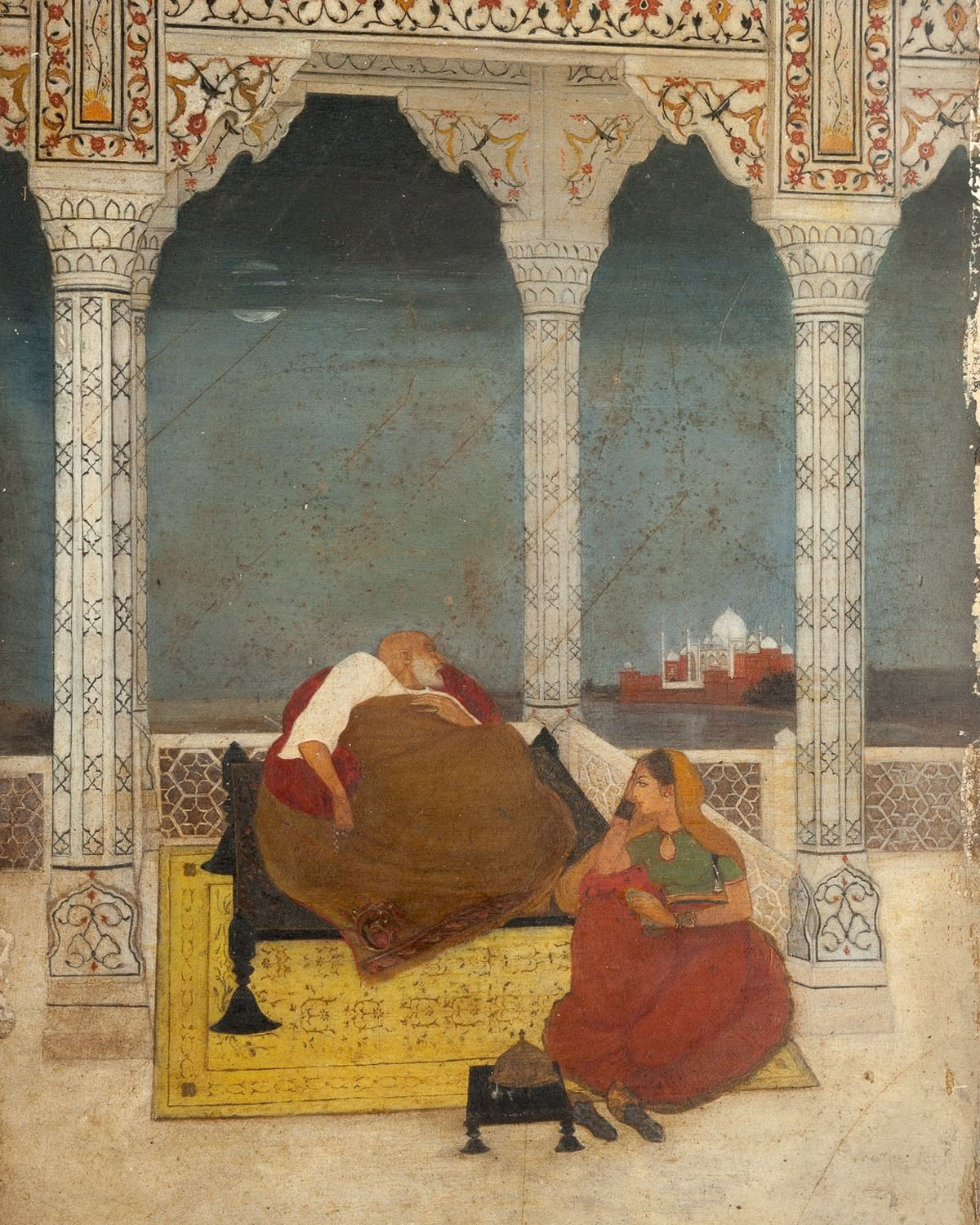 While Tagore's status continued to be associated with social and cultural privilege, as was the case with Ravi Varma, the conventions under which his art was produced and consumed began to be challenged. Tagore took strict exception to the Academic doctrines of life study, oil painting, and Realism. He envisioned an environment where an informed and discerning class of art professionals (such as artists, critics and collectors) would be able to produce and consume art free of the demands of formal training, professional success and livelihood. Havell's continued support of Tagore — in the form of journal articles introducing him to a European audience and an exhibition of his paintings in the Government Art Gallery, Calcutta — along with AK Coomaraswamy and Sister Nivedita's endorsement in the journals of Ramananda Chatterjee, Probashi and The Modern Review, brought him and his cause national and international recognition. Accompanying this increased visibility was the establishment of the Indian Society of Oriental Art, which grew organically out of a series of exhibitions of the members of the Bengal School — and with the aid of a number of influential Calcutta-based European Indophiles — in around 1907. The Society, by virtue of being the first art salon in India, provided the ideal platform for the consolidation of the 'Indianising' agenda of the Bengal School.
In the early experimental phase of his career, Tagore painted the Krishna Leela series (1895–97) from Jayadeva's Gita Govinda. From Kalidasa's lyric poems Meghaduta and Ritusamhara, he painted The Traveller and The Lotus, The Banished Yaksha and The Siddhas from Upper Air. In these, he attempted in different ways — composition, tone and technique — to inject elements of Romantic Naturalism into canonical pictorial traditions. His incorporation of bhava in the Mughal miniature style were met with great success, resulting in the Mughal Series (1902–05), which won him awards in the Delhi Durbar Exhibition (1911) and the Congress Industrial Exhibition (1902–03). The most celebrated in this series is the work Passing of Shah Jahan, where the intricate and material image of the Agra Fort stands in stark contrast to the frail and dying figure of Shah Jahan, attended to by his daughter Jahanara. The emotive quality of the series, and this painting in particular, was due in part to his personal and emotional investment in them, after his daughter's death during the plague in Calcutta at the end of the nineteenth century. His famous Bharat Mata painting was modelled after his daughter and directly reflected this loss.
Tagore is famously credited with introducing and promoting the use of the Japanese ink wash technique, which he learnt from the disciples of Japanese artist Okakura Kakuzo, whom the Tagores hosted at Jorasanko in 1903 and who shared his desire for formulating a pan-Asian aesthetic in opposition to Western Realism. Tagore also ascended to significant professional prominence. His appointment as vice-principal to the Government College of Art in 1905 allowed him to incorporate Indian painting into the curriculum. This gave a much-needed boost to traditional Indian artforms and generated the possibility of the artist as a professional and provided a space for modern art in general.
By the 1920s, however, as the influence of the Bengal School decreased, Tagore withdrew from public life and into a more personal practice of painting, illustrating and writing. He resigned from his post at the Government College of Art in 1915, but continued to remain active in academia, delivering a series of twenty-nine lectures on Indian art, aesthetics and philosophy at Calcutta University as the Rani Bageswari Professor of Indian Fine Arts between 1921 and 1929. While these developments took place, Tagore continued his artistic practice, distancing himself from the demands of nationalism and the Swadeshi movement. In this final phase of his career, he painted the Playmate (1925) and Pigeon series (1939–40), which consisted of landscape and animal studies and explored themes of talking animals and mythological tales inspired by his childhood stories. He also painted the famous Arabian Nights series (1930), casting the stories of ancient Baghdad in contemporary urban settings. The Kabikankan and Krishnamagal series (1939) were his last known works.
Tagore's contribution to art and the evolution of an autonomous identity for modernity in India, although significant, is no less credible than his legacy of children's literature and illustration. A prolific writer with a gift for narration, Tagore authored and illustrated several books for children and young adults; notable among them are Raj-Kahini, Sakuntala, Nahish, Buro-Angla and Kshiter-Putul. He also wrote several treatises on art, such as Bharat Silpa, Sadanga (Six Limbs of Painting) and Artistic Anatomy. Towards the end of his career, he released a three-part memoir — Apan Katha (published as a book only in 1947), Gharoa (1941) and Jorasankor Dhare (1944) — the first of which was authored by him and the others by his scribe Rani Chanda.
After his death in 1951, his entire collection of paintings were donated to the Rabindra Bharati Society, where they were kept in storage and not displayed publicly. In the last few decades, the paintings from the second phase of his career have been rediscovered by scholars such as KG Subramanyan, Tapati Guha-Thakurta and R Siva Kumar, who have attempted to read his later work outside the nationalist mould he was cast into during his lifetime.
Bibliography
Dey, Mukul. "Abanindranath Tagore: A Survey of the Master's Life and Work." Chitrolekha. Accessed September 11, 2020. http://www.chitralekha.org/articles/abanindranath-tagore/abanindranath-tagore-survey-master%E2%80%99s-life-and-work.
Guha-Thakurta, Tapati. Abanindranath, Known and the Unknown: Artist Versus the Art of His Times. Centre for Studies in Social Sciences, 2009.
Guha-Thakurta, Tapati. The Making of a New 'Indian' Art: Artists, Aesthetics and Nationalism in Bengal, c.1850 – 1920. Cambridge: Cambridge University Press, 1992.
Jamal, Osman. "E.B. Havell: The art and politics of Indianness" Third Text 39, no. 11 (1997): 3–19. https://doi.org/10.1080/09528829708576669.
Mitter, Partha. Art and Nationalism in Colonial India, 1850–1922: Occidental Orientations. Cambridge: Cambridge University Press, 1994.
Molcard, Eva Sarah. "How the Bengal School of Art Gave Rise to Indian Nationalism". Sotheby's, 2019. https://www.sothebys.com/en/articles/how-the-bengal-school-of-art-gave-rise-to-indian-nationalism.
Subramanyan, K. G. "The 'Phenomenon' of Abanindranath Tagore." In Abanindranath. Santiniketan (West Bengal): Visva Bharati University, 1973.