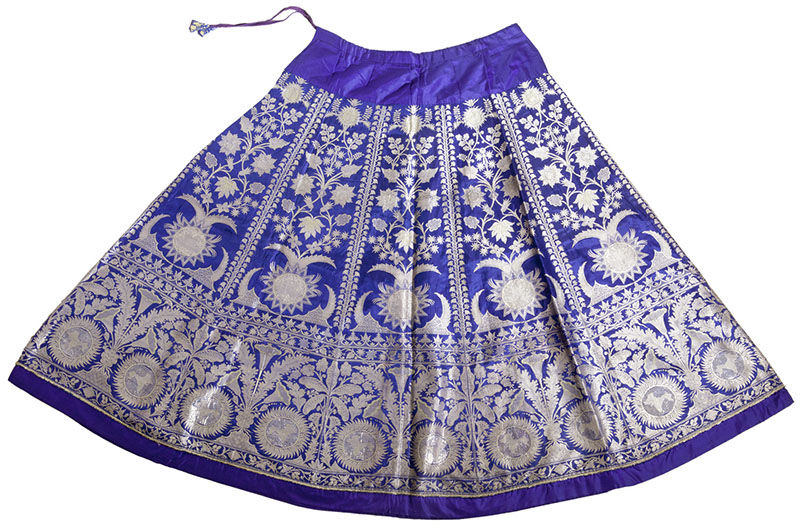 Brocade Skirt; Varanasi, Uttar Pradesh, India; c. 1920; Silk, gilt metal; 104.5 x 102 cm; Circ. 365 cm; Museum of Art & Photography (MAP), Bangalore
Characterised by the use of rich gold and silver zari to weave motifs that appear embossed, the Benarasi brocade, named for the handloom weaving centre of Varanasi (formerly Benaras) from where it arose, has a distinctive style and language that has been developed over centuries.
It is surmised that weaving techniques used to make brocades originated in India's Vedic period (1750–500 BCE), based on the mention of hiranya vastra (cloth of gold) in the Rig Veda considered an allusion to brocades with heavy gold zari work. The brocade tradition, especially of Benaras, also has proposed links to Buddhism: Some scholars have suggested that patterns carved into stupas at Sarnath inspired the designs of textiles produced during the eighth and ninth centuries, such as devadushyas, that were then used to wrap around these stupas. It is also believed that the Buddha, upon renunciation, gave up his royal robes and instead dressed in kashika vastra, or cloth from Kashi. It is in fact claimed by the weavers of Varanasi that the Buddha was wrapped in Benarasi silk when he was cremated.
Beginning early in the sixteenth century, the ruling Mughals, who were great patrons of the arts, introduced Indian artisans to a variety of designs and techniques from Persia (now Iran), which were subsequently incorporated into existing textile traditions. The Mughal elite, and later royalty from across India, patronised the rich Benarasi brocades, using them as part of their royal garb as well as to decorate their residences and courts, causing it to gain widespread renown and the weaving practice to flourish.
Motifs inspired from Mughal miniature paintings and architecture — such as jaali, ashrafi, chand tara — along with floral and foliate designs continue to appear on Benarasi brocades alongside newer and more contemporary motifs.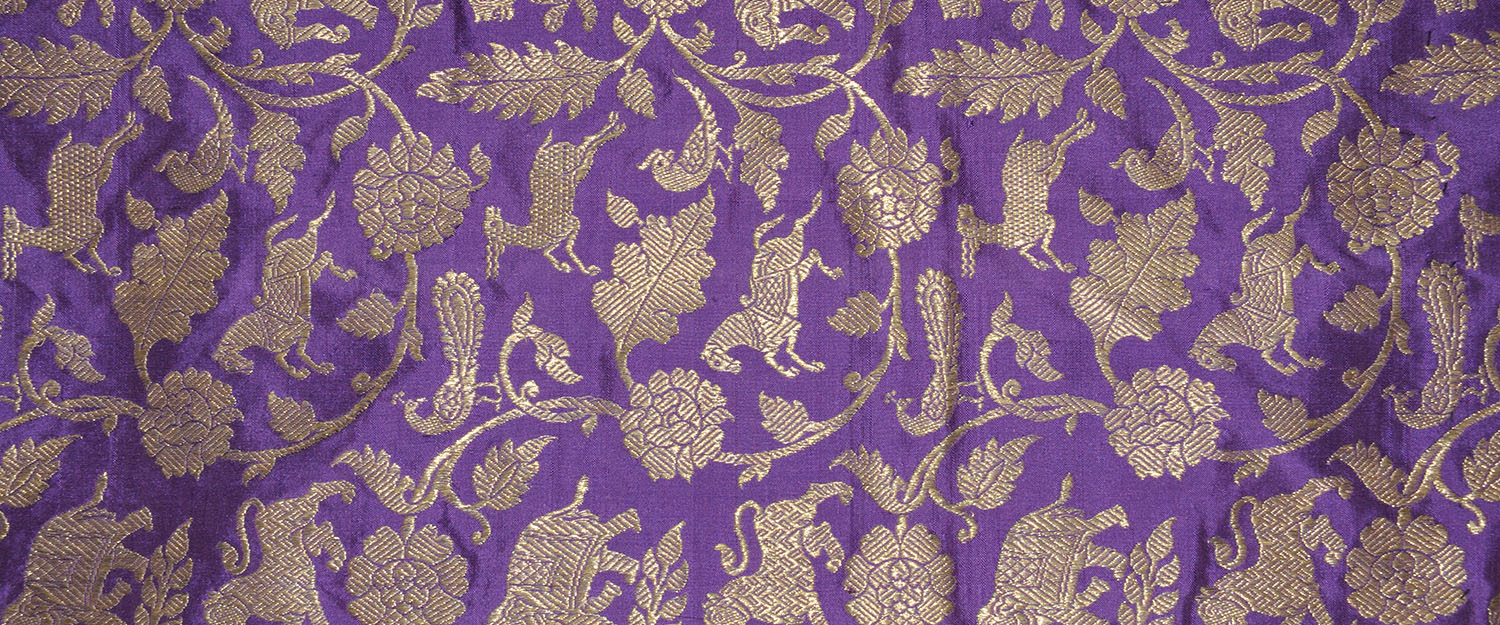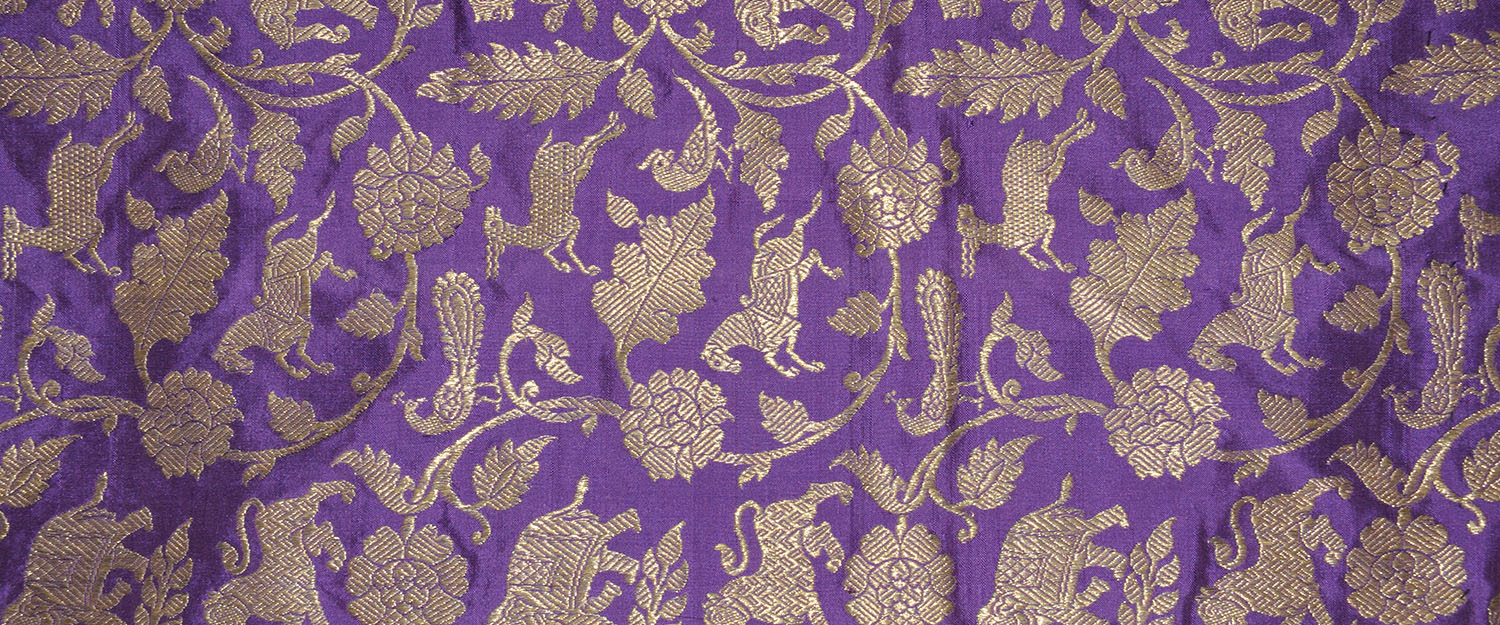 One of the most popular brocade textiles is the Benarasi silk saree, which is typically dyed red, fuchsia, green or indigo. The body of the saree features scattered zari and silk butis, while the pallu often features extensive and intricate zari brocade work, with motifs interspersed among jaali patterns and the angled parallel lines. The two corners on the outer edge of the pallu often feature a konia that is usually a kairi, paisley or floral buti. Narrow fringe-like patterns called jhalar are also characteristically found on the inner and outer edges of the saree.
In addition to sarees, ornamental kinkhab brocades, with zari work so heavy that the silk base is obscured, are woven almost exclusively in Varanasi. Buddhist monasteries across India continue to patronise Varanasi's craftsmen, who weave ceremonial fabrics such as or gyaser (or thiugyamo) which feature Buddhist motifs in the kinkhab style.
Converting silk and zari yarn into brocades is a laborious process that involves several people, both men and women, and has historically been largely the preserve of the Ansari Muslim community. Every weaving establishment is headed by a grihastha, and the weavers working under him are known simply as karigars. Traditionally, the warp of the loom is wrapped around the warp beam or tanari by women.
In preparation for the weaving, silk yarn is first boiled to remove traces of gum left by the silkworm, and sorted into hanks which are then dyed to achieve the desired colour, either by in-house dyers or specialised dyeing establishments near the weaving workshops. Once dry, the dyed yarn is wrapped onto a wheel before being transferred to spindles. Tanaris are also involved in wrapping threads around individual shuttles used to create designs.
The zari, which may be used either in the warp or weft of Benarasi brocades is sourced from Surat in Gujarat or made locally in Varanasi. The number of zari or silk weft threads introduced into the fabric during the weaving process dictates the intricacy and the thickness of the brocade. A particular speciality of Benarasi brocades is the minakari brocade, where motifs are formed out of plain silk on a zari base, causing them to appear inlaid or embedded.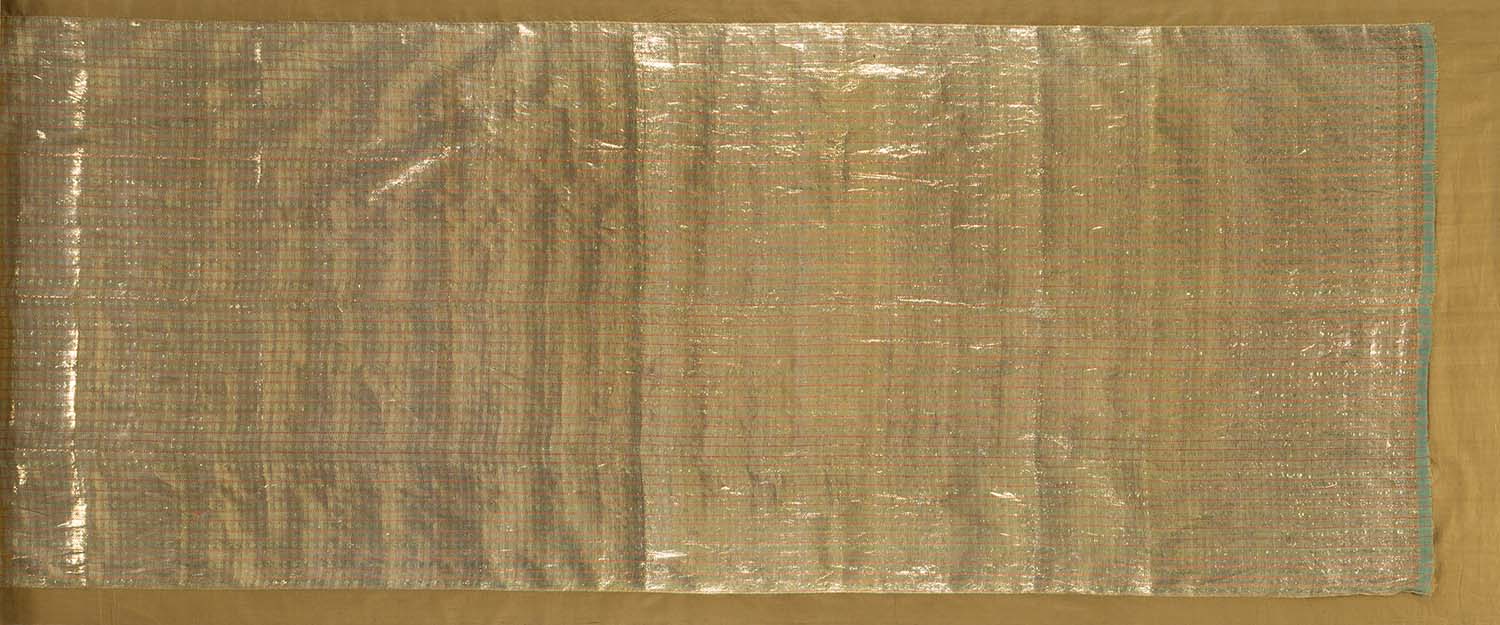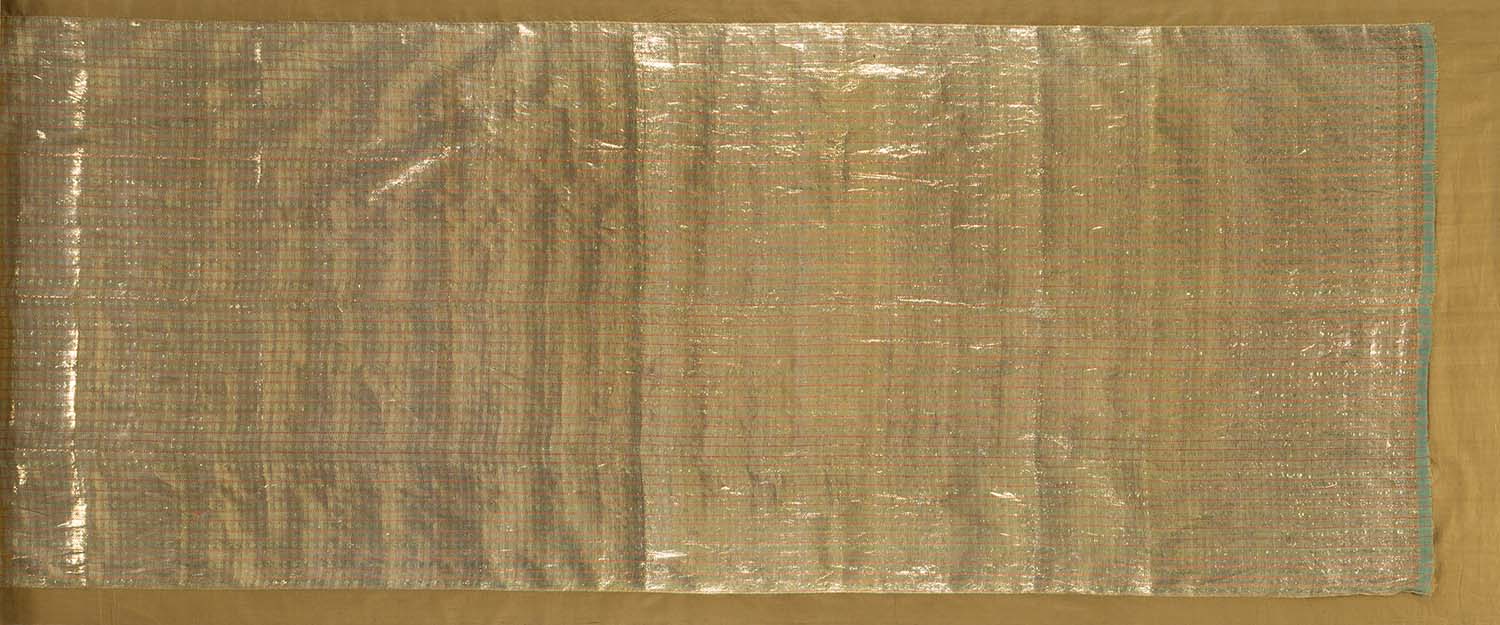 The motifs to be woven into the fabric are drawn on paper within a numbered grid known as a naqsha by designers known as naqshabands. The designs are then coloured in, punched into cards by artisans known as patthakati and typically loaded onto a jacquard loom. Many thousands of cards are strung together to weave the richly brocaded fabrics of Varanasi.
Once the fabric has been woven, it is taken off the loom and threads projecting from the edges are tidied using a needle. After this, an artisan known as the katorna carefully cuts the extra threads connecting the motifs on the reverse side of the brocade without damaging the cloth. This cloth is then held against light and carefully checked for flaws and cuts. It is subsequently stretched over a frame, sprayed with cleaning agents and polished, improving the shine and glaze of the metal threads. In the case of sarees, the fabrics are then usually sent to be ironed and folded for display in shops.
Due to the high cost of the materials as well as the intense labour and skill needed to produce them, Benarasi brocades are considered a luxury fabric. While handwoven versions continue to be produced today, weaving communities have come under increasing pressure from mechanised reproductions of the fabric, which are often printed as opposed to woven. Gold-hued muga silk is also increasingly being used to imitate the lustre of the zari threads found in these brocades.
Traditional handwoven Benarasi brocades have received a fillip from increasing institutional recognition and, in 2009, the Geographical Indication (GI) status from the Government of India for their territory-specific production and characteristics. In 2014, Ramlal Maurya, a master brocade weaver from Varanasi, was also conferred with the Sant Kabir award by the government. The Benarasi brocade, although still largely considered a luxury textile, has received much stimulus from organisations, individuals and the burgeoning fashion industry, to keep the long tradition of its production alive.
Bibliography
Agrawal, Yashodhara. Updated: March 2020. "Brocades." Encyclopedia.com, https://www.encyclopedia.com/sports-and-everyday-life/fashion-and-clothing/textiles-and-weaving/brocade.
Ahmed, Monisha. 2002. "From Benaras to Leh – the trade and use of silk-brocade." Textile Society of America SYmposium Proceedings 498: 403–412.
Balasubrahmanyan, Suchitra. December 2018. "Woven Embroidery: The Brocades of Banaras." Sahapedia.org, https://www.sahapedia.org/woven-embroidery-the-brocades-of-banaras.
Cort, Cynthia Cunningham. 2016. The Brocades of Banaras: An Analysis of Pattern Development in the 19th and 20th Centuries. Worcestershire: Read Books Ltd.
Mishra, Asit Ranjan. 2009. "Banaras Saris and Brocades Get GI Status." Mint, September 17, 2009. https://www.livemint.com/Politics/jYYciIuuhDDNRplmXXrAlI/Banaras-saris-and-brocades-get-GI-status.html
Das, Sulka. 1992. Fabric Art: Heritage of India. New Delhi: Abhinav Publications.
Google Arts & Culture. n. d. "How to Make a Varanasi Brocade." Dastkari Haat Samiti. Accessed December 7, 2020. https://artsandculture.google.com/exhibit/how-to-make-a-varanasi-brocade-dastkari-haat-samiti/1QJyDEsK-qpcKg?hl=en.