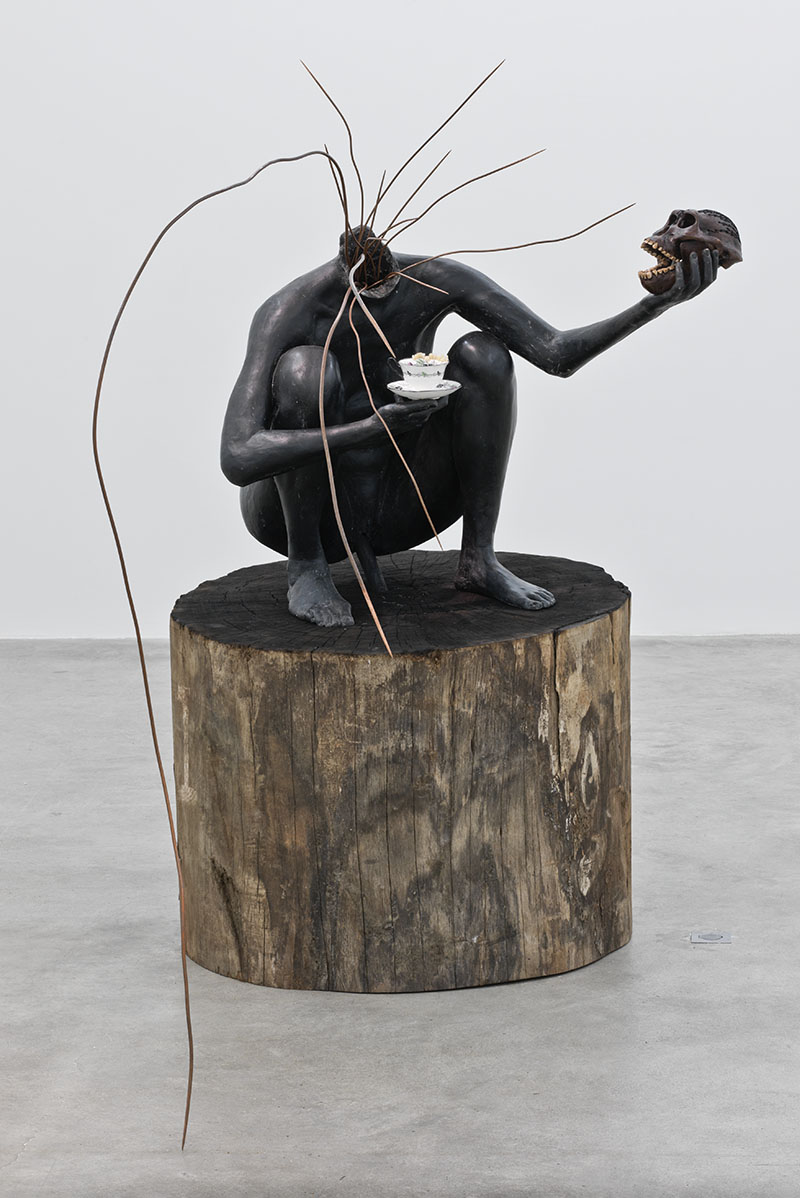 And all the While the Benevolent Slept; Bharti Kher; c. 2008; Fibre glass, porcelain, plastic pedestal in Mohagany wood, cooper wire; 180 x 180 x 100 cm; The Artist and Nature Morte
With a practice that spans sculpture, painting, collage, video, photography and text, British-Indian artist Bharti Kher is known for her radical and heterogenous oeuvre, characterised by the recurring motif of the sperm-shaped bindi. Her art addresses issues of identity and culture that traverse the binaries of tradition and modernity, nature and technology and the spiritual and physical. Her work also engages with and subverts histories and categories of styles such as readymades, Narrative Figuration, Abstraction and Minimalism. She is best known for the scale of her sculptural installations.
Born in London, Kher went on to study art at the Middlesex Polytechnic. She received a bachelor's degree in fine art (painting) in 1988 from the Newcastle Polytechnic (now the University of Northumbria). During this period, she was deeply moved by the socio-political stirrings provoked by Margaret Thatcher's brand of neoliberalism. When she relocated to Delhi in the early 1990s, she was confronted with the effects of globalisation and the sectarian strife in the aftermath of the Babri Masjid demolition (1992) and the Bombay riots (1992–93). Although not immediately reflected in her works, these events left a deep impression and were instrumental in shaping her artistic direction, resulting in works that served as a commentary on the nature of violence.
Through the 1990s, Kher was occupied with finding a way to address the social issues of patriarchy, ritual taboos and superstitions in India in her art. Juxtaposing Indian cultural references against her wry sense of humour, she sought to investigate and transgress cultural codes from the perspective of an outsider looking in. This led her to adopt an almost ethnographic process of surveying, collecting and transforming objects with the aim of recasting the viewer's relationship with them while situating the contemplative aspects of the works comfortably against their political implications.
She started working with the bindi in 1993, using it as a material, much like paint or clay. Her unconventional use of the object introduces a duality to the bindi, stripping it of its mundane associations in the face of its domestic, ritual, consumerist and metaphysical connotations. One of her earliest bindi works, Spit and Swallow (1999), took the form of two separate panels, each bearing a large circle teeming with sperm-shaped bindis that radiated outwards in one and converged inwards in the other, meshing the symbols of male and female fertility. Other works feature felt bindis pasted over aluminium composite or painted boards — placed in concentric circles, divided into squares and rectangles, used in acentric configurations or in mandala-like geometries — as well as on maps and in satellite images.
Another prominent part of Kher's practice are her sculptural works. Created using various mediums and replete with chimeras and mythical figures, they challenge patriarchal and anthropocentric narratives. The Girl With The Hairy Lip Said No (2004) features a crochet tablecloth upon which lies broken porcelain and a cup with a fistful of hair — alluding to the perceived havoc wrought by the refusal of a marriage proposal by a girl. In the part-animal, part-human composite of Arione (2004), a dominatrix serves muffins on a tray upon which her naked breast rests, speaking to the repressed fantasies of womanhood.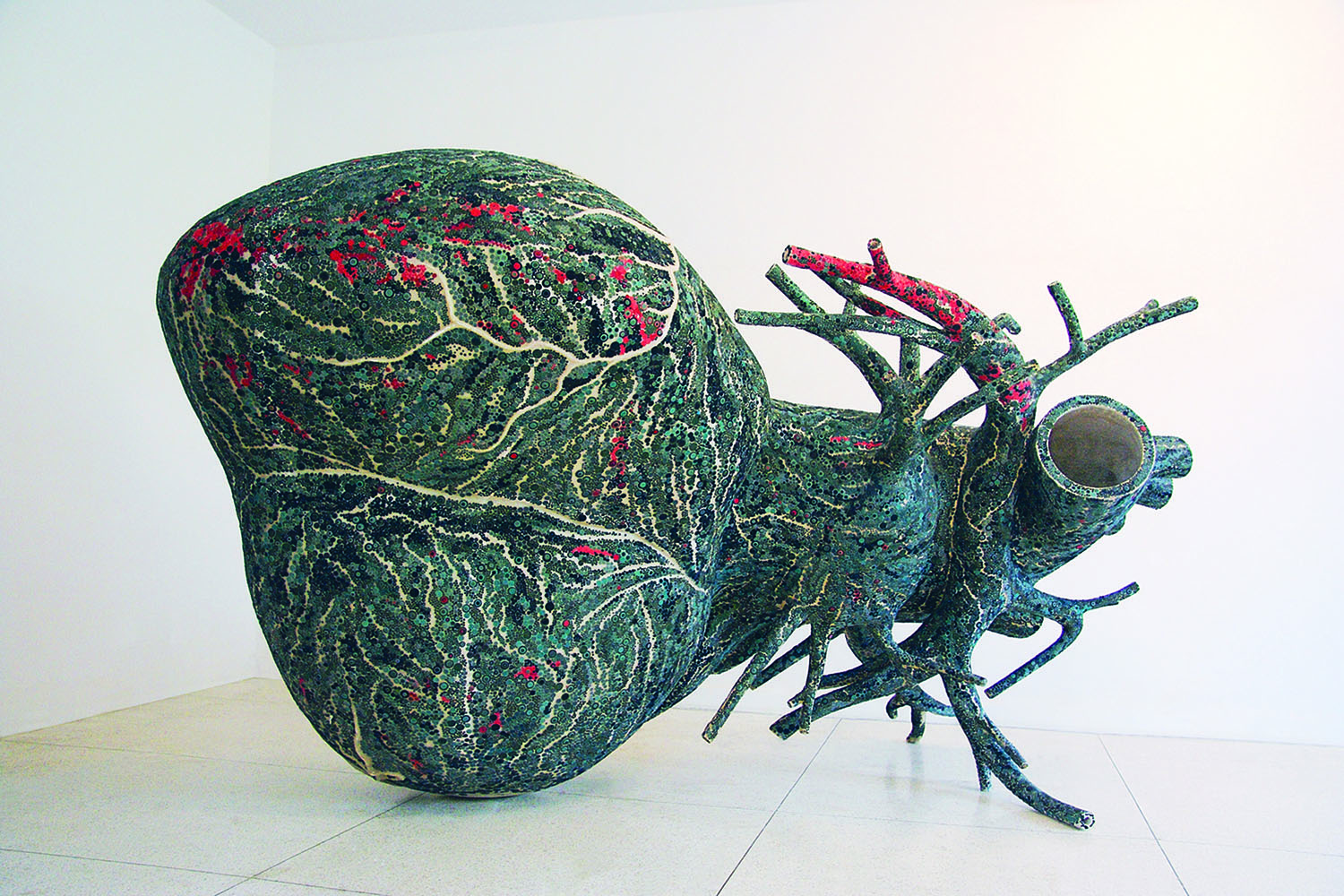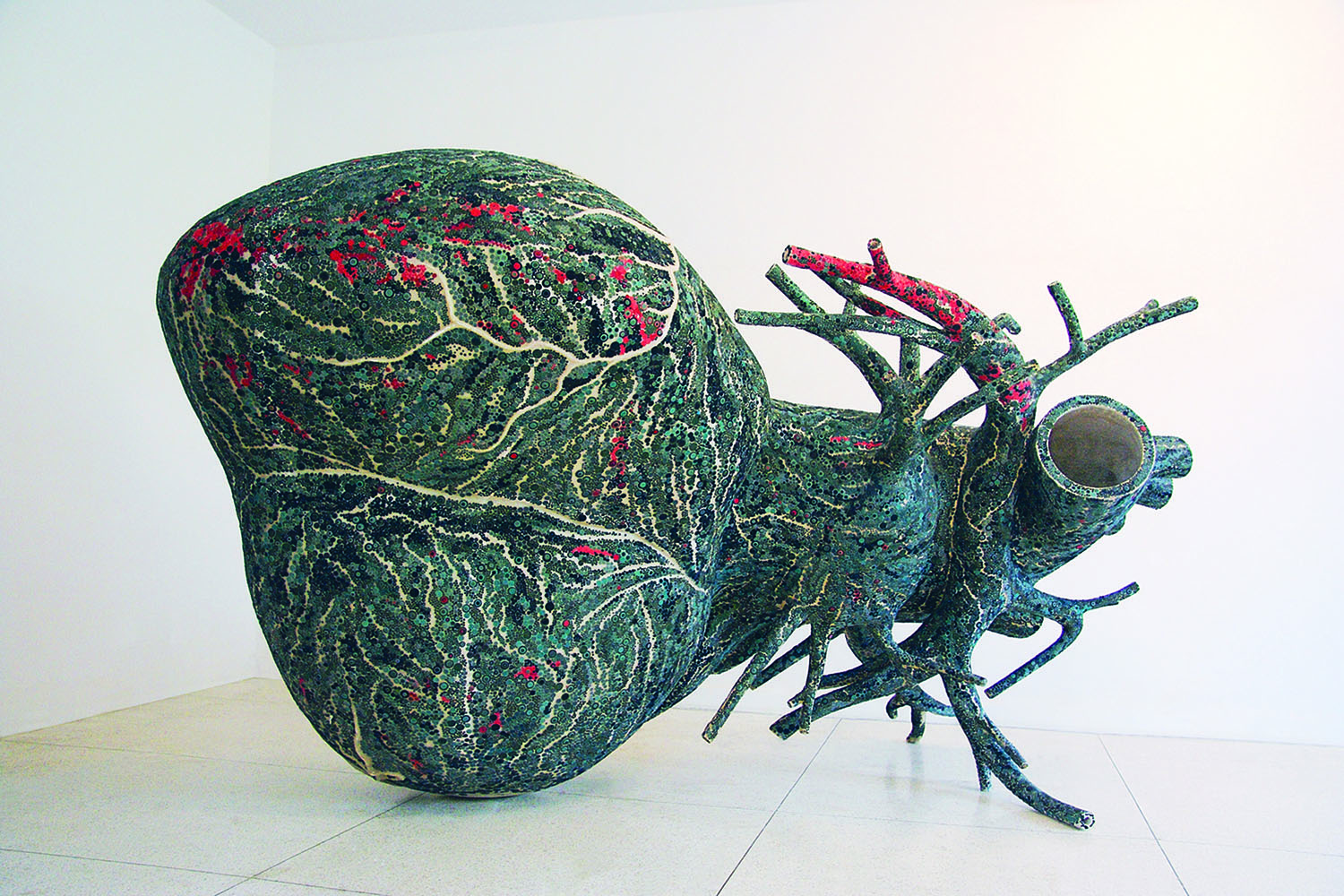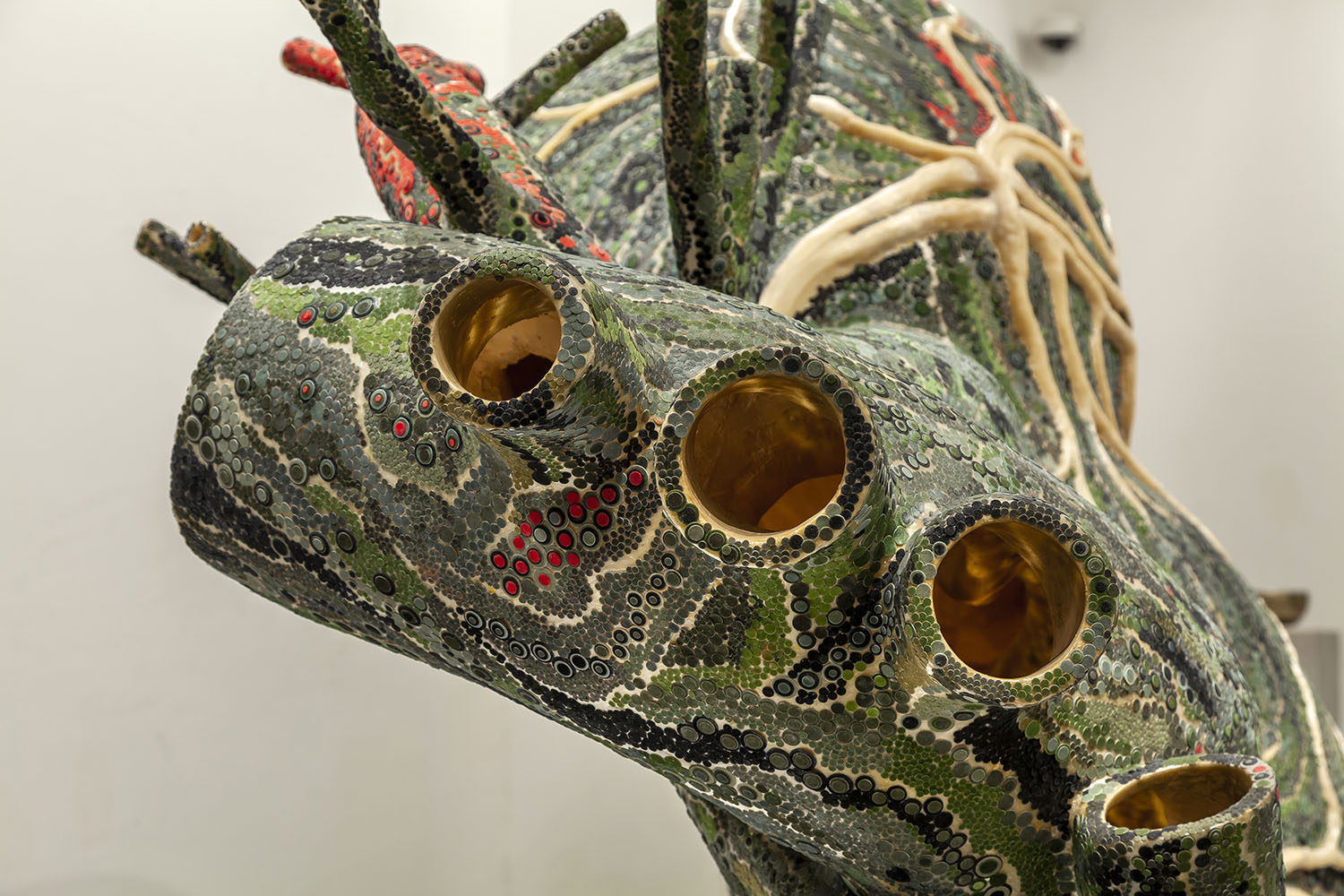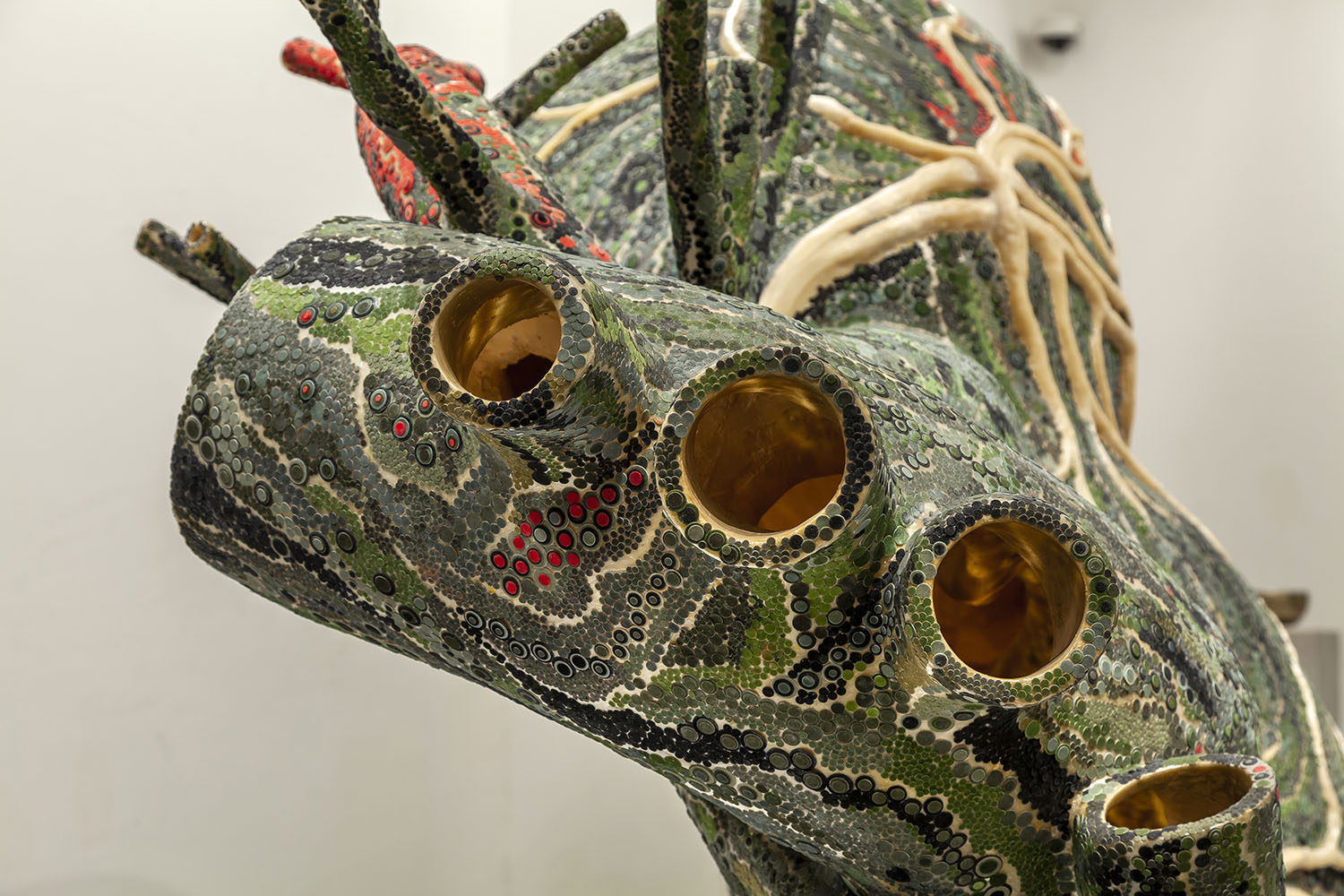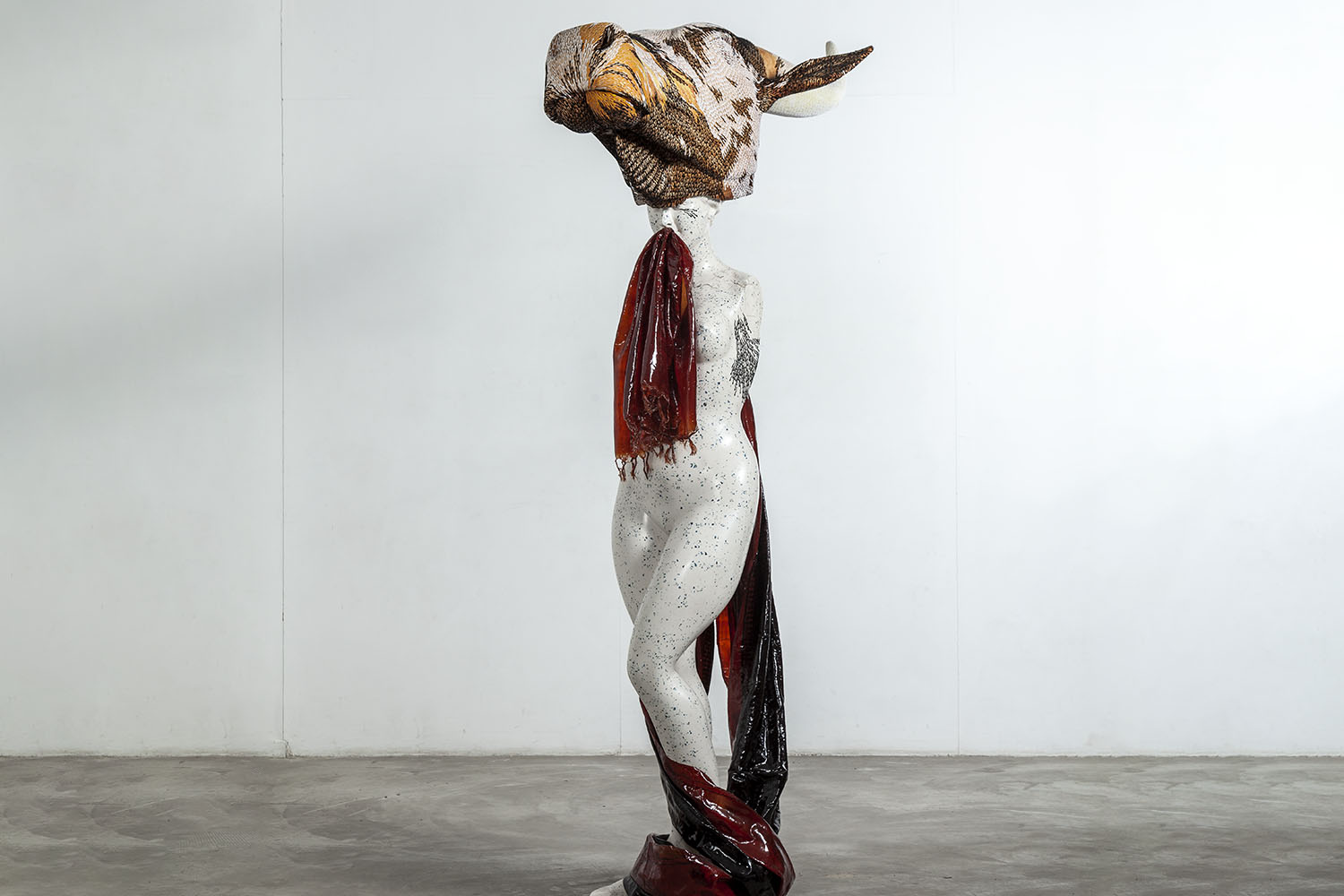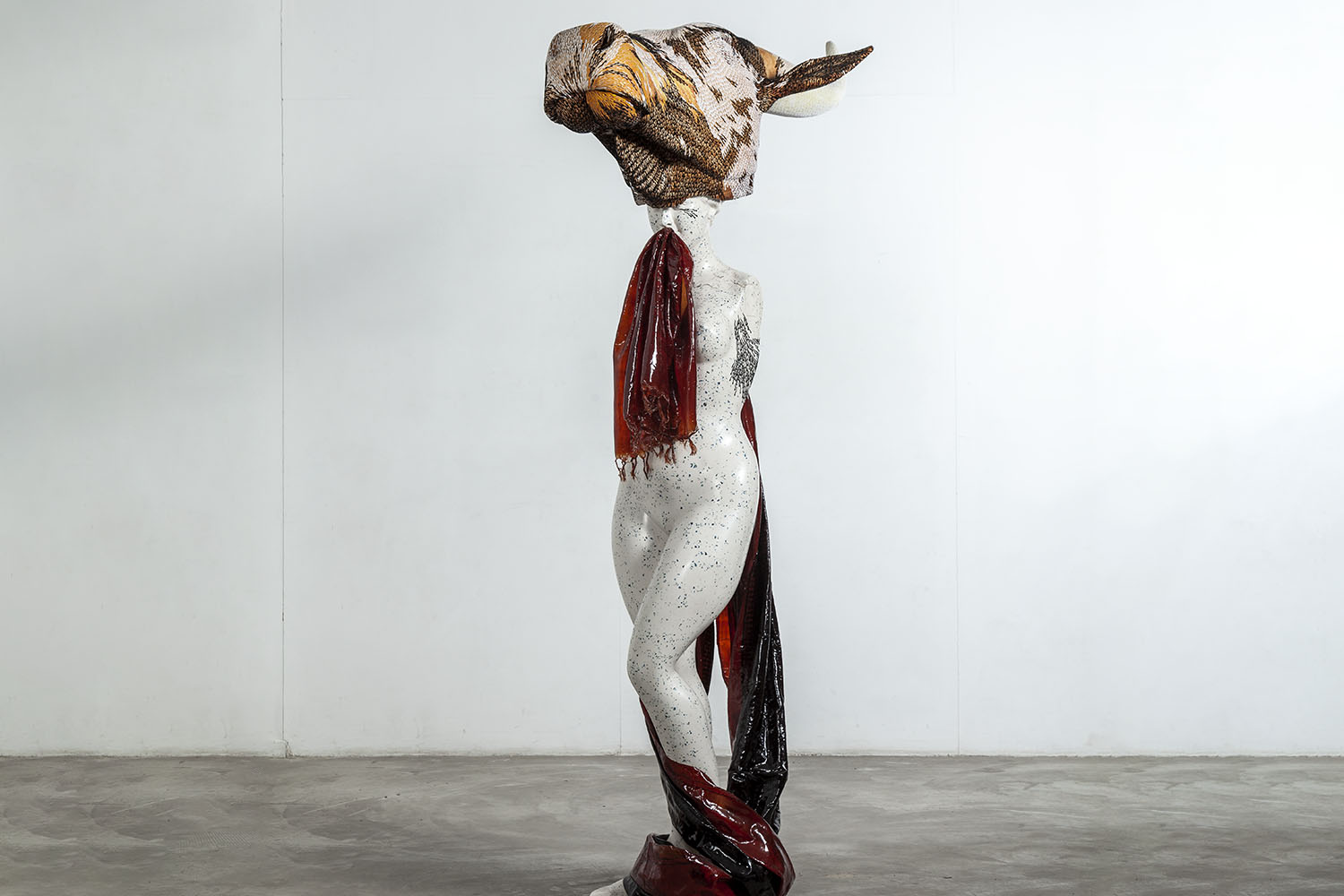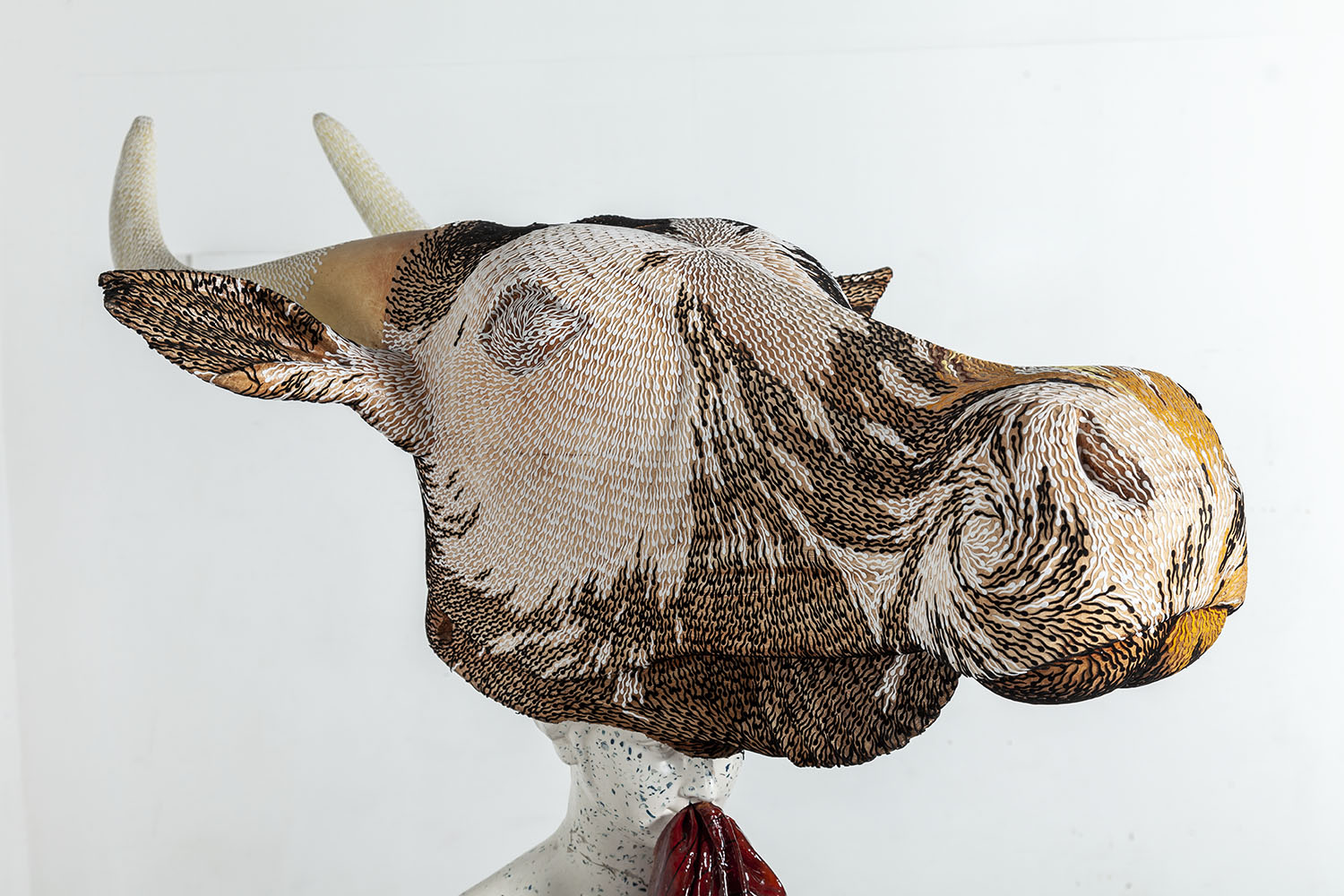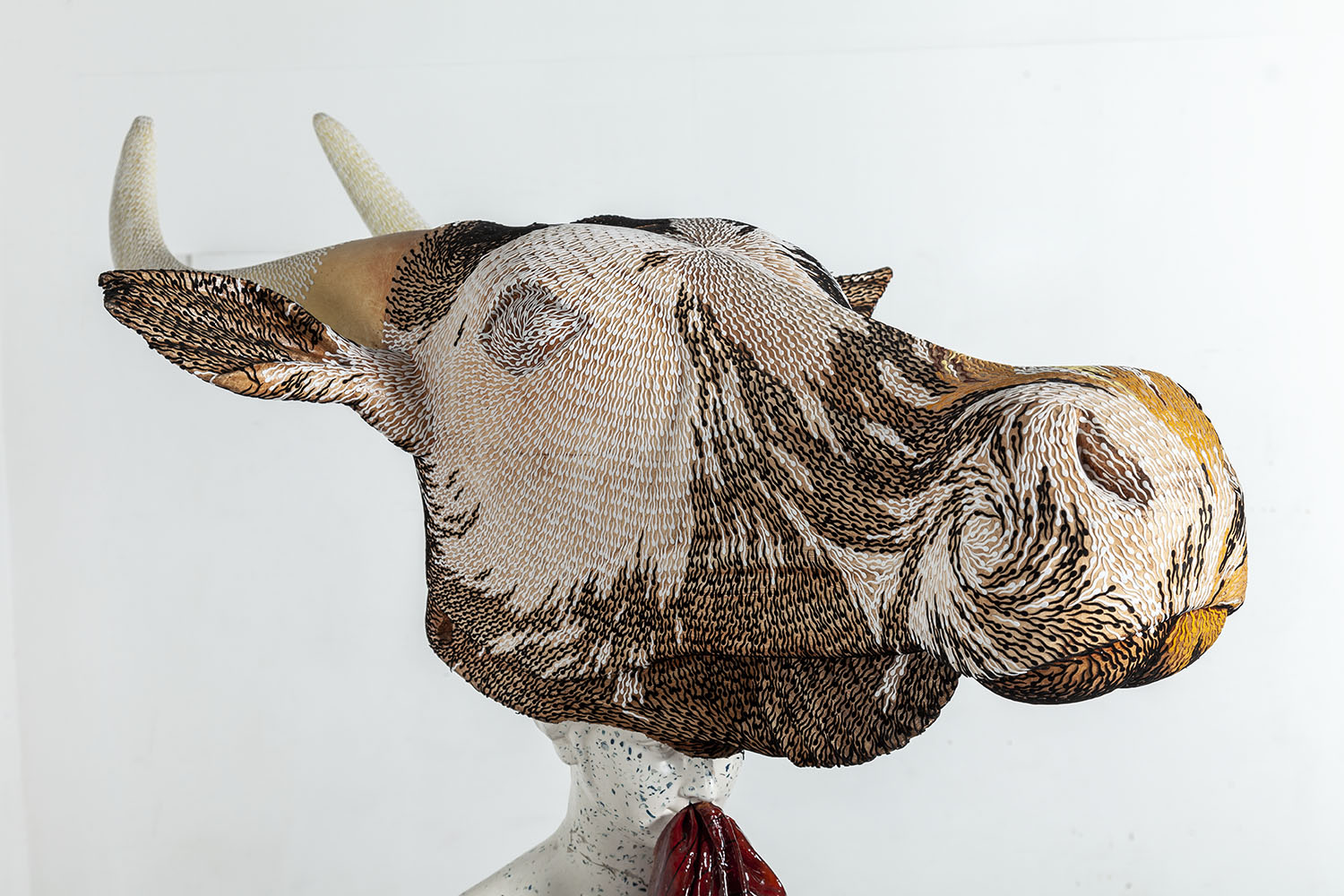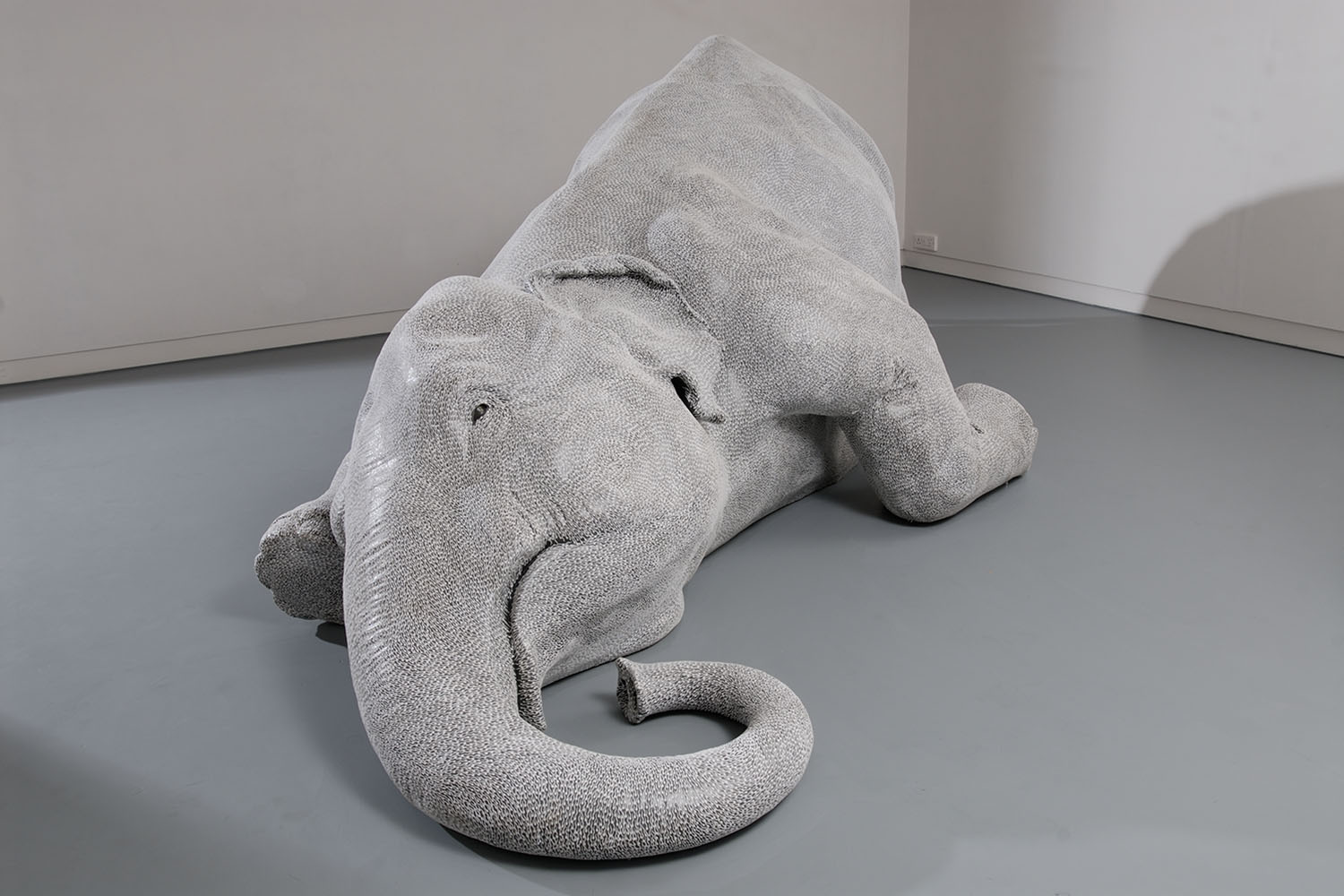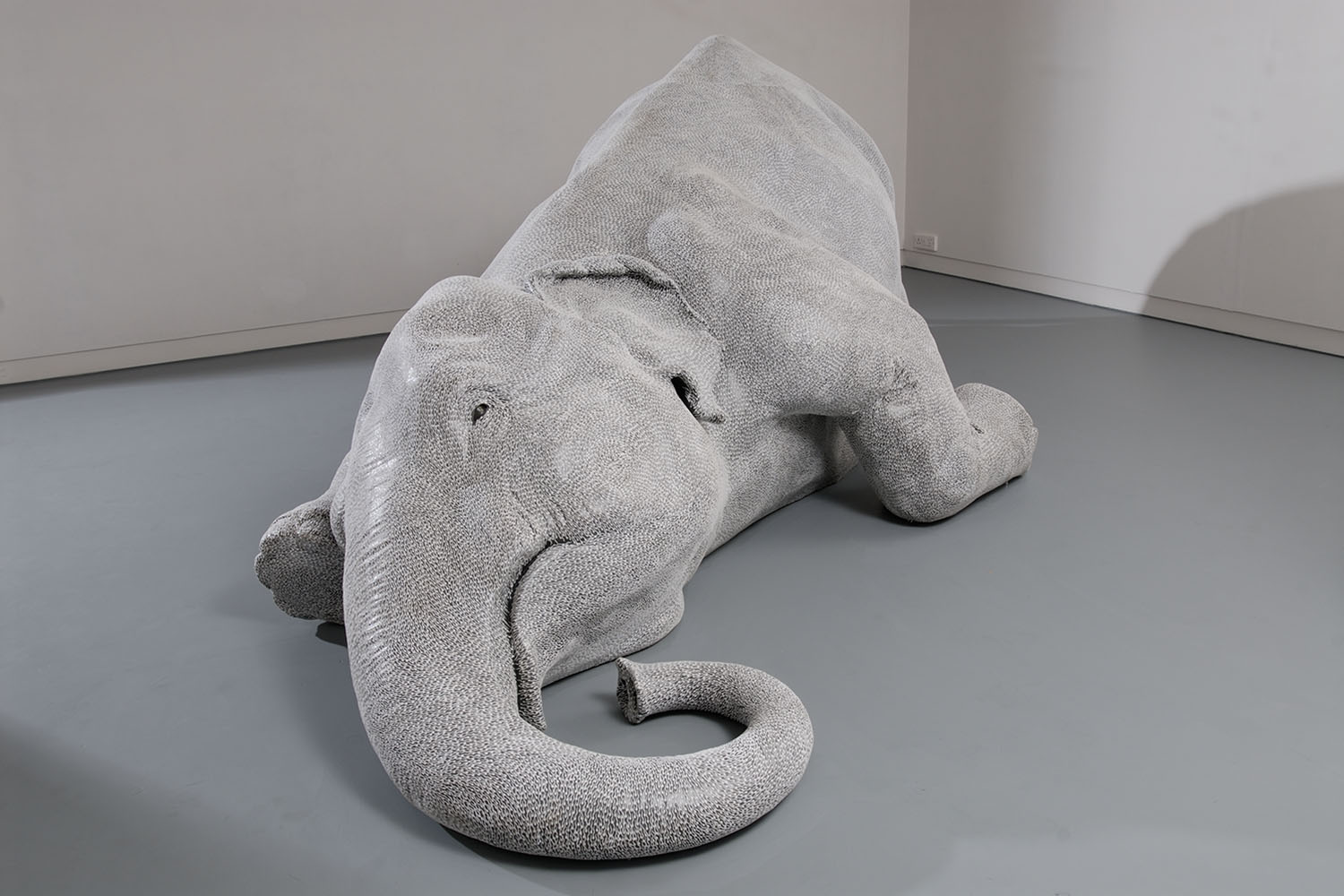 In her animal sculptures, Kher combines ferality with tenderness and innocence, covering the sculptures in a coat of colourful, pulsating bindis. Some of these works — such as a life-size elephant (The Skin Speaks a Language not its Own, 2007) or the heart of a whale (An Absence of Assignable Cause, 2007) — are modelled with anatomical accuracy and made to their original scale, challenging the dimensions of a gallery space. Kher also uses objects such as wooden wheels, mannequin body casts, pillars and architectural remains, such as in Impossible Triangle (2012).
Kher's work has attracted a large international audience, most prominently through her solo exhibitions that include Virus at the Baltic Centre for Contemporary Art (2008); A Wonderful Anarchy at Hauser & Wirth, Somerset (2019); A Consummate Joy at the Irish Museum of Modern Art, Dublin (2020); and An Unexpected Freedom of Chaos at the Galerie Perrotin, New York (2020). She has also participated in several group exhibitions at institutions such as Art Gallery of New South Wales; Kochi Biennale Foundation; Guggenheim Abu Dhabi; Museum of Contemporary Canadian Art, Toronto; Le Centre Pompidou, Paris; National Museum of Modern and Contemporary Art, Seoul; KHOJ International Artists' Association, Delhi; and Yale University School of Art, New Haven.
Her work is part of the permanent collections of the Tate Modern, London; the Walker Art Center, Minneapolis; the Vancouver Art Gallery; and the Devi Art Foundation in New Delhi. She won the Sanskriti Award in 2003 and the ARKEN Art Prize in 2010 and was bestowed the honour of Chevalier dans l'Ordre des Arts et des Lettres (Knight of the Order of Arts and Letters) by the French Government in 2015.
Kher is married to artist Subodh Gupta and lives and works in Gurgaon, Haryana.
Bibliography
Our website is currently undergoing maintenance and re-design, due to which we have had to take down some of our bibliographies. While these will be re-published shortly, you can request references for specific articles by writing to hellomapacademy@map-india.org.