Born in Khagaul, Bihar, Subodh Gupta is an artist who specialises in installation art using readymades to reflect on issues of migration, class and globalisation. Objects of mass domestic utility — from cowpats to metal pots and pans, plates and oversized steel kitchen racks, sometimes cast in silver and gold — are his signature raw materials. Through Formalism, he draws attention to the social construction of value and presents the uneasy dynamics between faith and poverty, modernity and capitalism, and "lower-class values" and high art.
Gupta's father was a railway guard and his mother a homemaker. Railway networks and stainless steel utensils — symbols of his parents' lives — became key signifiers of modernity in his later work. Gupta's interest in art was initiated by his association with local theatre groups for whom he designed posters. He enrolled in the Patna College of Arts and Crafts in 1983 to receive formal art training. He also began working part-time — and later full-time — as an illustrator at a newspaper in Patna. In 1988, he quit his job and moved to Delhi to work as artist-in-residence at the government-run Garhi Studios, where he met fellow artist Bharti Kher, whom he subsequently married.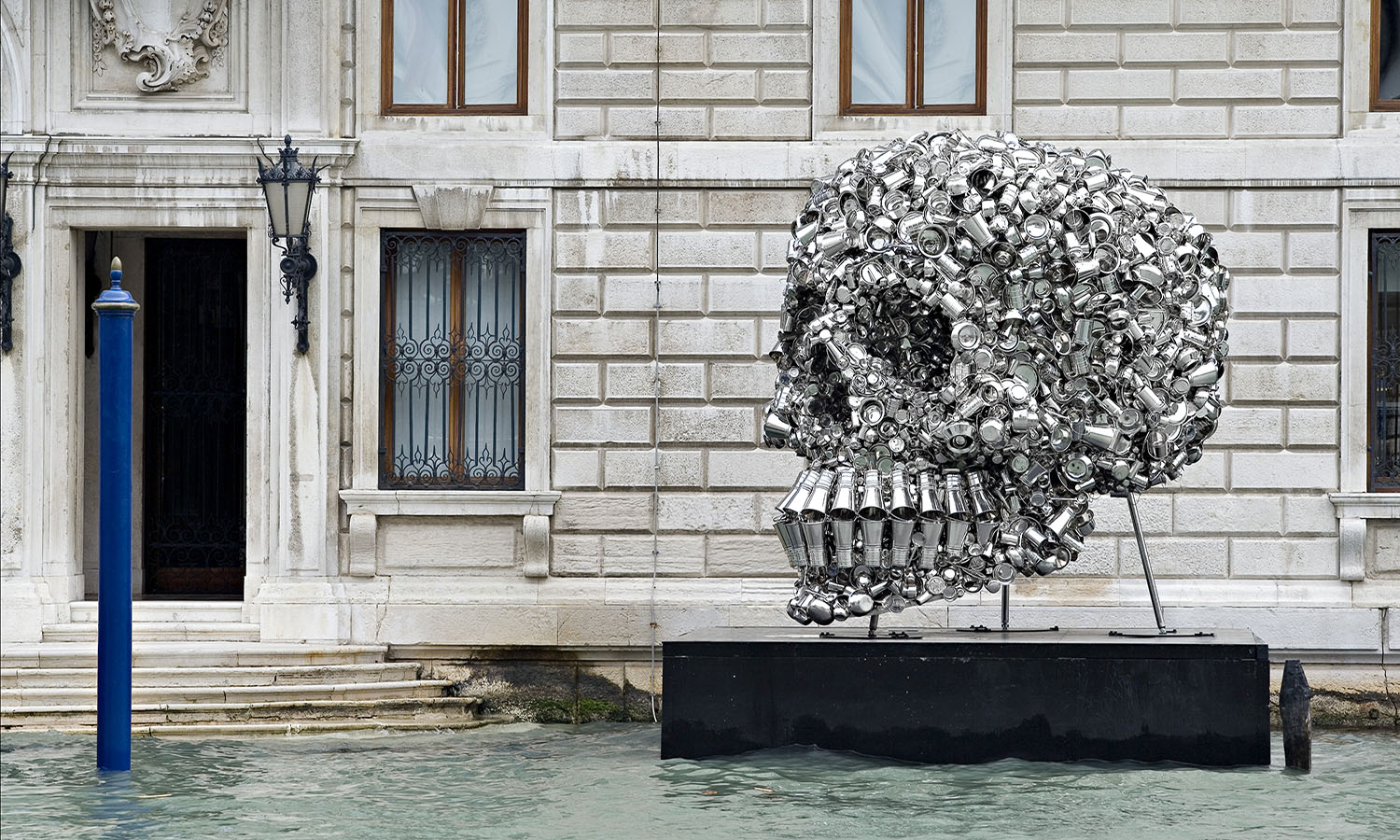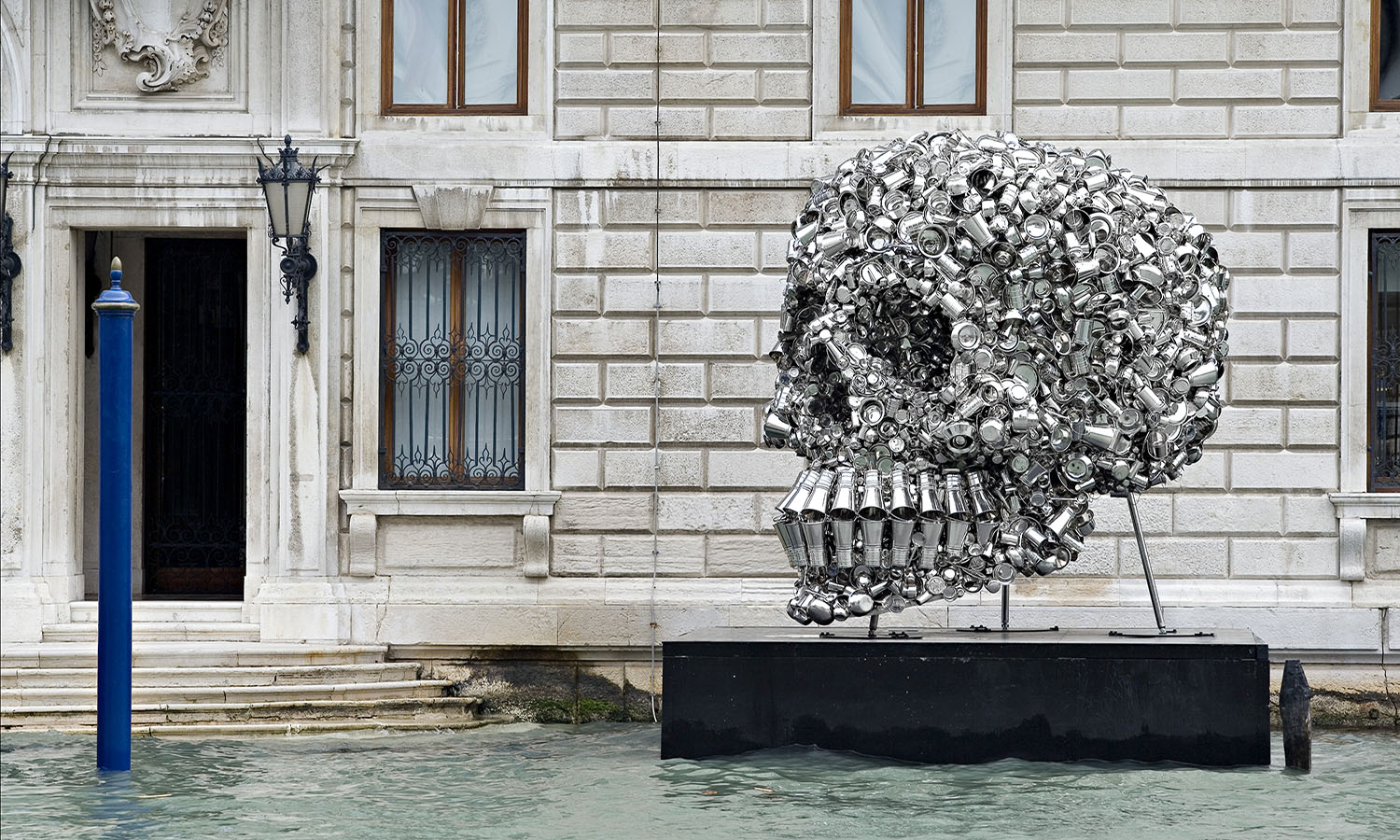 Gupta's works explore his experiences of growing up in a village in Bihar, playing on the migrant crisis, "cow-belt" politics, caste conflicts, illiteracy and poverty. One of his earliest works, Bihari (1999), features a field smeared with cow-dung with his face at the centre of the canvas, underscored by the Hindi word "bihari" outlined in Devanagari script with twinkling lights usually found decorating roadside tea and paan stalls. His work speaks to the dislocation and movement symptomatic of a globalised and urbanising economy: some of his paintings depict unidentified young men stacking plastic and fertiliser bags atop taxis and conveyor belts, or carrying cardboard boxes with international brand logos. Gupta frequently also uses cow dung to explore these dynamics. In his practice, cow dung is smeared all over his body or in the form of an elliptical structure within a white-cube setting, transforming its traditional and ritual associations of sanctity and purity to portray how the values associated with objects change across time, space and context.
One of Gupta's most significant moments came when he shifted from gestural abstraction to sculpture. The history of sculpture in India had previously ranged from benign abstraction to indigenous Pop Art. In this context, Gupta's installations, primarily made of welded stainless steel utensils, with their social focus and monumental scale, subverted conventions of medium and material. At KHOJ International Artists Association, where Gupta worked from 1997, he also developed a rigorous engagement with painting, performance, video, installation and photography.
In Very Hungry God (2006), Gupta used stainless steel utensils to convey a state of hunger to indicate the failure of the socialist state and the greed of the capitalist nation. His Line of Control (2008) is a large mushroom cloud made of steel and brass pots and pans, alluding to nuclear war. In 2009, Gupta held a solo show at Hauser & Wirth, London, where he explored Western art history through Et tu, Duchamp?, which featured a bronze cast of Marcel Duchamp's moustachioed Mona Lisa (L.H.O.O.Q, 1919). Gupta also ventured into stage design by designing a set for French choreographer Angelin Preljoca's show Creation (2010).
In 2008, Gupta became among the earliest Indian artists to sell their work for more than USD 1 million (over INR 7 crores today). His oil painting, Saat Samundar Paar, fetched a price of USD 463,433 (over INR 3 crores today) at Saffronart's online auction. The proceeds went towards relief efforts for the victims of the 2017 Bihar flood. Gupta displayed his mid-career survey show in 2012 at the National Gallery of Modern Art (NGMA), New Delhi. In 2013, he was bestowed the title of Chevalier dans l'Ordre des Arts et des Letters by the French government for his contribution to contemporary art. His subsequent international and domestic participations included exhibitions such as When Soak Becomes Spill (2015) at the Victoria and Albert Museum, London; Seven Billion Light Years (2015) at Hauser & Wirth, New York; Anahad/Unstruck (2016) at Famous Studios, Mumbai; and Invisible Reality (2016) at Hauser & Wirth, Somerset.
In 2018, during the MeToo movement, Gupta was accused of sexual harassment by the @herdscenand account on Instagram. The artist denied the allegations and filed a civil defamation lawsuit, and resigned from the positions he held at the Serendipity Arts Foundation and KHOJ International Artists' Association. In February 2019, Gupta dropped his civil defamation lawsuit in return for the withdrawal of the allegations made against him.
At the time of writing, the artist continues to live and work in Delhi.
Bibliography
Our website is currently undergoing maintenance and re-design, due to which we have had to take down some of our bibliographies. While these will be re-published shortly, you can request references for specific articles by writing to hellomapacademy@map-india.org.