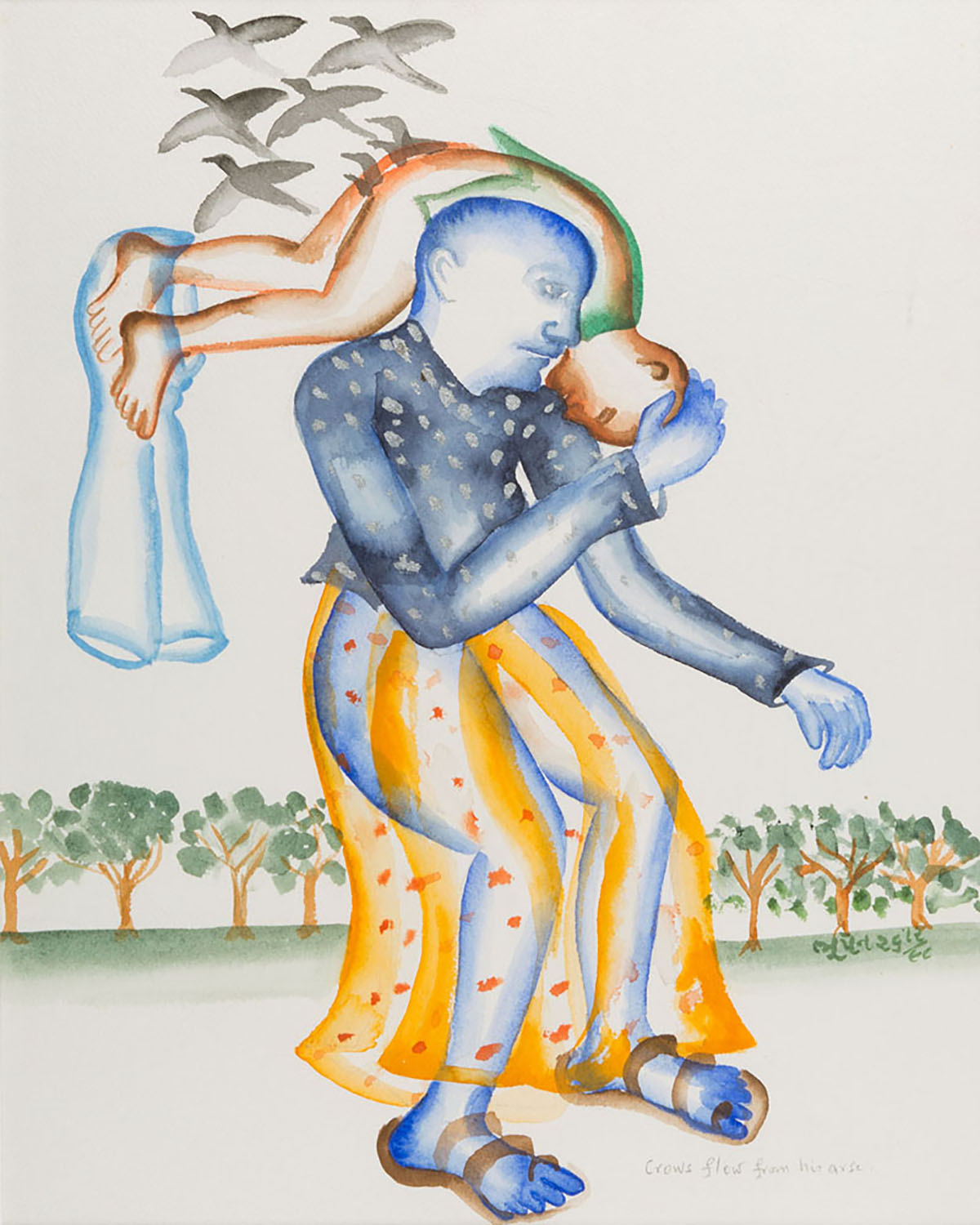 Crows Flew from His Arse.; Bhupen Khakhar; c. 1998; Watercolour on paper; 41 x 30.5 cm; Museum of Art & Photography (MAP), Bengaluru
A Modernist artist and writer known for his autobiographical paintings and collages, Bhupen Khakhar was one of the central figures of the Baroda School. He is largely considered to be India's first pop artist, and is known for his work examining the political and socio-cultural implications of homosexuality in India. 
Born in Khetwadi, Mumbai, Khakhar studied economics and accountancy (1954–58) at the University of Mumbai to become a chartered accountant. In 1958, he met Gulammohammed Sheikh, who encouraged him to study art, and subsequently, in 1961, Khakhar enrolled for a two-year course on art criticism at the Faculty of Fine Arts, Maharaja Sayajirao University (MSU), Baroda (now Vadodara). While there, he came into contact with several artists and co-edited the magazine Vrischik with Sheikh. After graduating, Khakhar began working part-time as a chartered accountant while continuing to paint and exhibit his work. In 1976, Khakhar visited Europe on an exchange programme organised by the government of India, which took him to the USSR, Yugoslavia, Italy and the UK. Khakhar spent a further six months in Britain in 1979 as the artist-in-residence at the Bath Academy of Arts. Both these visits were instrumental in shaping his artistic vocabulary, introducing him to the works of artists such as David Hockney and Henri Rousseau.
His early work consists of collages that combined traditional Indian art with Western pop art through the use of popular images from postcards, calendars, maps, oleographs and prints. Khakhar became interested in pop art in the 1960s, after he came into contact with British artist Jim Donovan, who visited MSU on a Commonwealth scholarship. Subsequently, in the 1970s, he created a number of trade paintings of life in Vadodara, resulting in a series of portraits such as De-Luxe Tailors (1972), Barber's Shop (1972), Factory Strike (1972), Janata Watch Repairing (1972), View from the Tea Shop (1975) and Vulcanizing (1978). These works had similar themes and linear spatial compositions as Company paintings and Kalighat pats as well as the strong colours and compositional arrangement of pop art, paving the way for Baroda Pop. 
During his visit to Britain in 1979, Khakhar was exposed to the cultural acceptance of homosexuality in the country, which led to him declaring his homosexuality. From 1980 onwards, he began creating large-scale works to explore his experiences as a homosexual man in a rigid and non-accepting Indian society. His paintings from this period are largely confessional, with works like You Can't Please All (1981) considered an explicit declaration of his sexuality. He also frequently included himself in these works. His other works exploring the theme of homosexuality were received with considerable uproar and consequent protests, especially Two Men in Benares (1982), which placed the embracing central figures against the religious background of Benares. Other notable works include Man with Bouquet of Plastic Flowers (1975), Yayati (1987), An Old Man from Vasad who had Five Penises Suffered from Runny Nose (1995) and Bullet Shot in the Stomach (2001). 
Most of Khakhar's works are characterised by the spontaneous application of watercolours and the layering of oil paints. He also experimented with various mediums, including ceramic, glass and installation. His works from the 1980s and '90s are characterised by looser brushstrokes and autobiographical subjects, often featuring contemporary artists and playwrights, as well as Khakhar's partners. He was interested in narration, performance and theatre, writing and producing several theatre plays and illustrating Salman Rushdie's limited-edition copies of Two Stories (1989) using linocut and woodcut prints. In 1983, the Arts Council of Great Britain released a documentary titled Messages from Bhupen Khakhar. Khakhar's work was also featured in a film by Arun Khopkar called Figures of Thought (1989), which explored his artistic practice along with those of Vivan Sundaram and Nalini Malani. 
Khakhar was awarded the Padma Shri in 1984. His work has been shown in exhibitions across India and internationally, including at the Lalit Kala Akademi (1968); Rabindra Bhavan, New Delhi (1973); Art Heritage, New Delhi (1977); Jehangir Art Gallery, Mumbai (1981); the Sao Paulo Biennale (1969); the Institute of Contemporary Arts, London (1979); and the Tokyo Biennale (1984). Retrospectives of his work were also held at the National Gallery of Modern Art, Mumbai (2003); the Tao Art Gallery, Mumbai (2004); Gallery Chemould (now Chemould Prescott Road), Mumbai (2005); and Tate Modern, London (2016). His works are held in the collections of the Victoria and Albert Museum, London; The Museum of Modern Art, New York; and the National Gallery of Modern Art, New Delhi.
Khakhar died in 2003 in Vadodara. 
Bibliography
Our website is currently undergoing maintenance and re-design, due to which we have had to take down some of our bibliographies. While these will be re-published shortly, you can request references for specific articles by writing to hellomapacademy@map-india.org.