ARTICLE
Gulammohammed Sheikh
(b. 1937)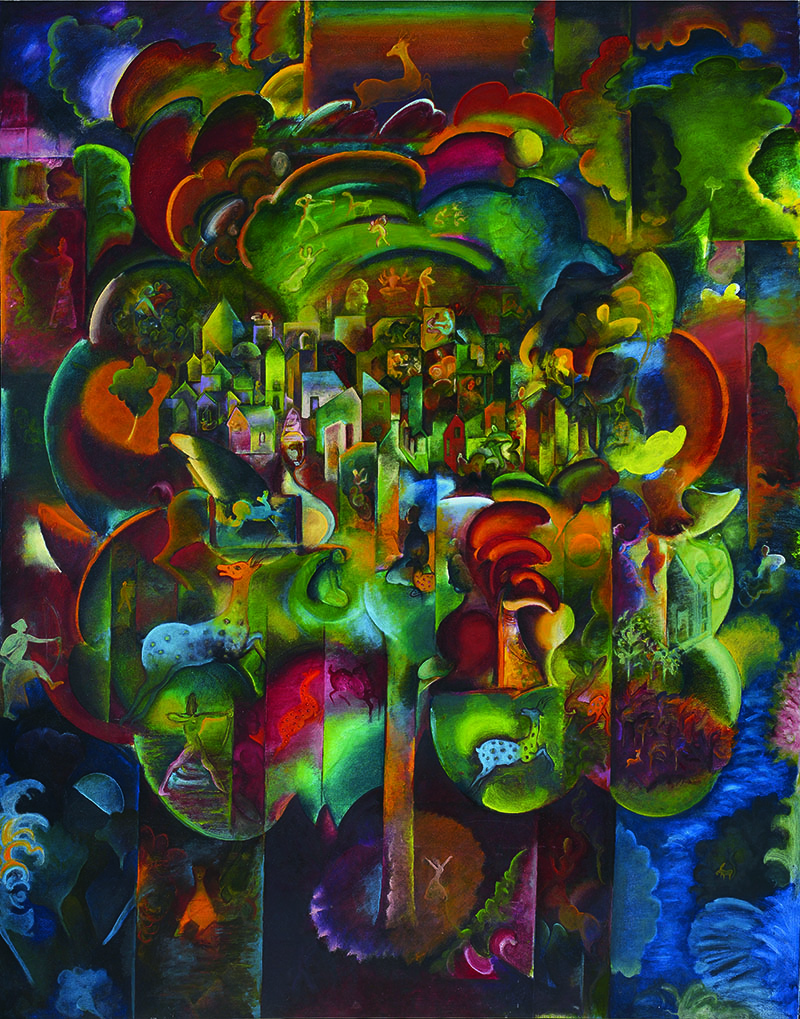 Speaking Tree; Gulammohammed Sheikh; c. 1996; Oil on canvas; 212.1 x 167.6 cm; Gulammohammed Sheikh
An Indian Modernist painter, poet and educator, Gulammohammed Sheikh is known for his autobiographical, narrative paintings of vibrant organic forms and cityscapes, as well as his poetry and prose. He was also one of the founding members of Group 1890.
Sheikh was born in Surendranagar, Gujarat, and received a Master's degree in painting from the Faculty of Fine Arts, MS University, in 1962, where he studied under artists such as NS Bendre and KG Subramanyan. He was awarded the Commonwealth Scholarship in 1963 to pursue a second Master's at the Royal College of Art, London. It was here that, inspired by his tutor and pop artist Peter Blake, Sheikh began making collages. After returning to India, Sheikh began teaching art history (1960–63; 1967–81) and painting (1987–2002) at the Faculty of Fine Arts. He served as a visiting artist at the Art Institute of Chicago (1987–2002) and writer/artist-in-residence at the South Asia Regional Studies, University of Pennsylvania (2000). He has also held lectures on the contemporary and traditional arts of India at the Max Mueller Bhavan, Mumbai; the National Museum, New Delhi; and The Smithsonian Institution, Washington DC.
His early works were landscapes, and in the late 1970s, he started working on collage-like paintings that combined multiple viewpoints within a single frame. In his later works, Sheikh explored new formats and media, designing accordion-format books, using maps as a visual idiom and making digital collages and large-scale installations such as Kaavad: Home (2012), which incorporated a storytelling tradition from Rajasthan. Other notable works include Tree over Mountains (1970), Place for People (1981) and City for Sale (1981–84). Sheikh's work has been influenced by diverse sources, from Mughal and Persian paintings to Sienese frescoes, as well as the poetry of Kabir and his own written work. He also incorporates imagery from mythology and politics, creating works such as Riot (1973) and Speechless City (1975), made in the wake of the Emergency.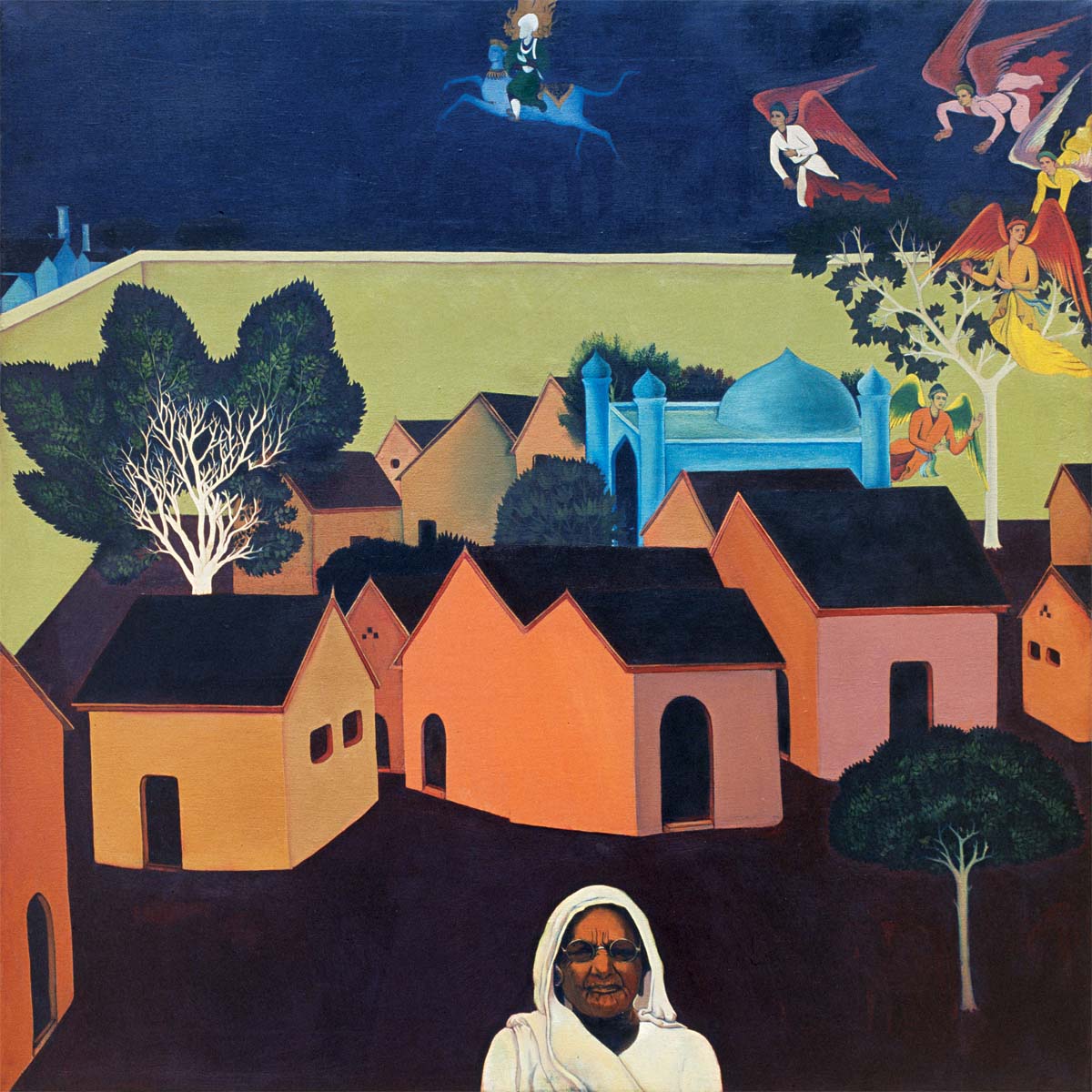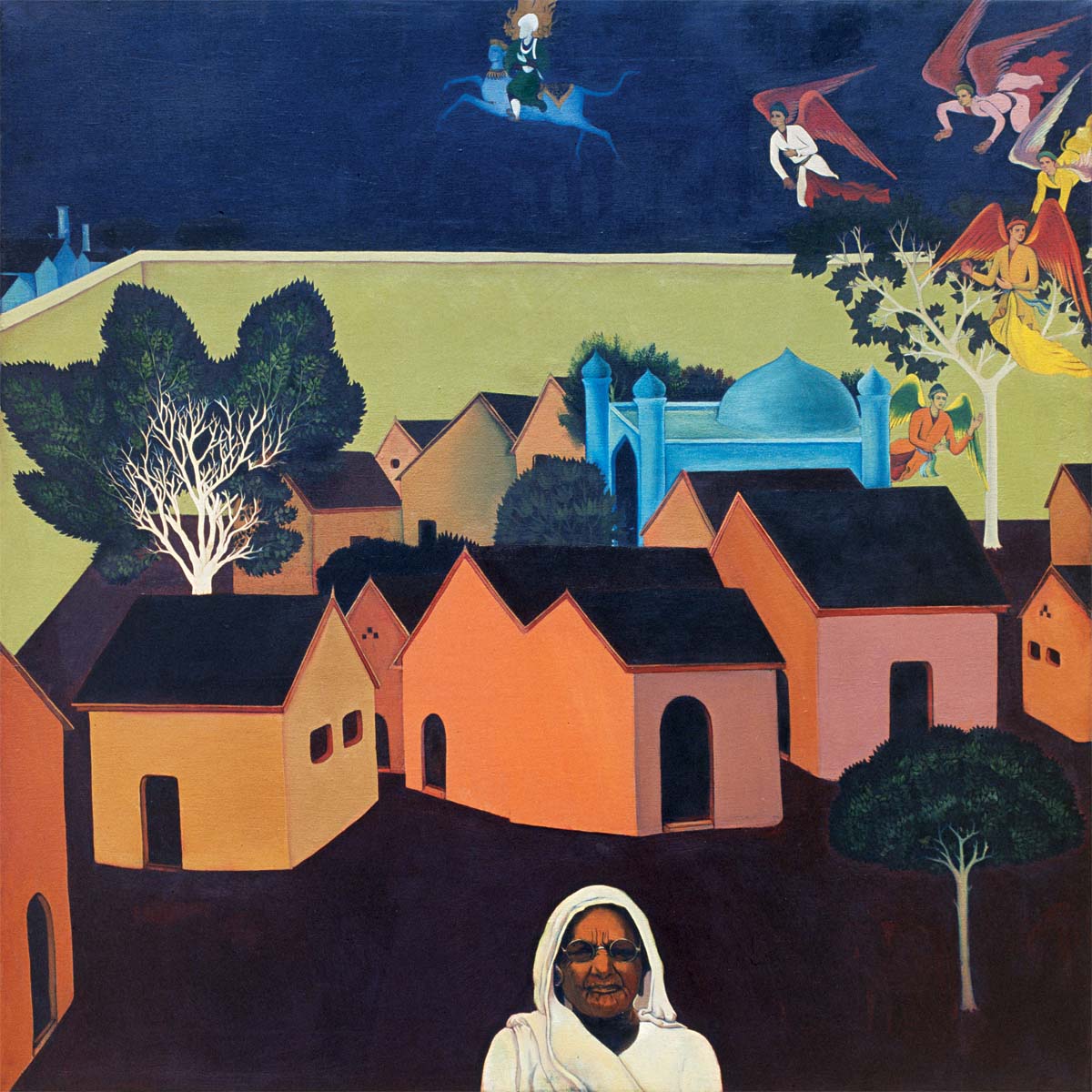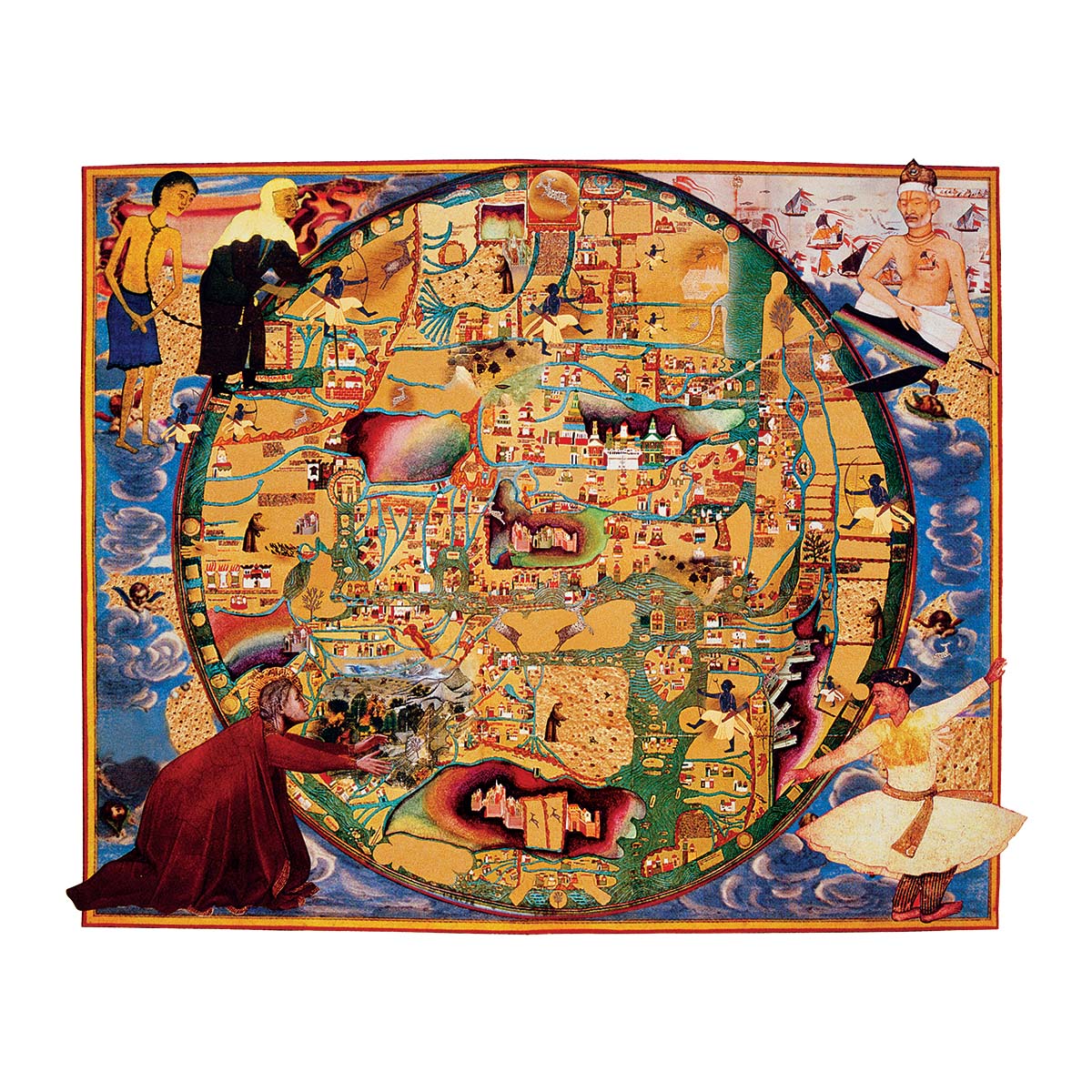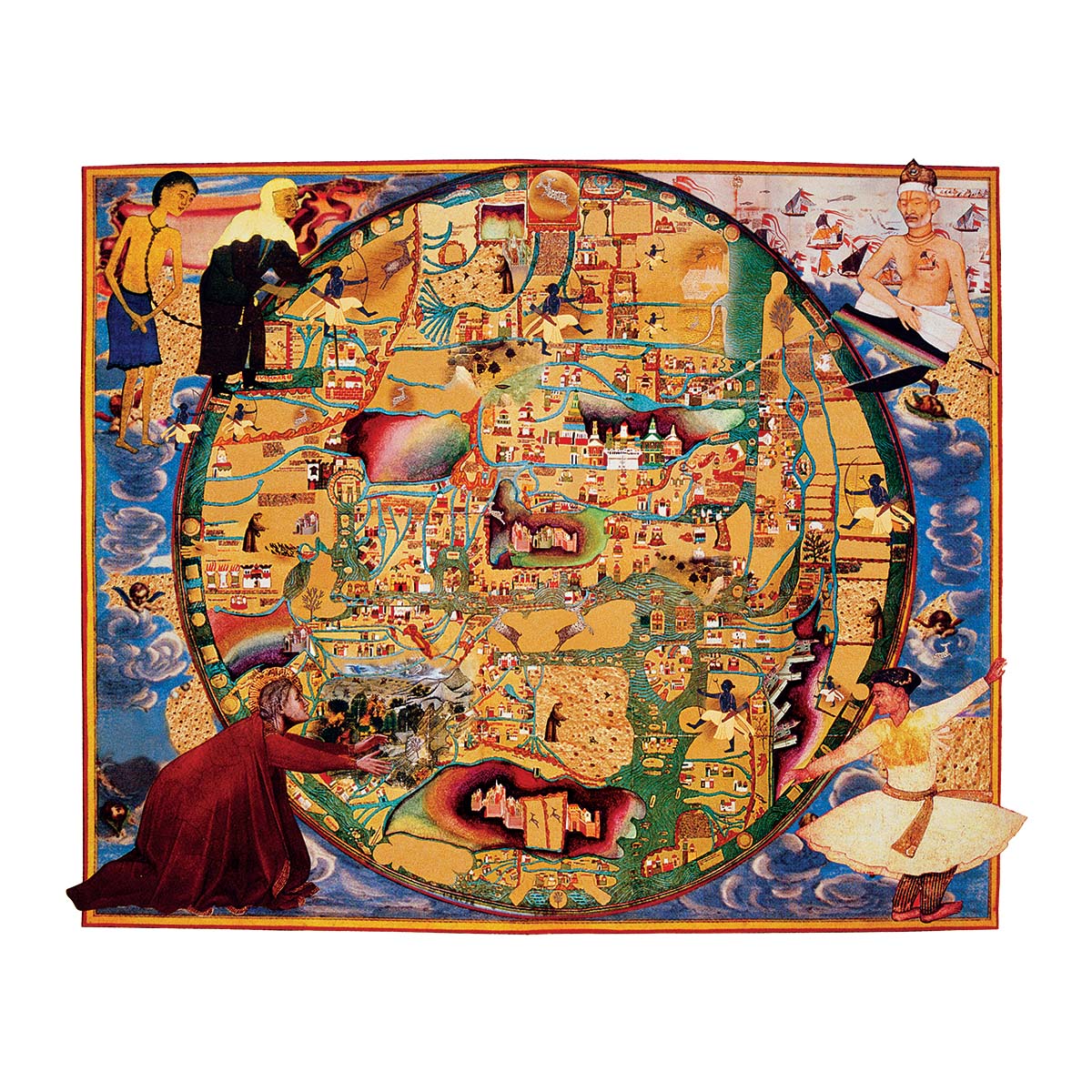 He began showing his work at various All India Exhibitions as well as Baroda Group shows from 1957 onwards and mounted his first solo exhibition in 1960 at the Jehangir Art Gallery, Mumbai. Subsequently, his works have been shown at numerous exhibitions, including the Tokyo Biennale (1963); the Paris Biennale (1967); Rabindra Bhavan (1972); the 3rd Triennale India (1975); Centre Pompidou, Paris (1985); Fukuoka Asian Art Museum (1995); and the Singapore Art Museum (2007–08). His paintings are parts of the collections of the National Gallery of Modern Art, New Delhi; the Victoria and Albert Hall Museum, London; and the Peabody Essex Museum, Massachusetts. Sheikh received the Bombay Art Society Award in 1961 and 1963, the National Award in 1962 and the Kalidas Samman in 2002. He was also awarded the Padma Shri and Padma Bhushan in 1983 and 2014 respectively.
Sheikh is also a prolific writer, and his work is considered a seminal part of the modern Gujarati literature movement. He began writing poetry in school and produced a number of literary works, including Athwa: Poems in Gujarati (1974) and Gher Jatan (1968). He also edited and published Vrischik (1969–73), a literary periodical on art and ideas, along with Bhupen Khakhar. His other publications include Laxma Goud Monograph (1981) and New Contemporaries (1978).
Sheikh married artist Nilima Sheikh in 1971. At the time of writing, the artist lives and works in Vadodara.
Bibliography
Akkitham, Vasudevan. "Essence of My Art: Gulammohammed Sheikh in Conversation with Vasudevan Akkitham." Sahapedia, March 18, 2020. https://www.sahapedia.org/essence-my-art-gulammohammed-sheikh-conversation-vasudevan-akkitham.
Chiu, Melissa, and Benjamin Genocchio. Contemporary Asian Art. Thames and Hudson, 2010.
Gujral, Diva. "The Art of Resistance: Gulammohammed Sheikh's 'Speechless City' is About Refusing to Look Away." The Scroll, January 1, 2020. https://scroll.in/article/948167/the-art-of-resistance-gulammohammed-sheikhs-speechless-city-is-about-refusing-to-look-away.
Krischer, Olivier. "History Through A Kaleidoscope – Gulammohammed Sheikh." Art Asia Pacific, July/August 2013. http://artasiapacific.com/Magazine/84/HistoryThroughAKaleidoscopeGulammohammedSheikh.
Sheikh, Gulammohammed. Contemporary Art in Baroda. New Delhi: Tulika Books, 1997.
Sheikh, Gulammohammed. New Contemporaries. Marg Publications, 1978.
Singh, Kavita. City, Kaavad and Other Works. Vadehra Art Gallery, 2011.
Sinha, Gayatri. "At Home in the World': A New Book on the Artist Gulammohammed Sheikh." The Hindu, February 22, 2020. https://www.thehindu.com/entertainment/art/at-home-in-the-world-a-new-book-on-the-artist-gulammohammed-sheikh/article30880569.ece.