ARTICLE
Gaganendranath Tagore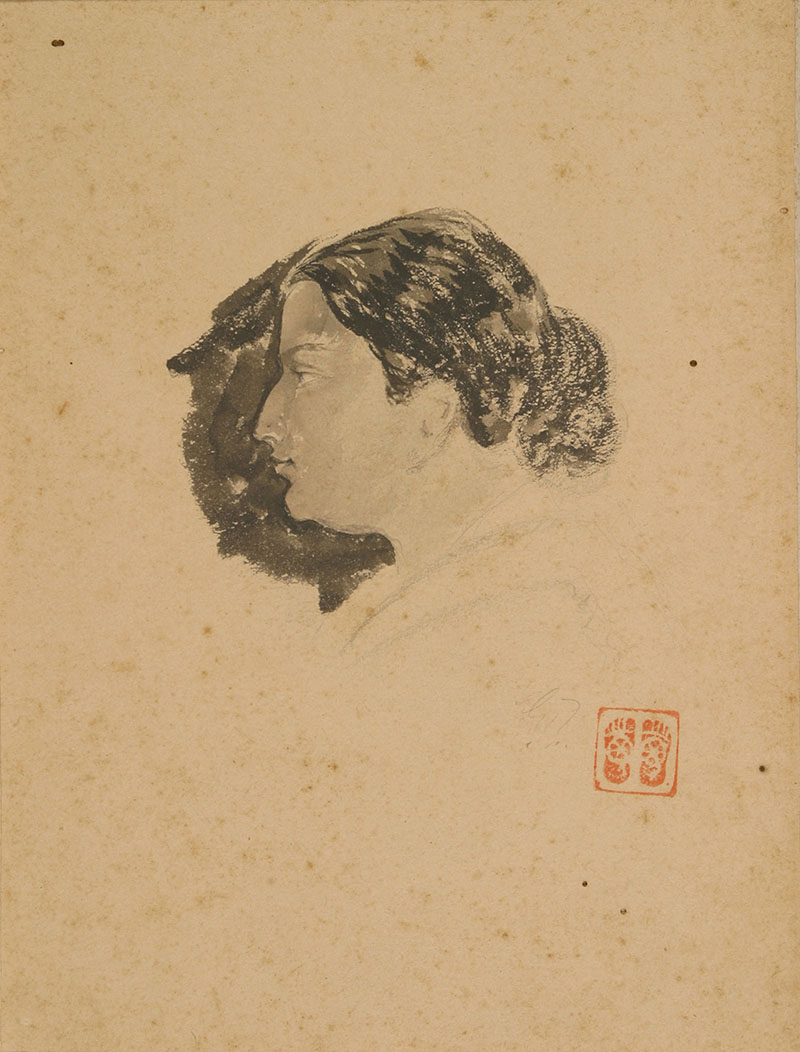 Portrait Study of Mrs. Gaganendranath Tagore; Gaganendranath Tagore; c. 1960; Brush and Ink on pencil; 16.51 x 24.13 cm; Google Arts and Culture/Victoria Memorial Hall, Kolkata
An artist, actor, and stage and costume designer, Gaganendranath Tagore belonged to the distinguished Tagore family of Jorasanko in Calcutta (now Kolkata). Events in his personal life, the influence of his family members, his own taste in the theatrical arts, and his love for literature and travel helped him develop a largely original and individualistic style of art. Tagore's works — the earliest of which date back to 1905 — depict an extremely wide variety of subjects in various styles, evidence of multiple influences including Japanese ink wash techniques and Cubism. Although he was an artist in his own right, Tagore's life and works have not received as much scholarly attention as those of his younger brother Abanindranath and his uncle Rabindranath.
Although he was actively involved in acting, designing stages and costumes for various plays under the influence and encouragement of his uncle, it was not until 1907 that Tagore seriously began painting, after the untimely death of his son. He had no formal education in art, although he later took art lessons under Harinarayan Basu, a painter and then-principal of the Government School of Art. Tagore had been active in the nationalist politics of the time, took part in the Swadeshi movement and was part of the anti-colonial organisation Anusilan Samity. Simultaneously, the Bengal School began gaining traction under EB Havell and Abanindranath, and through this association as well as his own contributions, notably the co-founding the Indian Society of Oriental Art with the latter in 1907, Tagore came to the fore as an artist in his own right.
The earliest phase of Gaganendranath's paintings include sketches, mostly sea views influenced by Japanese brushwork and sumi-e ink painting — done with a few quick brush strokes and thin washes of colour on postcards he sent from Puri to his daughter in 1907. Tagore was not only influenced by the technique of the Japanese but also what conceptually formed the subject of their art — such as everyday sceneries — as seen in his landscapes Early Morning Scene in Calcutta and Women at the Ganges. One of his finest works from the period, Banyan Tree (1911), depicts an instance of ink painting where bright and dark tones of fluid ink are juxtaposed to highlight the density and largeness of the huge banyan tree. He also created landscapes with minimal contrast in tone and hue, such as Boat Padma with Flock of Birds, suggesting influences of Impressionist art.
His other early works include portraits in pencil and ink of his family members, such as his sister Sunayani Devi, acquaintances such as the art historian Anand Coomaraswamy, as well as visitors to his home, such as pundits and Bengali kirtankars. It is said that in order to relieve the shock of Tagore losing his son, the larger family arranged kirtans and kathas in which he made many sketches of kirtankars, most notably of Shibu Kirtania. Other important works from exhibiting this style include his illustrations for Rabindranath's autobiography Jeevansmriti (1912), Crow (1912), Arrival of Tutor in Rain, Abanindranath Tagore Painting while Smoking Hooka and Portrait Study of Mrs. Gaganendranath Tagore.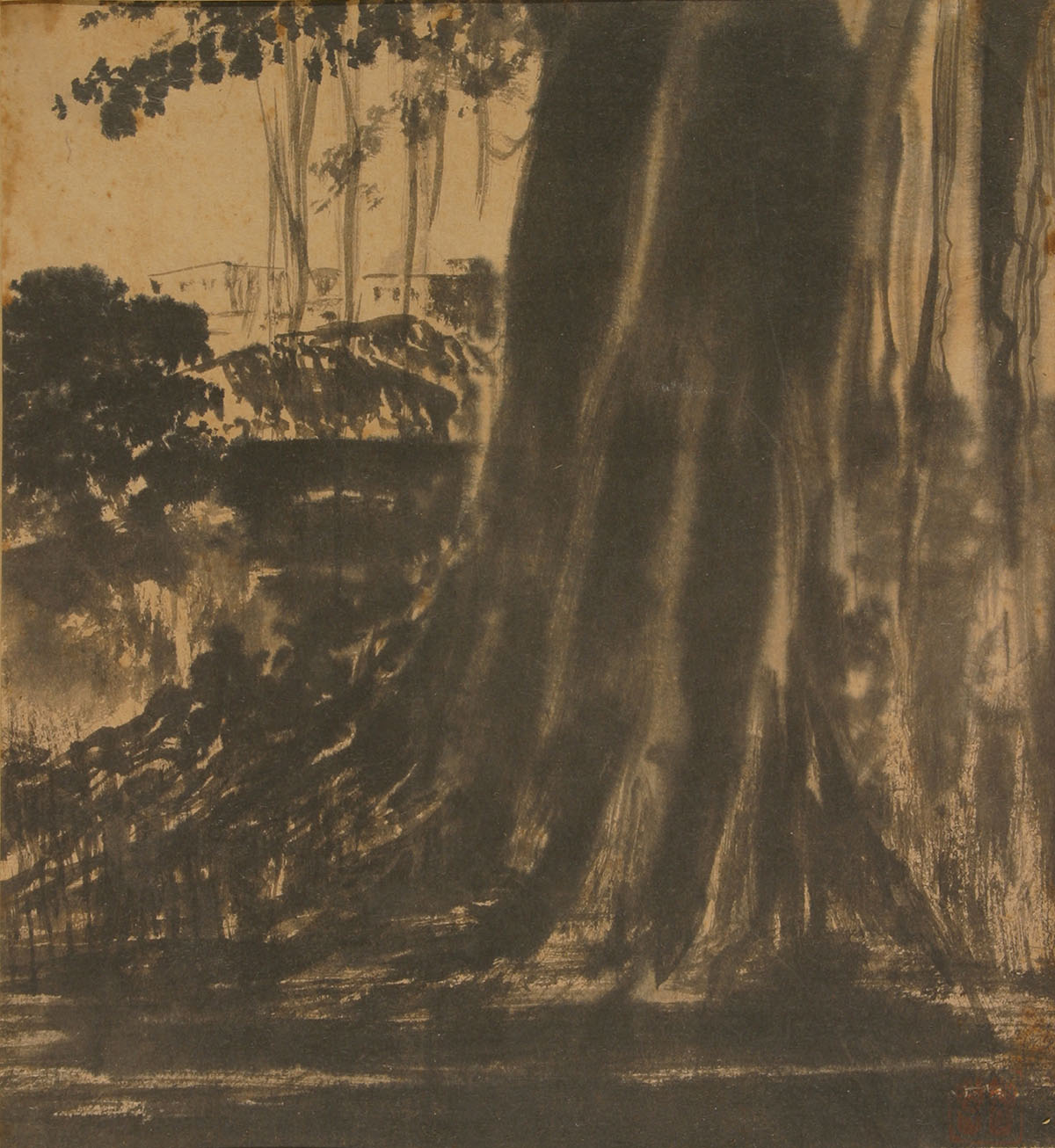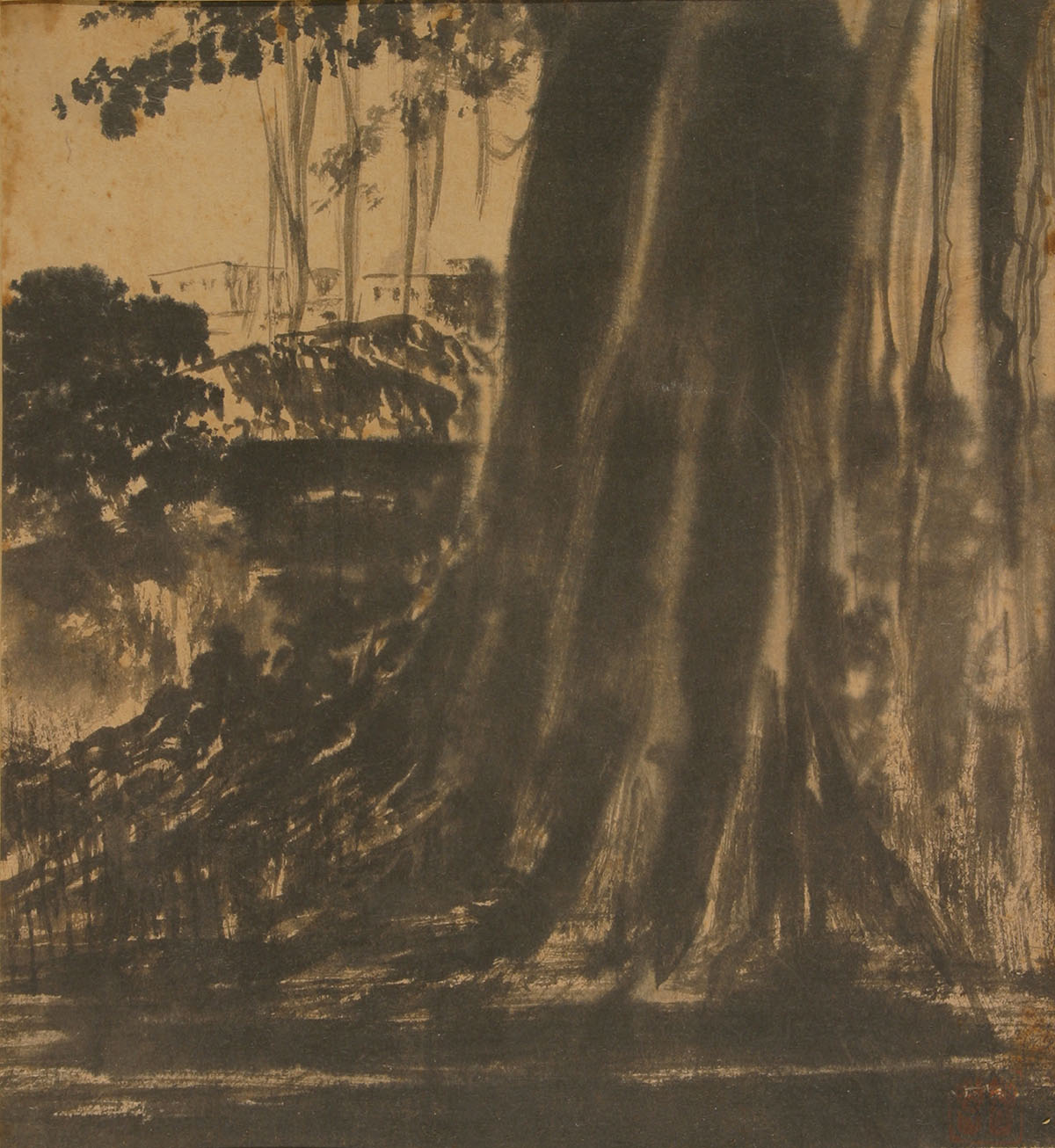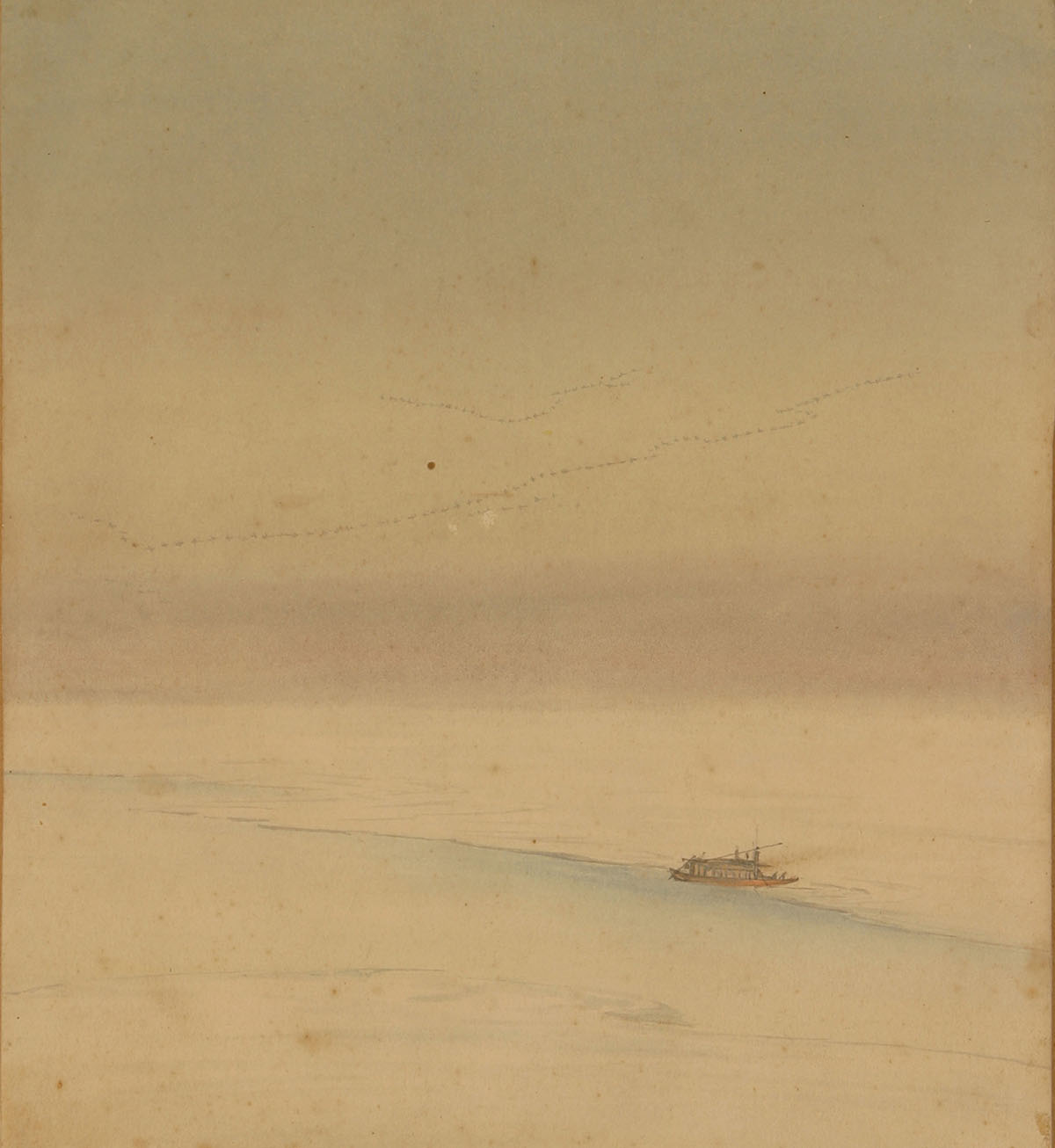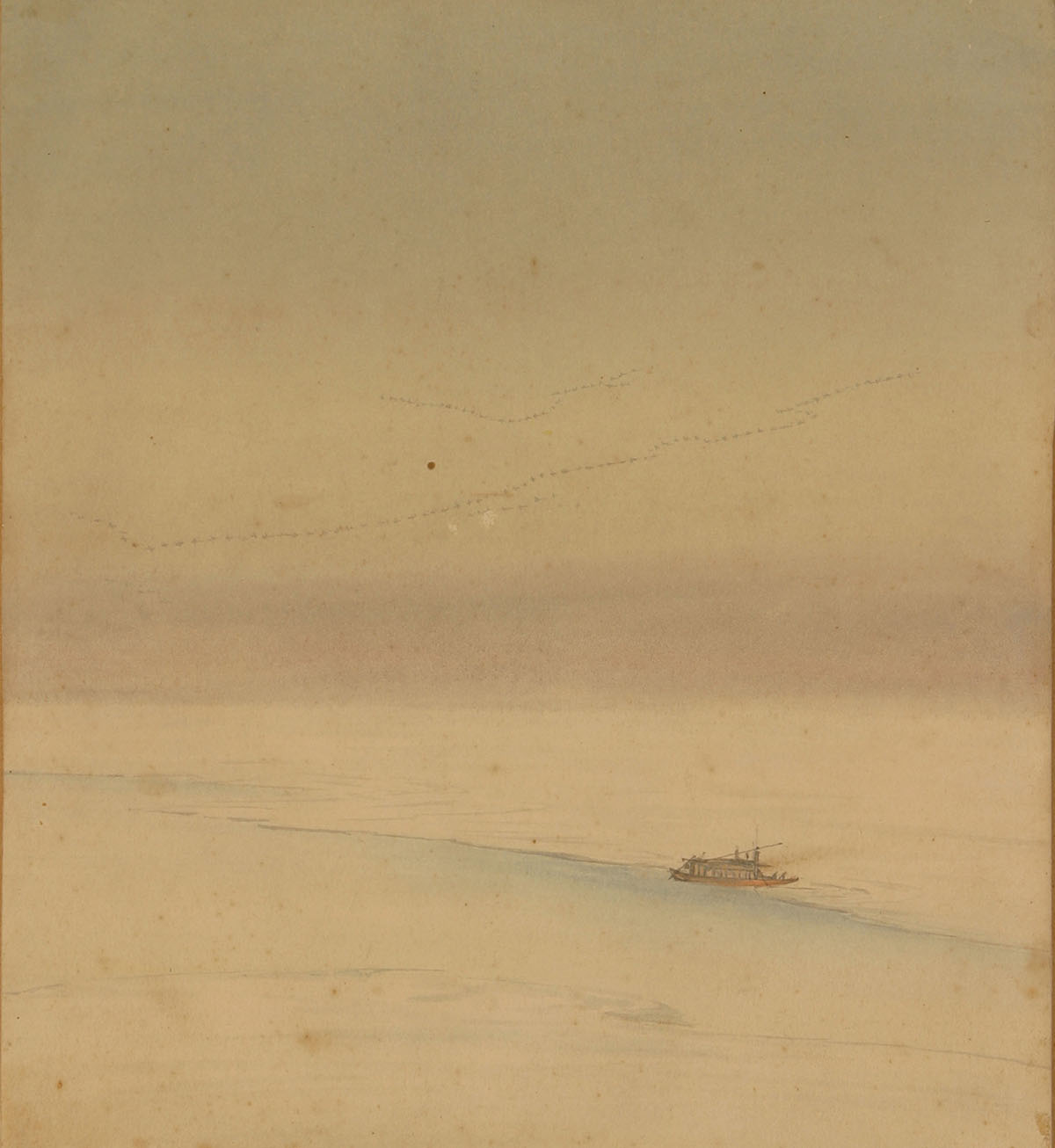 Besides Jeevansmriti, Tagore also made illustrations for some of Rabindranath's short stories, including Kabuliwala, Phalguni and some poems from Gitanjali. He was adept at using creative elements to depict light in his paintings, best showcased by his use of a gold background in some of his Himalayan landscapes from around 1912, such as the Head of the Mahadeva and Kanchangjunga to depict shimmering light.
Pilgrims, religious figures and scenes of rituals, formed one of his main subjects across different styles of painting. This was visible in his paintings derived from the text Chaitanya Charitamala, which were exhibited along with works of Abanindranath in an exhibition of the Calcutta School of Art held in Paris and London in 1914. Rabindranath had also set up the Bichitra Club at the Tagore residence in 1915 with Abanindranath as its first teacher and Tagore as its first director, later becoming its driving force. Soon after though, he began to withdraw from his brother's nationalist leanings and moved into a more poetic and dramatic style of painting with fantastical imagery, most prominently seen in his Himalayan landscapes and night scenes from 1916 onwards. In 1916, he also drew a Plan of a Stage, probably for Rabindranath's play titled Dakghar, which showed the relative positioning of all the elements of a stage including the backdrop and the position of doors and curtains. His theatre-related activities also led him closer to satirical paintings, which were caricatures and cartoons based on critical perspectives on contemporary middle-class Bengali society, particularly on the so-called Bhadralok culture. Birup Bajra ("Strange Thunderbolt") and Adbhut Lok ("Realm of Absurd") — both published in 1917 — are some of his earliest satirical works.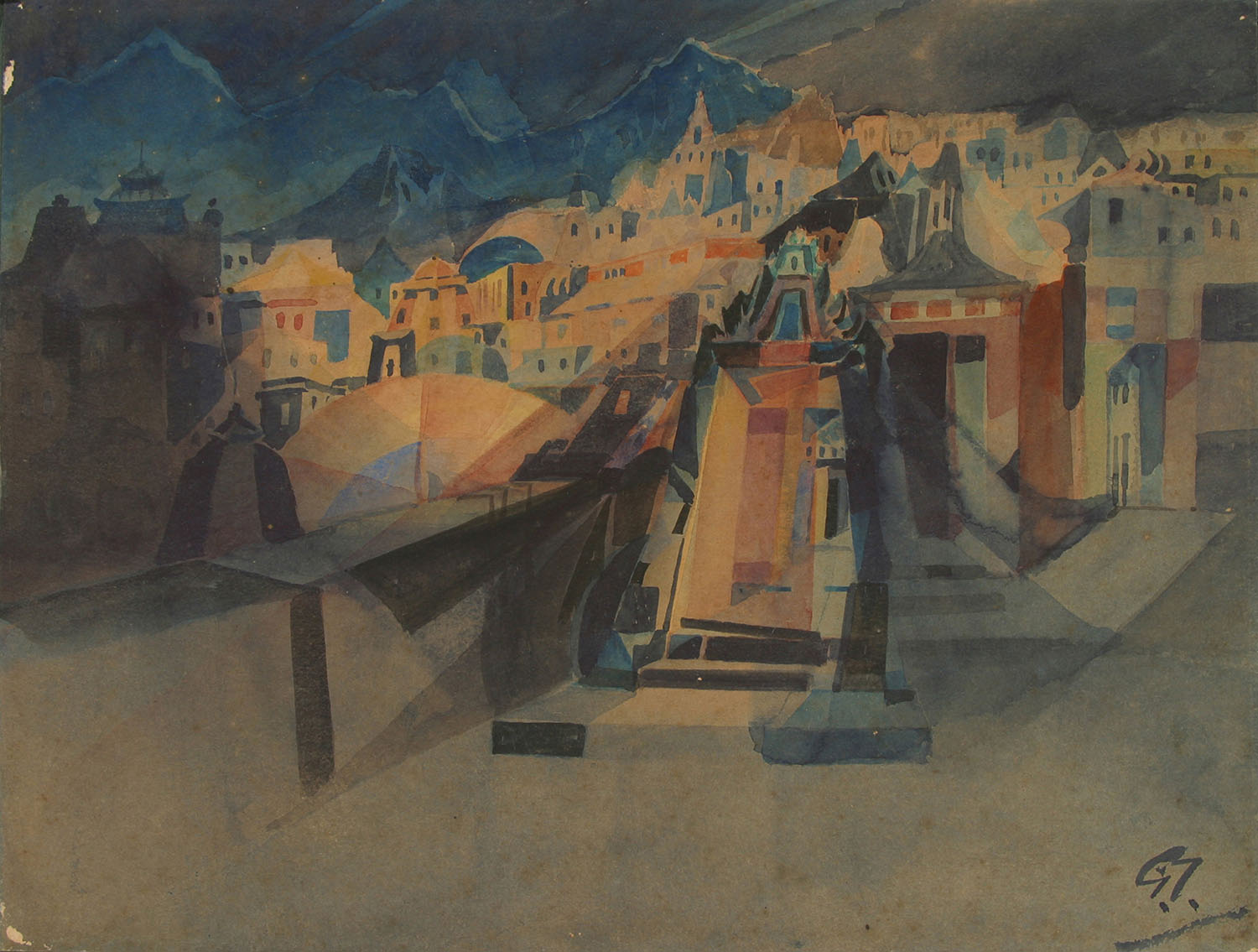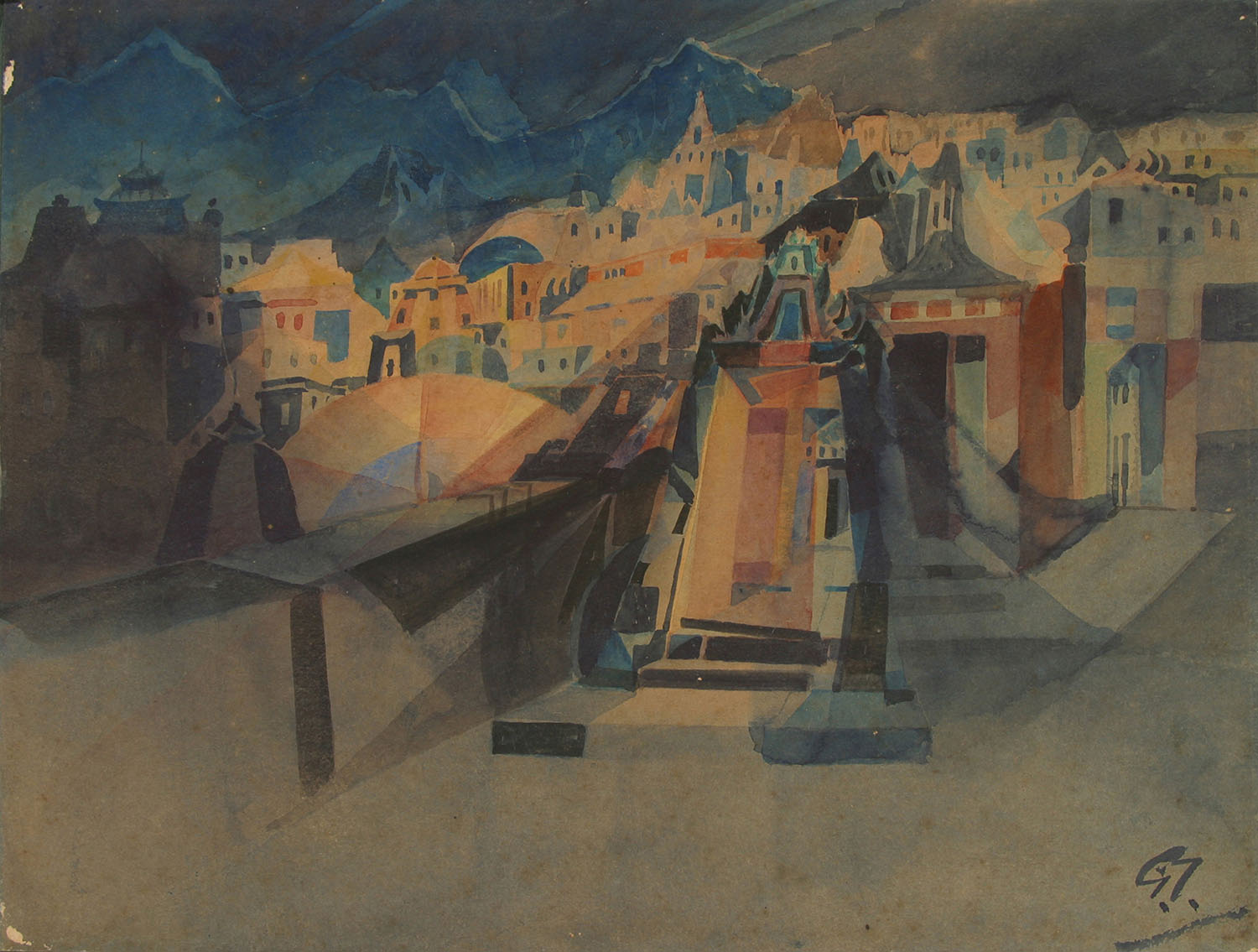 From the 1920s, he went on to experiment with the Cubist style of painting, which involved depicting multiple viewpoints and jagged edges. The first of his Cubist paintings were published in the journal Rupam in 1922, with an accompanying article by the art historian Stella Kramrisch titled An Indian Cubist, crediting Tagore for introducing Cubism in India along with his own successful stylistic and conceptual reinvention and innovation. In the same year, his Cubist paintings, including his famous House of Mystery, had their first public viewing at the exhibition of famous Bauhaus artists, marking an important milestone in Indian art. His works, including Dwarkapuri and Swarnapuri from 1925, are examples of him imagining legendary and mythical images of cities in Cubist watercolour. In his later paintings we find increasing references to stage props, partition screens, overlapping planes and artificial stage lighting, including portraits in black and white or darker shades, such as Nandini: Heroine from Rabindranath's drama Rakta and Jagadish Chandra Bose Demonstrating his New Apparatus, both from 1925.
In 1930, at age sixty-three, Tagore suffered a cerebral stroke that left him paralysed and unable to speak. He died eight years later, without being able to produce any paintings during this final period. Most of his works today can be found at the Victoria Memorial Hall, Kolkata, which were transferred from the Rabindra Bharati Society. His illustrated copies of Jeevansmriti can be found in Kala Bhavana.
Bibliography
Our website is currently undergoing maintenance and re-design, due to which we have had to take down some of our bibliographies. While these will be re-published shortly, you can request references for specific articles by writing to hellomapacademy@map-india.org.