ARTICLE
Rabindranath Tagore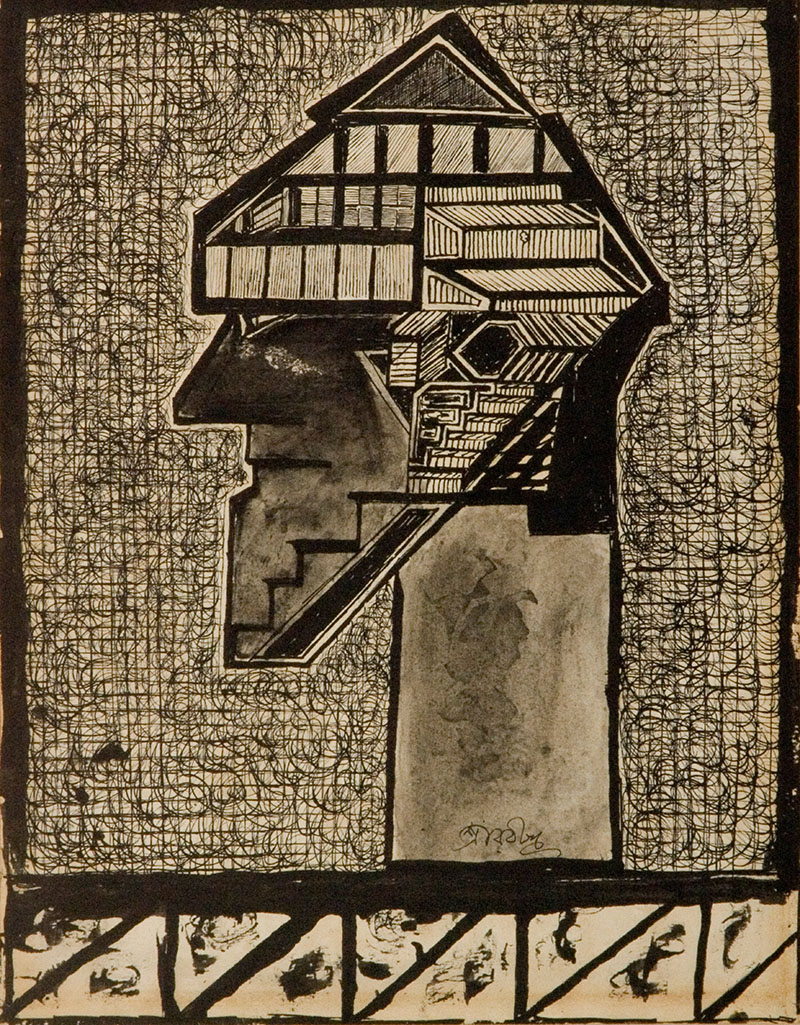 Head Study (Geometric); Rabindranath Tagore; c 1928–1929; Ink and wash on paper; 182 x 192 cm; Google Arts and Culture/National Gallery of Modern Art, Delhi
Born into the influential Tagore family of Jorasanko in Calcutta (now Kolkata) in 1861, Rabindranath Tagore was a famed poet, philosopher, writer, dramatist, educationalist and artist in colonial India. An important literary figure in the twentieth century, he received the Nobel Prize in Literature in 1913 for his collection of poems, Gitanjali (1912). Tagore's pedagogic and artistic career marks an important shift for art in India, as it moved away from the nationalist-revivalist Bengal School and envisioned a Modernism based on cross-cultural exchange and universal Humanist values. As a self-taught painter, he produced over 2,500 works throughout his life, which were exhibited across Europe, the USA and Asia in the 1920s and 1930s. 
Tagore's views on Indian art evolved through the first half of the twentieth century. In the early 1900s, he endorsed the Academic Realism of Raja Ravi Varma's paintings, which combined a post-Renaissance Western style with subjects and scenes from Indian mythology and history. Then, he aligned his views with those of EB Havell, his nephew Abanindranath Tagore and the Bengal School, supporting their rejection of Western Realism and revival of Indian art forms. He was among those who supported Havell's controversial change in the syllabus of the Government School of Art, Calcutta (now Government College of Art and Craft, Kolkata), in which Mughal miniature paintings were introduced into the formal academic curriculum. 
With the end of his involvement in the Swadeshi movement in the early 1900s, Tagore's politics also began to shift away from the brand of nationalism that viewed Western influences and the revival of authentic Eastern traditions as a binary. His philosophy of art sought to bridge the gap between the East and the West by pursuing a non-hierarchical exchange of ideas. He rejected the Bengal School's idea of an authentic and essentialised 'Indianness' and was inspired by the developments in the Western art world, including Impressionism, Surrealism, Primitivism and art forms and practices from China and Japan. 
His final and most decisive ideological shift took place in the wake of his extensive travels, between 1912 and 1932, and encounters with Modern and Postmodern art in Europe and the USA. During his first visit to Japan in 1916, Tagore was deeply moved by the culture and its linking of art, everyday life and nature. He invited the students of Okakura Kakuzo to Jorasanko to share the techniques and values of their art in support of a pan-Asian aesthetic. In 1918, he established Kala Bhavana in Shantiniketan, where his ideas of universal Humanism and cross-cultural exchange found resonance. The school later became a part of Visva-Bharati as the first faculty of fine arts in an Indian university. Here, he taught his students the value of cultural and intellectual openness and the interconnectedness of art, nature and life through unconventional and alternative approaches. Through Shantiniketan, he not only espoused a willingness to learn from other cultures, but also attempted to make art that catered to the needs of its immediate community, inspired by the Japanese view of beauty in everyday art. During his last visit to Japan in 1924, however, he became disillusioned by the country's move towards a Western-inspired nationalism and was vocal about his dissenting opinion.
Tagore's own artistic career began with drawing over the struck-out lines in his manuscripts. These spontaneous and unplanned sketches often took the shape of flowers, beasts, fantastical creatures and abstract figurations. He started painting in the 1920s, when he was well into his sixties, after he had already formulated his philosophy of art and gained international repute for his literary achievements. Scholars believe that Tagore began painting as a result of being influenced by the different art styles and movements he encountered during his international travels. His art was introspective, an expression of his own individuality, personality and a deep-rooted cultural consciousness. He designated art to the realm of the unconscious, due to which his artistic productions had abstract elements. Though he was partially colour-blind, he used bold pigments, albeit in a limited palette, uninhibited strokes and unorthodox materials such as rags, swabs of cotton and his fingers to paint.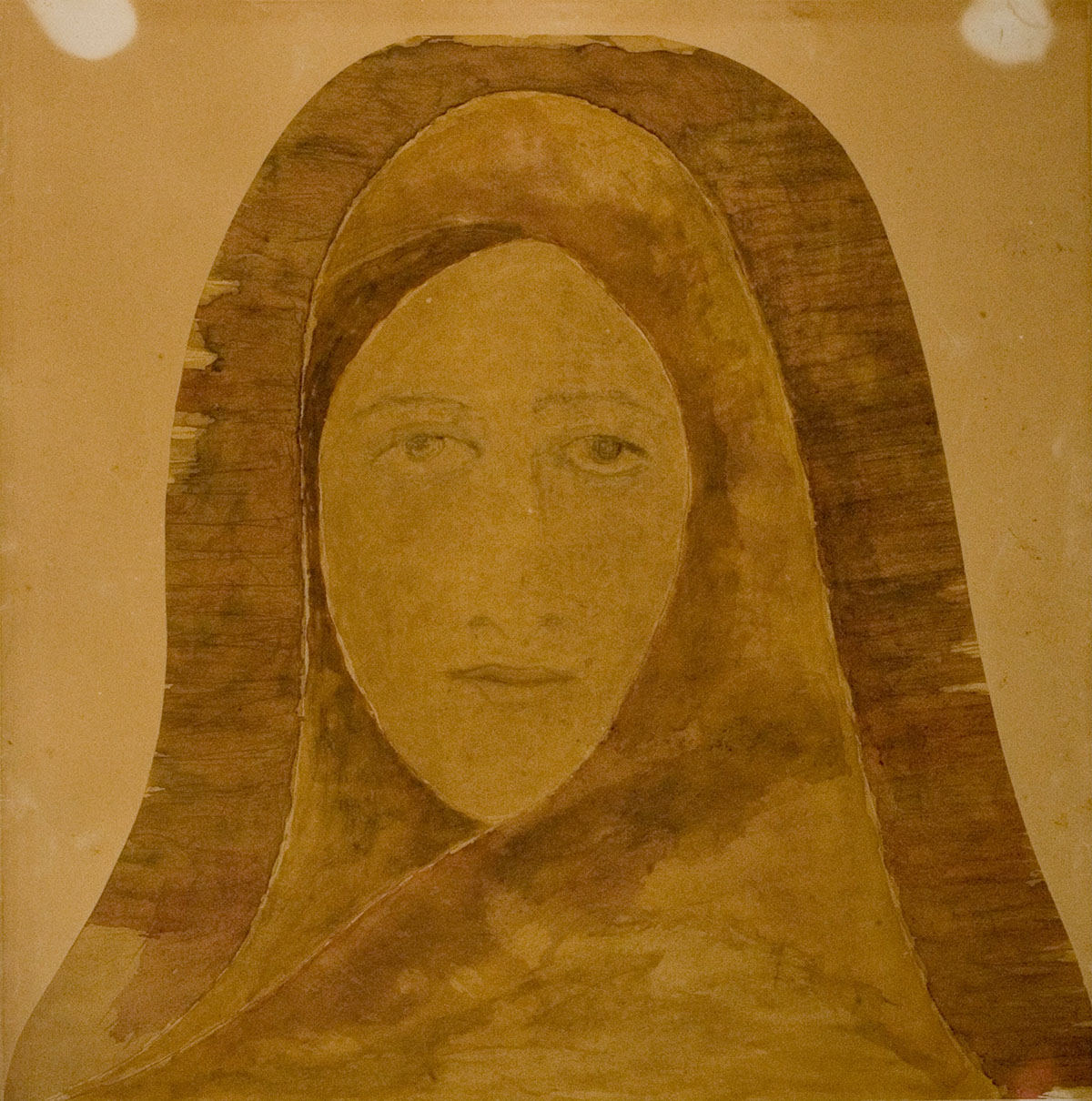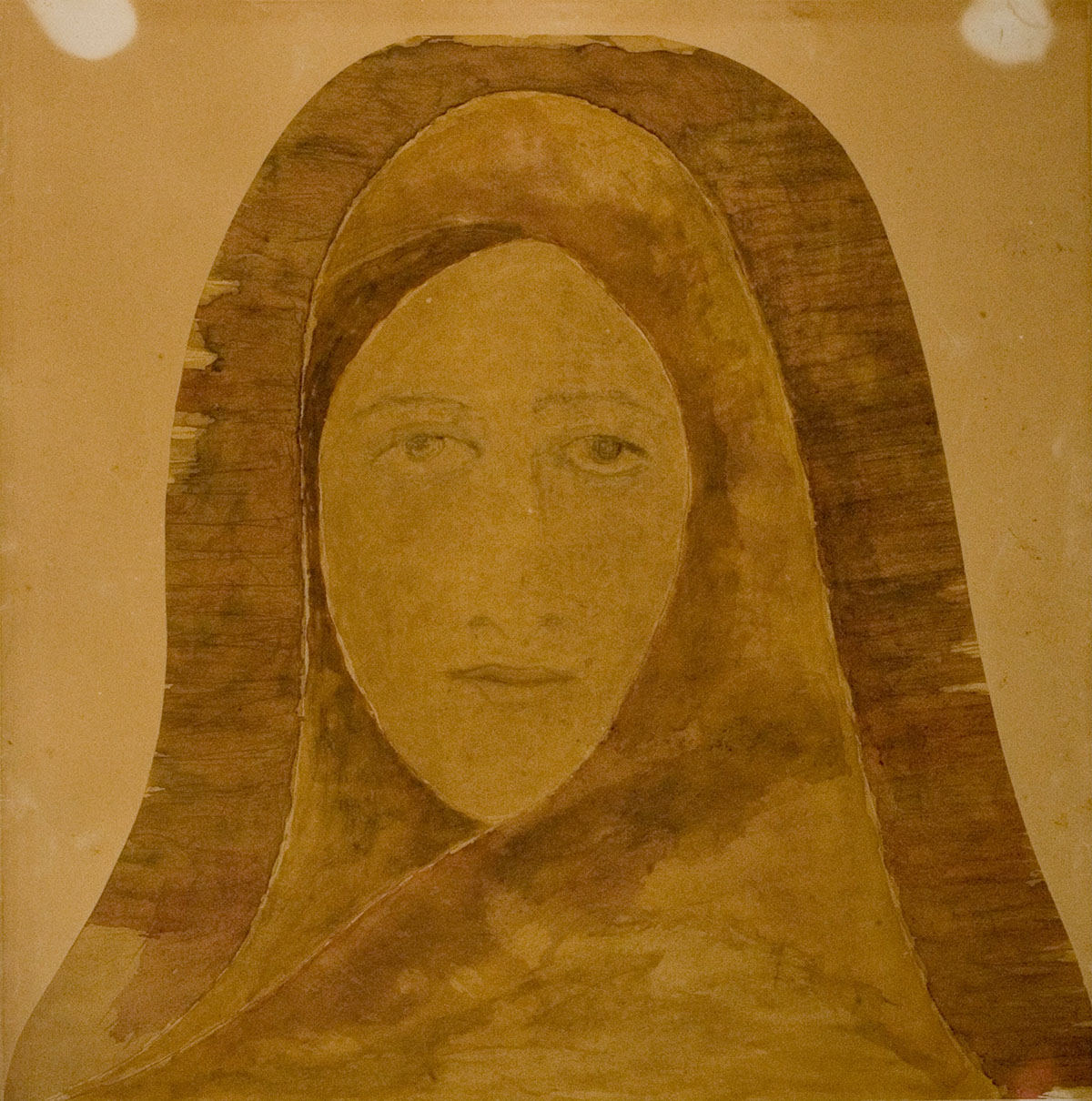 Geometric shapes appear regularly in his work, as do giant ovoid faces. A sense of rhythm was central to his style, with themes ranging from faces, masks, natural and zoomorphic figures, human groups, individual figures and landscapes. This rhythmic articulation of lines has led some scholars to see traces of the Art Nouveau style in his work but only as incidental to his more immersive and Expressionist style. The most famous, and perhaps most discussed, of his works features a series of faces that are interpreted as masks. The haunting face of a woman with pensive eyes — a recurring motif in his repertoire — is often interpreted as the looming memory of his intellectual companion and sister-in-law Kadambari, who died by suicide a few months after Tagore's marriage. His later portraits were known to cause discomfort to viewers, owing to the subjects staring back at them. These portraits had heavily lit foreheads, exaggerated noses and a despondent and dramatic air, shot through with a sense of darkness and pain. Tagore also painted landscapes depicting rural Bengal, inspired by Shantiniketan and his time at the Tagore family estates in erstwhile East Bengal. He also famously never named or dated his paintings in order to free them from the constrictions of identity, specificity, language and chronology in keeping with his universalist philosophy.
After Tagore's death in 1941, the legacy of his art was preserved and perpetuated through the Kala Bhavana. His art was proclaimed a national treasure in 1972 and was prevented from being exported out of the country, although his work had already come to be found in collections abroad. In 1997, art historian *R Siva Kumar curated the show, Shantiniketan: The Making of a Contextual Modernism for the National Gallery of Modern Art, New Delhi, to celebrate fifty years of Indian independence. Since then Contextual Modernism has become an important framework to examine the work of Tagore and other early Kala Bhavana artists.
Bibliography
Das Gupta, Uma. "In the Pursuit of a Different Freedom: Tagore's World University at Shantiniketan." India International Center Quarterly 29, no. ¾ (2003): 25–38. 
Inaga, Shigemi. "The Interaction of Bengali and Japanese Artistic Milieus in the First Half of the Twentieth Century (1901-1945): Rabindranath Tagore, Arai Kanpō, and Nandalal Bose." Japan Review, no. 21 (2009): 149–81. 
Sen, Amrit. "Beyond Borders: Rabindranath Tagore's Paintings and Visva-Bharati."  Rupakatha Journal on Interdisciplinary Studies in Humanities 2, no. 1 (2010): 34–43. https://www.researchgate.net/deref/http%3A%2F%2Fdx.doi.org%2F10.21659%2Frupkatha.v2n1.04. 
Siva Kumar, R. Santiniketan: The Making of a Contextual Modernism. New Delhi: National Gallery of Modern Art, 1997. https://www.academia.edu/42665455/Santiniketan_The_making_of_A_Contextual_Modernism_with_Notes. 
Victoria and Albert Museum. "Rabindranath Tagore: Poet and Painter." Accessed September 10, 2020. http://www.vam.ac.uk/content/articles/r/rabindranath-tagore-poet-and-painter/.
Wong, Aida Yuen. "Rabindranath Tagore's Mysterious Faces and India's Encounter with Modernism." In Behind the Masks of Modernism: Global and Transnational Perspectives, 24–54, Florida: University Press of Florida, 2016.