ARTICLE
Hemendranath Mazumdar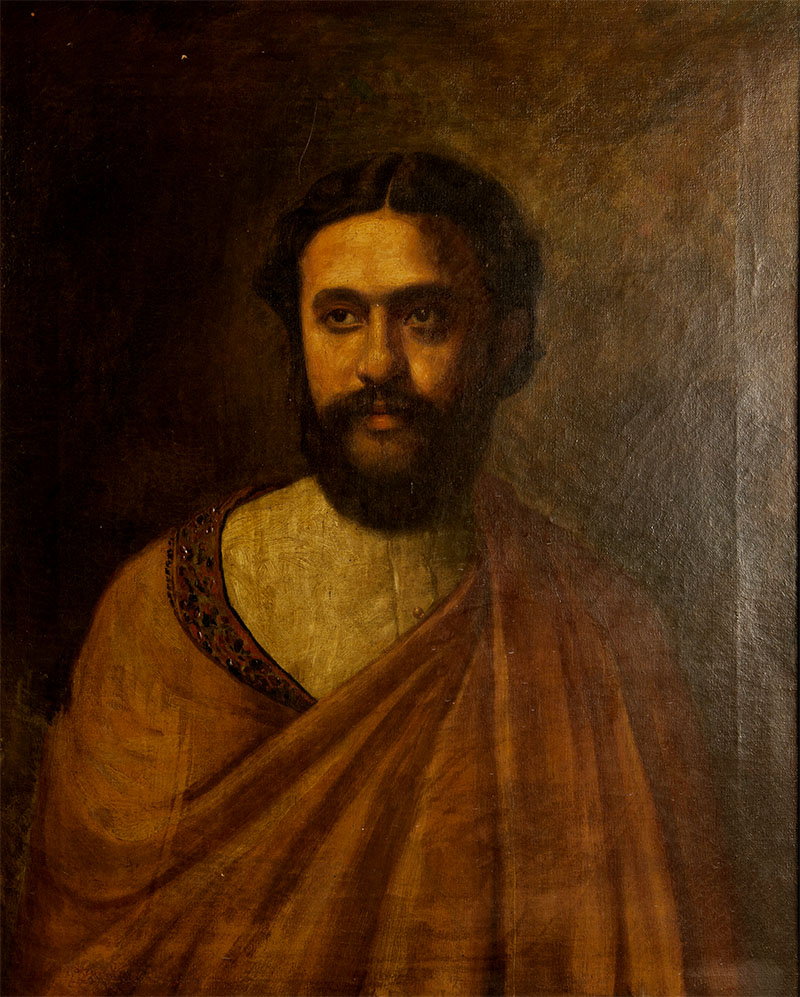 Portrait of Michael Madhusudan Dutt; Hemen Mazumdar; c. 1900; Oil on canvas; 70 x 57 cm; Museum of Art & Photography (MAP), Bengaluru
An artist best known for his naturalistic oil paintings of women, Hemendranath Mazumdar, also known as Hemen Majumdar, was a follower of the European academic style and a strong critic of the historical orientalism of the Bengal School, which he considered retrogressive. Mazumdar gained critical and commercial acclaim during his lifetime and benefited from royal patronage. His oeuvre included landscapes and portraits in pastels and watercolours, and he is best known for his oil paintings of women and for popularising the 'wet-saree' technique.
Mazumdar was born in 1894 in Maimansingha, Bengal (now Mymensingh, present-day Bangladesh). He developed an interest in painting from a young age, inspired by magazines and picture books, and in 1911, dropped out of school and moved to his sister's house in Calcutta (now Kolkata) to pursue an education in painting at the Government School of Art. However, the university's shift from academic realism towards models of orientalist and revivalist pedagogy led to Mazumdar dropping out the following year. Soon after, he joined the Jubilee Art Academy, Calcutta, and supplemented his learning through art books. After graduating in 1915, he began painting bereavement portraits for local families as well as undertook stage decoration contracts along with his contemporaries Atul Bose and Jamini Roy. Along with them, Mazumdar founded the Indian Academy of Fine Arts in 1919 that aimed to counter the growing monopolistic and exclusionary practices of the Bengal School. The following year, the group also established the Society of Fine Arts to challenge the ideological and aesthetic standards of the Indian Society of Oriental Art, Calcutta.
Mazumdar's work was exhibited at the society's first exhibition in 1921 and 1922. In 1920, he won the gold medal at the Bombay Art Society for his painting Smriti (Memories). In 1921, he received a gold medal at the Society of Fine Arts exhibition for Palli Pran. The painting, which depicts a young woman emerging from her ablutions in a wet garment, demonstrated the signature style of the artist and his mastery over texture, modelling and chiaroscuro, especially evident in the translucent garment. Other paintings that demonstrate the artist's skill in rendering translucent skin tones and sensual poses in the tradition of academic nudes include Dilli ka Laddu and Kaner Dul (c. 1930). Mazumdar denounced the sentimental nostalgia and historicism of the Bengal School, instead prioritising objective and direct observation. He often used photographs to accurately depict the details of figure and pose. His subjects were usually light-skinned elite Bengali women, believed to have been modelled after his wife, who he painted as solitary figures in their private moments.
Through the 1930s, he painted in the royal courts of Kashmir, Bikaner, Patiala, Cooch Behar, Mayurbhanj and others, having earned renown for his portraiture and his sensual depictions of Bengali women. In 1938, following the death of the Maharaja of Patiala, Bhupindranath Singh, one of his biggest patrons, Mazumdar returned to Calcutta and set up studios in the city and in Hooghly district. Mazumdar's work faced considerable criticism among sections of the British and middle-class Hindu elite, who found his depictions of women in wet sarees and states of undress offensive to the pure ideals of classical nudes as well as the ideals of feminine modesty, respectively. In more recent decades, critical debate has centred around the gendering of his art and its gazes — which ranged from romantic idealisation to the voyeuristic male gaze.
His last known work and only famous departure from his oeuvre — a large mural depicting rural life in Bengal — was painted in 1978 for the All India Exhibition at Eden Gardens.
Mazumdar died in 1948.
Bibliography
Our website is currently undergoing maintenance and re-design, due to which we have had to take down some of our bibliographies. While these will be re-published shortly, you can request references for specific articles by writing to hellomapacademy@map-india.org.