ARTICLE
Jangarh Singh Shyam
(b. 1961; d. 2001)
A contemporary Indian artist and among the first Adivasi artists to come into mainstream prominence, Jangarh Singh Shyam is known for pioneering a visual idiom rooted in the culture of the Gond indigenous community of Central India. Combining an individual imagination with new subjects, techniques and mediums, his work and success inspired the Jangarh Kalam — a style and epithet that several other members of his community, the Pardhans, adopted in their careers as artists. Commonly conflated with Gond painting — a traditional practice found across various Gond Adivasi groups — the style consolidated a specific visual language for the Pardhan community, whose heritage otherwise comprised oral and musical performance. Cultural theorists often consider the Jangarh Kalam to occupy a 'third' field of artistic production that goes beyond the binaries of metropolitan–rural, modern–traditional and modern–postmodern. Jangarh's output was prolific despite a relatively short career spanning less than twenty years. 
Born in the village of Patangarh in the Dindori district of eastern Madhya Pradesh, Jangarh, as he was commonly known, grew up in economic poverty and was forced to abandon formal education early. The Pardhan community to which he belonged is a Gond Adivasi subgroup traditionally entrusted with performing folkloric stories and sacred songs with music, in return for offerings and patronage from other Gond groups. Their hereditary livelihood weakened progressively with the changes accompanying colonisation, and they took to agricultural work, remaining marginalised and economically vulnerable. Jangarh was similarly forced into agricultural work, and was married at sixteen to Nankusia Bai, who would later become an artist of the Jangarh Kalam. Although the community did not have a specific painting tradition apart from geometric symbols and domestic clay reliefs, Jangarh was known within his community for his painterly abilities from a young age, and he would occasionally paint Hindu deities on the mud walls of huts. 
In 1980–81, when he was about nineteen, his talent was noticed by a team put together by the artist Jagdish Swaminathan, as part of a documentation and collection drive for the folk and Adivasi art wing of the Roopankar Museum at Bharat Bhavan, Bhopal. This encounter and subsequent interactions with Swaminathan paved the way for his frequent travels to Bhopal, where he participated in artist camps. During these visits, he was exposed to a vibrant Modernist artistic milieu and introduced to new painting materials such as poster colours, acrylic paints and paper. He also encountered other Adivasi artists at Bharat Bhavan, including Pema Fatya, Bhuri Bai and Lado Bai from the Bhil community, who came from a tradition of visualising their creation myths in wall and floor paintings. With no precedent for a pictorial language in his background, he began to create images reinterpreting his community's myths in an original way, assimilating its songs, rituals, symbols, domestic clay-relief work and musical traditions into a personal vision. These visits marked the beginning of mainstream recognition for his work.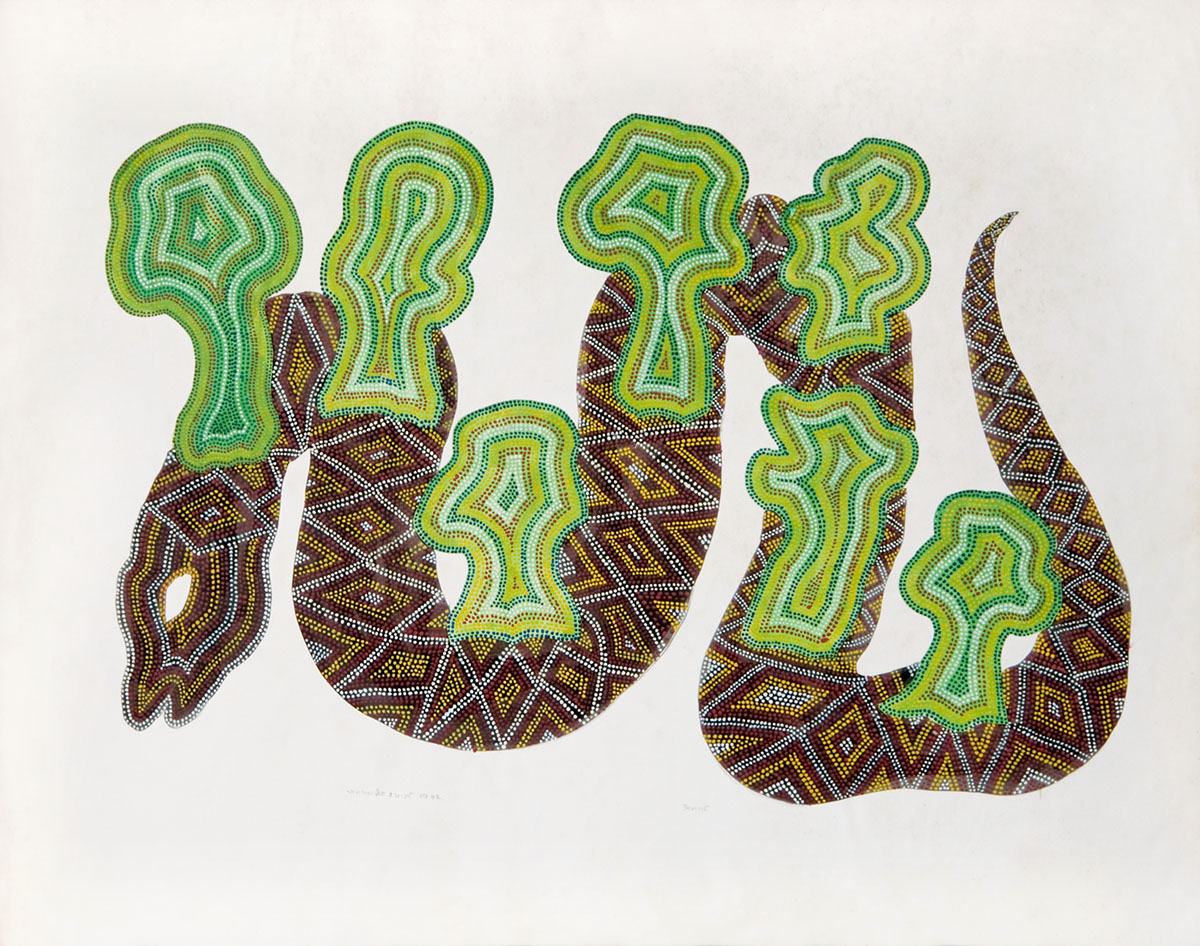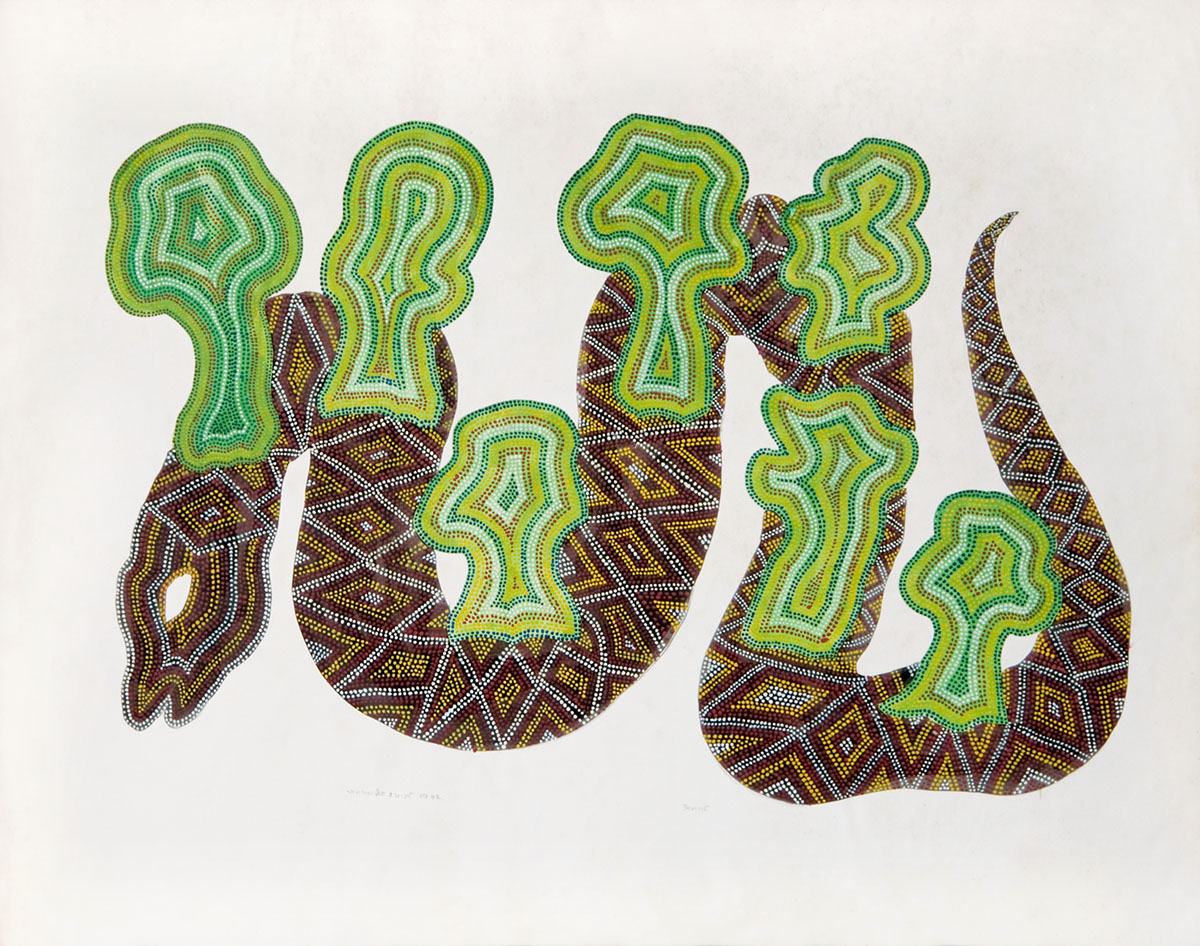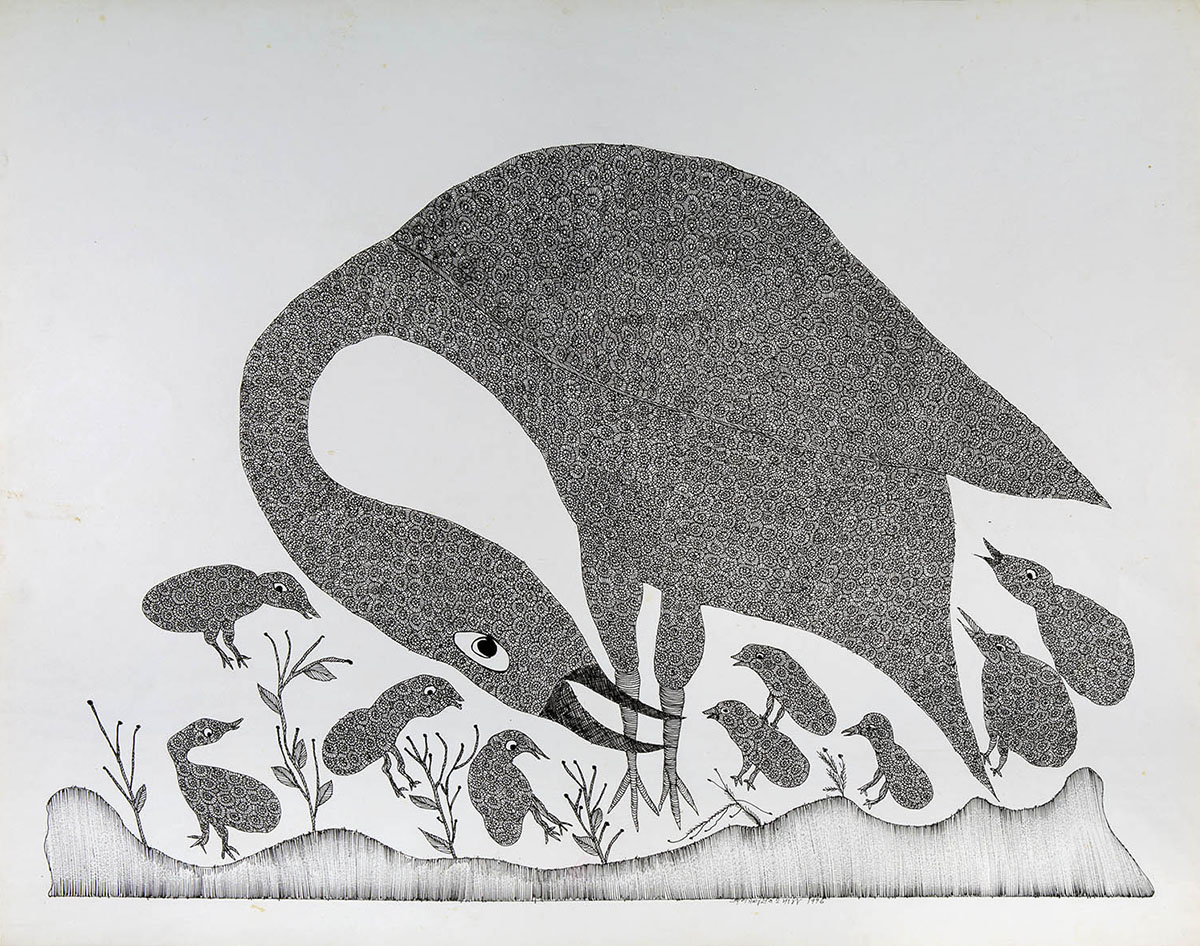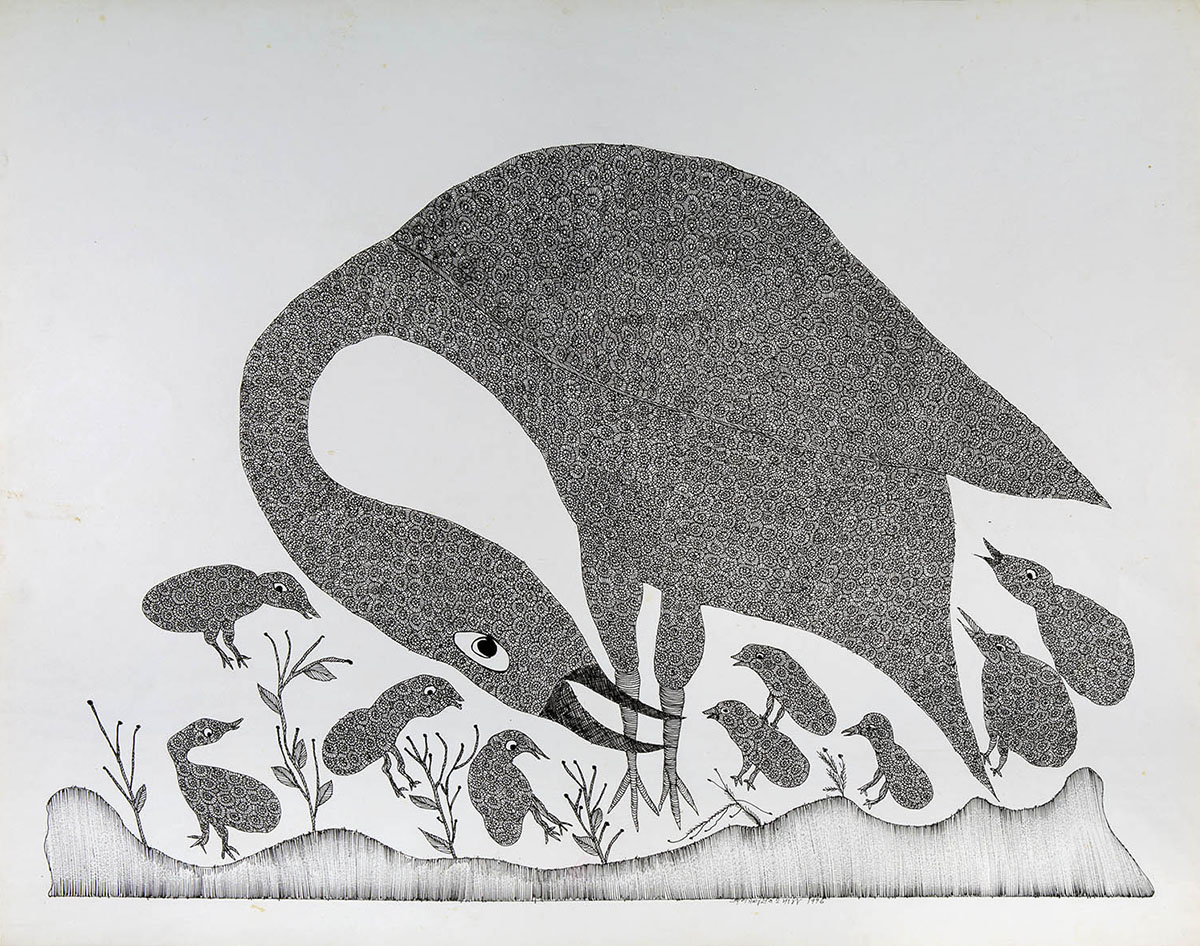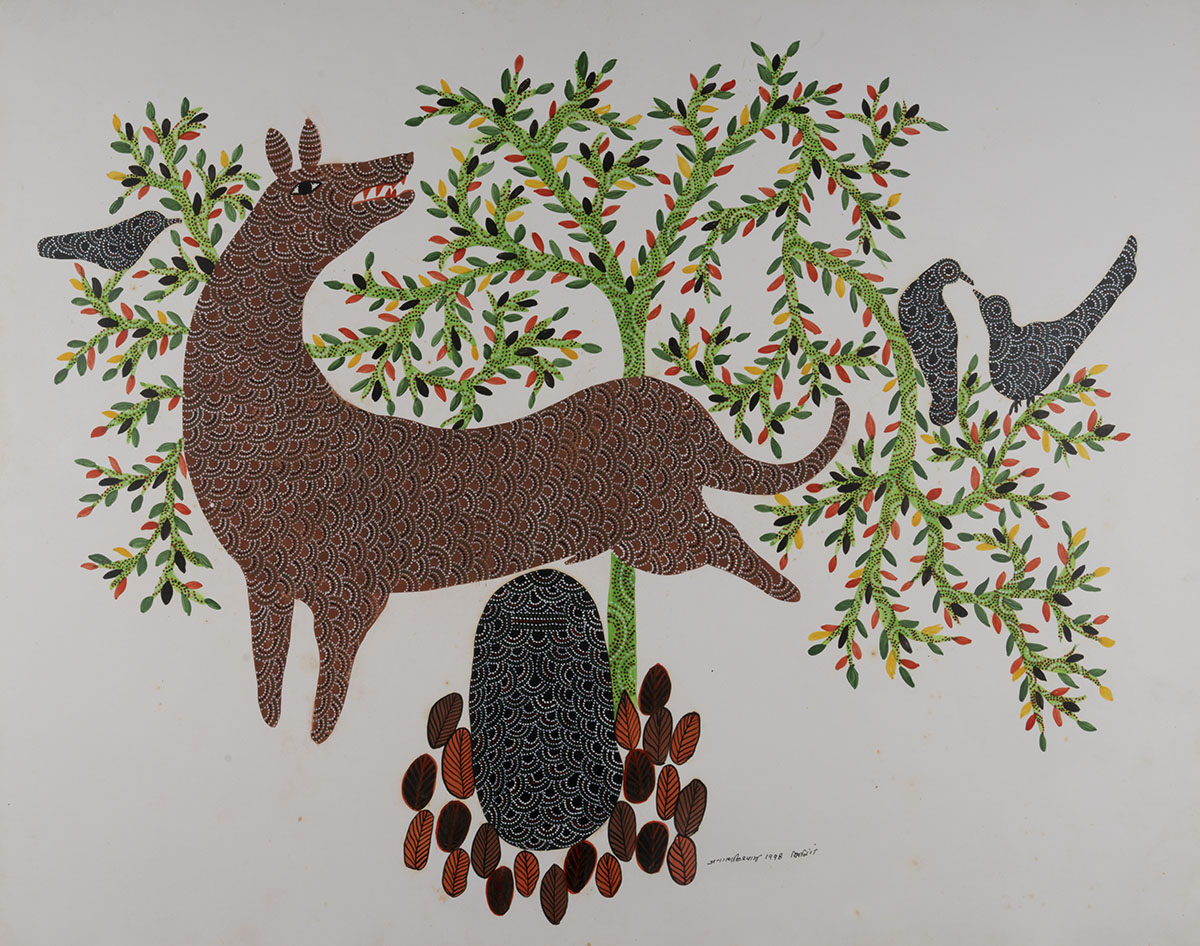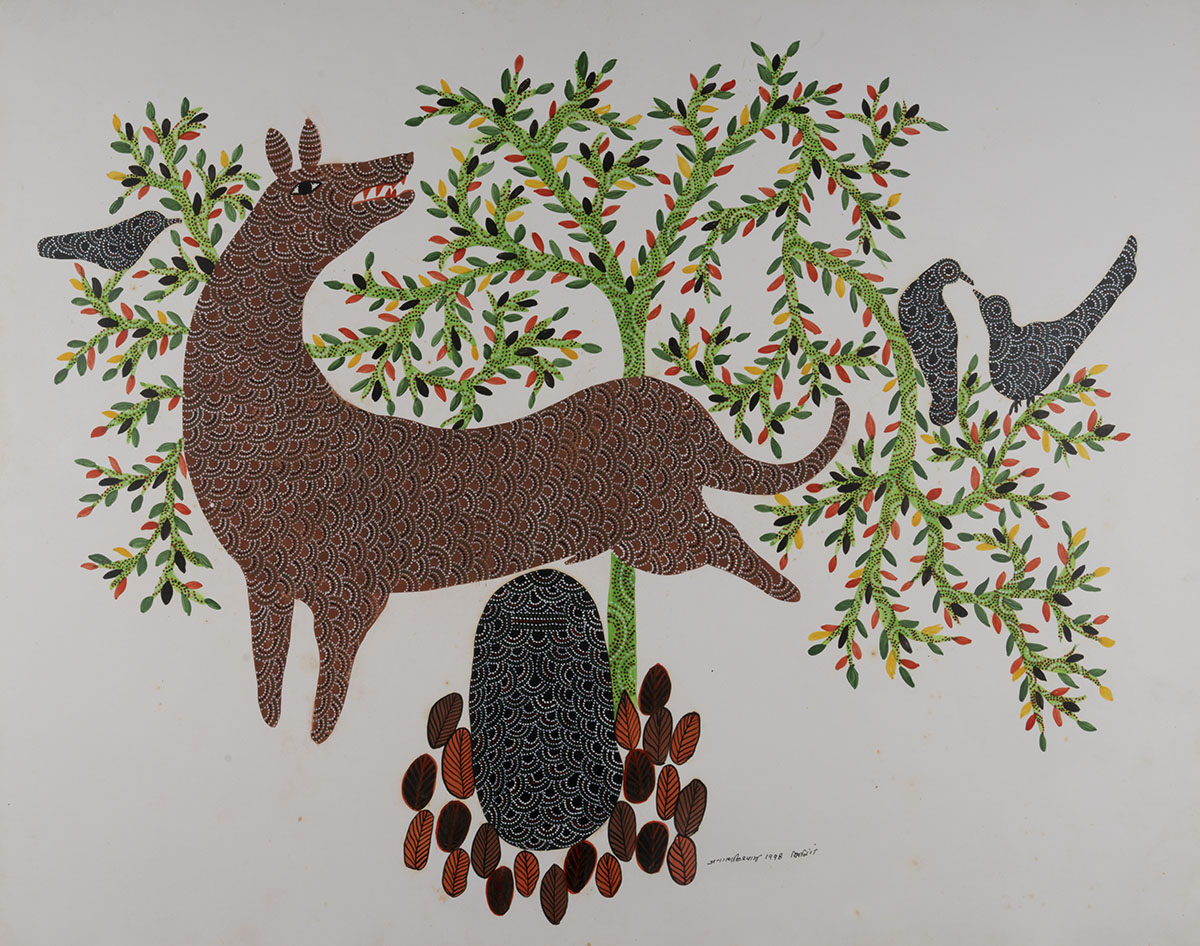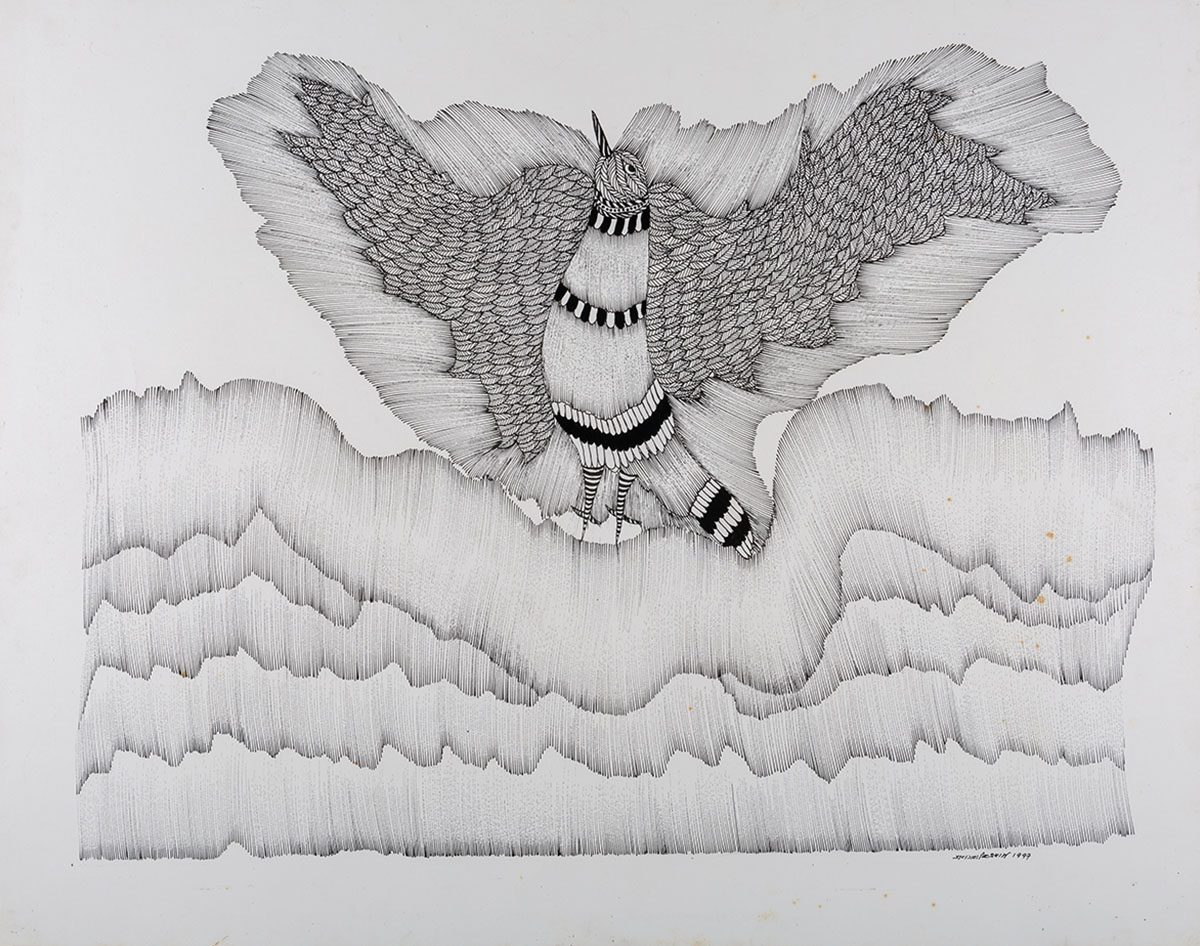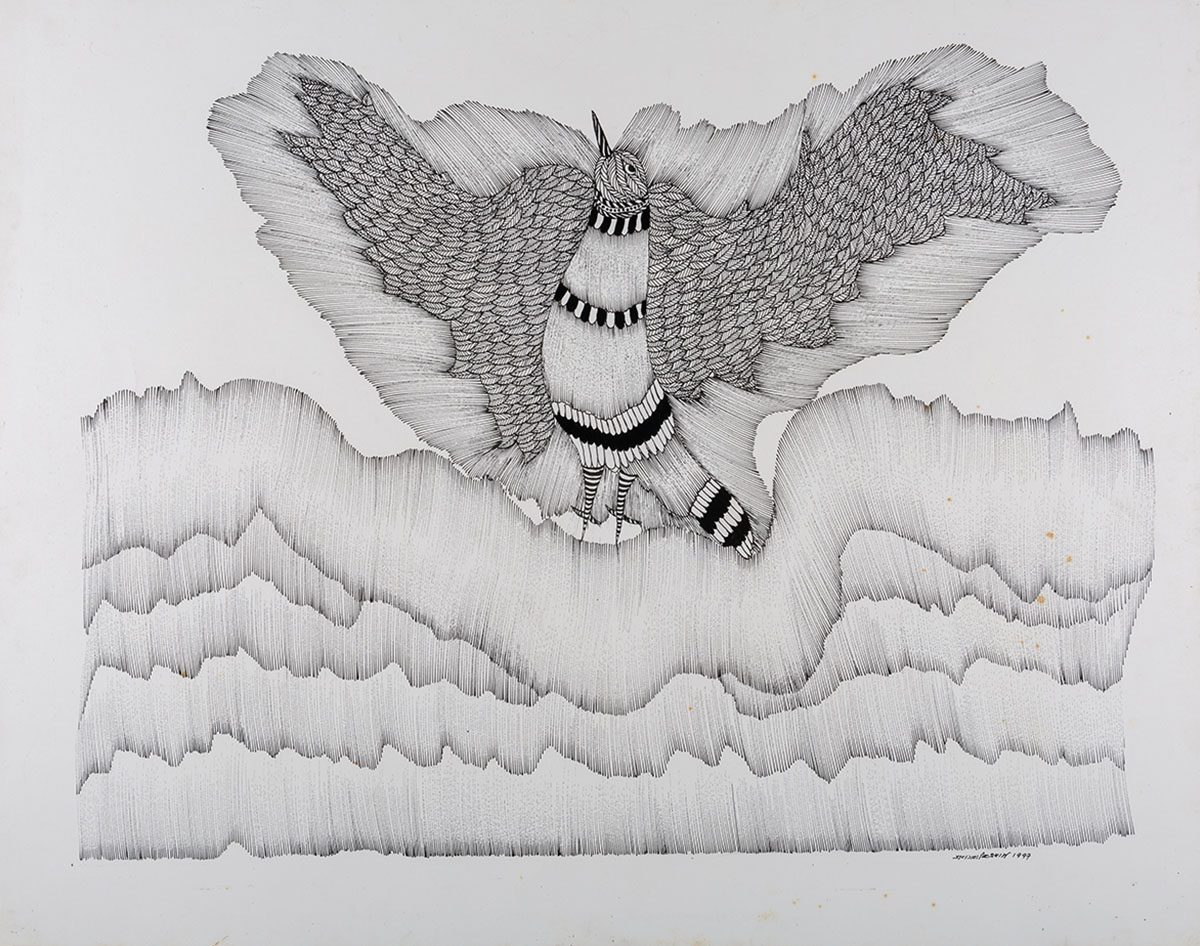 In 1983–84 Jangarh was employed as a studio attendant at Bharat Bhavan's graphics department, during which time he mastered printmaking techniques. He began using screen printing and other techniques to create unique multichromatic prints, which comprised repeated impressions and variations in tone and texture that were achieved by innovative means such as scratching, scraping and splashing. Shown at the 1990 Bharat Bhavan International Print Biennial, these prints received significant attention and acclaim. In the course of his association with Bharat Bhavan, Jangarh created a highly experimental language of pictorial expression that challenged the exclusive categories of folk and tribal art forms and contemporary modern art. 
In his earliest paintings, Jangarh began to give pictorial form to Pardhan deities, which were traditionally not depicted figuratively but only through geometric compositions, besides their descriptions in folk songs. Jangarh envisioned them as semi-anthropomorphic, giving them the features and attributes of the shamans he had seen manifesting these deities. They emerged as lone central figures in the composition, holding spikes, tridents and whips, squatting on a seat of nails and surrounded by flags, tridents and oil lamps. The numerous local Pardhan deities he depicted included Bara Dev, Phulwari Devi, Narayan Dev, Hanuman and Budha Dev, in their malevolent or benign forms. The contours of their forms are thought to have been inspired by the bana, a three-stringed musical instrument of the Pardhan bards, in which the chief deity Bara Dev is believed to reside. The richly coloured dots in his work are said to be inspired by the flowers of the parsa tree (Butea monosperma), tribal tattoo traditions, as well as the dotted chintz costumes worn by panda-pujaris, the masters of religious ceremonies. Jangarh is known to have been deeply affected by the novel experience not only of using vibrant synthetic colours, but also of giving figural forms to traditional deities, who he believed might now emerge from the paper. 
With the experimentation encouraged in his Modernist milieu, Jangarh's iconic compositions began to give way to narrative visuals with a number of interacting elements. For instance, in the 1985 painting Pandawani Kathas, which depicts episodes from regional versions of both Ramayana and Mahabharata, Jangarh uses devices such as cartographic composition, figure placements within colour-blocked areas, and aerial perspectives to successfully create multiple narratives within a single frame. While he was often encouraged to express his tribal background in his work, the experiences of urbanity and the mainstream art world also led Jangarh to explore more secular subjects. He increasingly painted the flora and fauna of his native forests, as well as modern motifs that he encountered in his travels and city life. As he began to travel widely, attending residencies and workshops in India as well as Japan and other countries, such work also served as a channel for him to engage with the memory of his earlier life as well as the newness of his present experiences. 
As the demand for Jangarh's work increased, he trained and employed members of his family and community to help with his painting. In the 1990s, Jangarh produced a series of black ink drawings with graded tonalities using only a technical drawing pen. He also produced bulk serigraphic prints of these drawings to meet the demand for them at the National Crafts Museum & Hastkala Academy and the Surajkund Mela, New Delhi. In addition to textural effects, Jangarh's technique of mark-making, with its repeated yet varying dots and lines, is seen to create a sense of movement and dynamism in his forms, an aspect that became a prominent feature of the Jangarh Kalam.
A skilled musician since early childhood, Jangarh regularly played the flute, and later a harmonica that he purchased during one of his three trips to Japan as an artist-in-residence. The rhythmic quality of his paintings and drawings, with their patterns of repeating marks, has been attributed to his inherited Pardhan musical culture, known to be unique among India's musical traditions. His background in performative traditions also expressed itself in his interest in theatre, and he was associated with Bharat Bhavan's theatre wing Rangmandal and its members. In 1989 he undertook set and poster design for a play directed by Lokendra Trivedi.
In 1990–91, theatre pioneer Ebrahim Alkazi showed Jangarh's paintings at his gallery Art Heritage, introducing him to the contemporary art world of New Delhi. In 1990, Jangarh painted the dome of Bharat Bhavan with an image of the Pardhan deity Bara Dev. In 1996, he was commissioned to paint a large mural at Vidhan Bhavan, the legislative assembly building in Bhopal, Madhya Pradesh. He was assisted in painting the 604-square-metre space by Ashish Swami, a Shantiniketan-trained associate, and a team of newly initiated Pardhan artists. Divided horizontally into three bands with colours representative of the sky, forest and earth, the mural is populated by images of gods as well as plant and animal forms and elements of modernity such as aeroplanes. Jangarh distributed his fee from the project among his co-artists, many of whom then went on to establish their own artistic practices in the Jangarh Kalam style.
He exhibited widely, including in Bhopal, Delhi, Tokyo, New York and Paris, notably at the Magiciens de la Terre at Centre Pompidou (1989) and the Other Masters exhibition curated by Jyotindra Jain at the National Crafts Museum, New Delhi (1998). He was awarded the Shikhar Samman in 1986 by the Government of Madhya Pradesh for his artistic innovations. In 2010, the sale of his painting Landscape with Spider (1988) at a Sotheby's auction in New York set a record for the price of an Adivasi artist's work. Despite the national and global recognition he received for his work, Jangarh did not see the financial success his contemporaries from the mainstream did, and continued to face economic burdens and various social and psychological pressures throughout his life.
Jangarh's life and work is the subject of three books: Jangarh Singh Shyam: The Enchanted Forest (2017) by Aurogeeta Das, featuring 123 of his artworks collected by his early patron, the scholar Mitchell Abdul Karim Crites; Jangarh Singh Shyam: A Conjuror's Archive (2018) by Jyotindra Jain; and Invisible Webs: An Art Historical Inquiry into the Life and Death of Jangarh Singh Shyam (2018) by filmmaker Amit Dutta. He is also the subject of a short documentary film Jangarh Film Ek (2008) by Dutta. 
In 2001, Shyam died by suicide in Tokamachi, Japan, while on residency to create paintings for the Mithila Museum. 
Bibliography
Chaudhuri, Zinnia Ray. "Gond artist Jangarh Singh Shyam's Forest is Full of Creatures That Were Never Meant to Be Seen." Scroll.in, October 16, 2017. https://scroll.in/magazine/854136/gond-artist-jangarh-singh-shyams-forest-is-full-of-creatures-that-were-never-meant-to-be-seen.
Google Arts & Culture. "Jangarh Singh Shyam." Accessed September 17, 2020.    https://artsandculture.google.com/entity/jangarh-singh-shyam/g11b6d9qqw4?hl=en. 
Jain, Jyotindra. Jangarh Singh Shyam: A Conjuror's Archive. Bengaluru: Museum of Art & Photography, 2018. 
Saffronart. "Jangarh Singh Shyam." Artists. Accessed September 17, 2020.   https://www.saffronart.com/artists/jangarh-singh-shyam. 
Shyam, Venkat Raman Singh, and S. Anand. "Gond Art Legend Jangarh Singh Shyam Killed Himself in Japan on This Day, July 3, 2001. Why?" Scroll.in, July 03, 2018. https://scroll.in/article/884978/gond-art-legend-jangarh-singh-shyam-killed-himself-in-japan-on-this-day-july-3-2011-why. 
Sunil, Aruni. "Jangarh Singh Shyam: A Gond Art Legend and Symbol of the Struggle of Indigenous Artists." Artisera: Expressions. March 20, 2020. Accessed November 7, 2023. https://www.artisera.com/blogs/expressions/jangarh-singh-shyam-a-gond-art-legend-and-symbol-of-the-struggle-of-indigenous-artists.