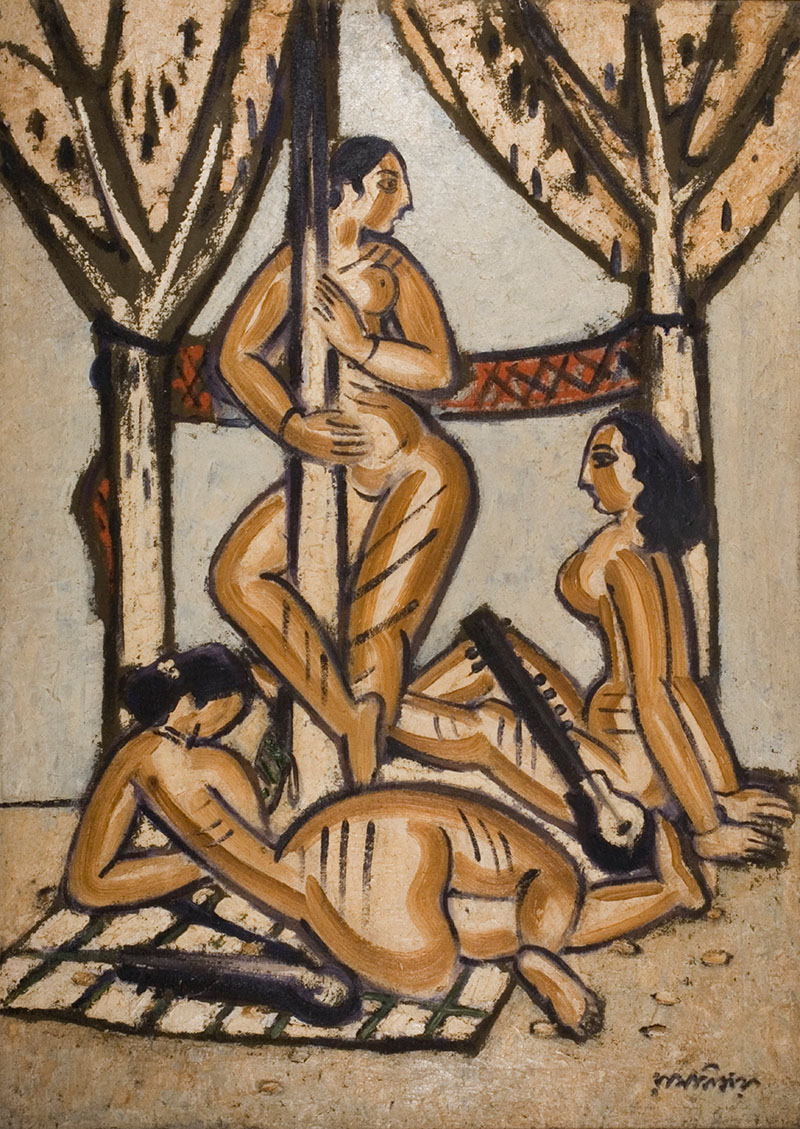 Picnic; Ramkinker Baij; c. 1936–1937; Oil on canvas; 665 x 612 cm; National Gallery of Modern Art, Google Arts and Culture
A painter and one of the first modern Indian sculptors, Ramkinkar Baij is known for his paintings of rural life in Bengal, his sculptures of the Santhal community in Shantiniketan and his portraits. He was the first Indian sculptor to use unconventional materials such as concrete, soil and pebbles as a medium in his sculptures — primarily because of their affordability — which lend his works a coarse, granular appearance. Although a part of the Bengal School, and steeped in nature and his local surroundings, Baij fused Impressionist, Cubist and Expressionist sensibilities with indigenous subjects in his art practice to develop his own idiom during his career. 
Born in 1906 in Bankura, West Bengal, Baij was orphaned at an early age. His engagement with art began c. 1920, when he joined a jatra group and began painting screen and stage props. The Indian Non-cooperation movement, which arose while he was preparing for his matriculation examination at the National School, Bankura, pushed him towards nationalist thought, and some of his early sculptures depict freedom fighters who participated in the movement. At the age of nineteen, in 1925, his work caught the attention of nationalist leader and journalist Ramananda Chatterjee, who enrolled him at Kala Bhavana, Shantiniketan. Baij spent the next three years at the institution, where his ideas continued to develop under the mentorship of artists such as Nandalal Bose and Rabindranath Tagore, and the European sculptors Lisa von Pott and Margaret Milward. Shortly after completing his studies at Kala Bhavana, Baij became a faculty member at the institution. 
At Kala Bhavana, he studied under the sculptor Deviprasad Roy Chowdhury and encountered the works of European avant-garde artists and sculptors. He also developed an interest in the labouring body in sculpture in the works of French sculptors Edouard Lanteri and Antoine Bourdelle and the use of materials such as bronze by Auguste Rodin. Another significant influence in Baij's treatment of rural subjects was the work of American sculptor Jacob Epstein, who incorporated methods such as rock-drills in his sculptures — a forerunner to Baij's own experiments with reinforced concrete and rubble in his works. Facilitating a deeper engagement with Tagore's ideas, Baij's work also began to reflect the influences of Humanism.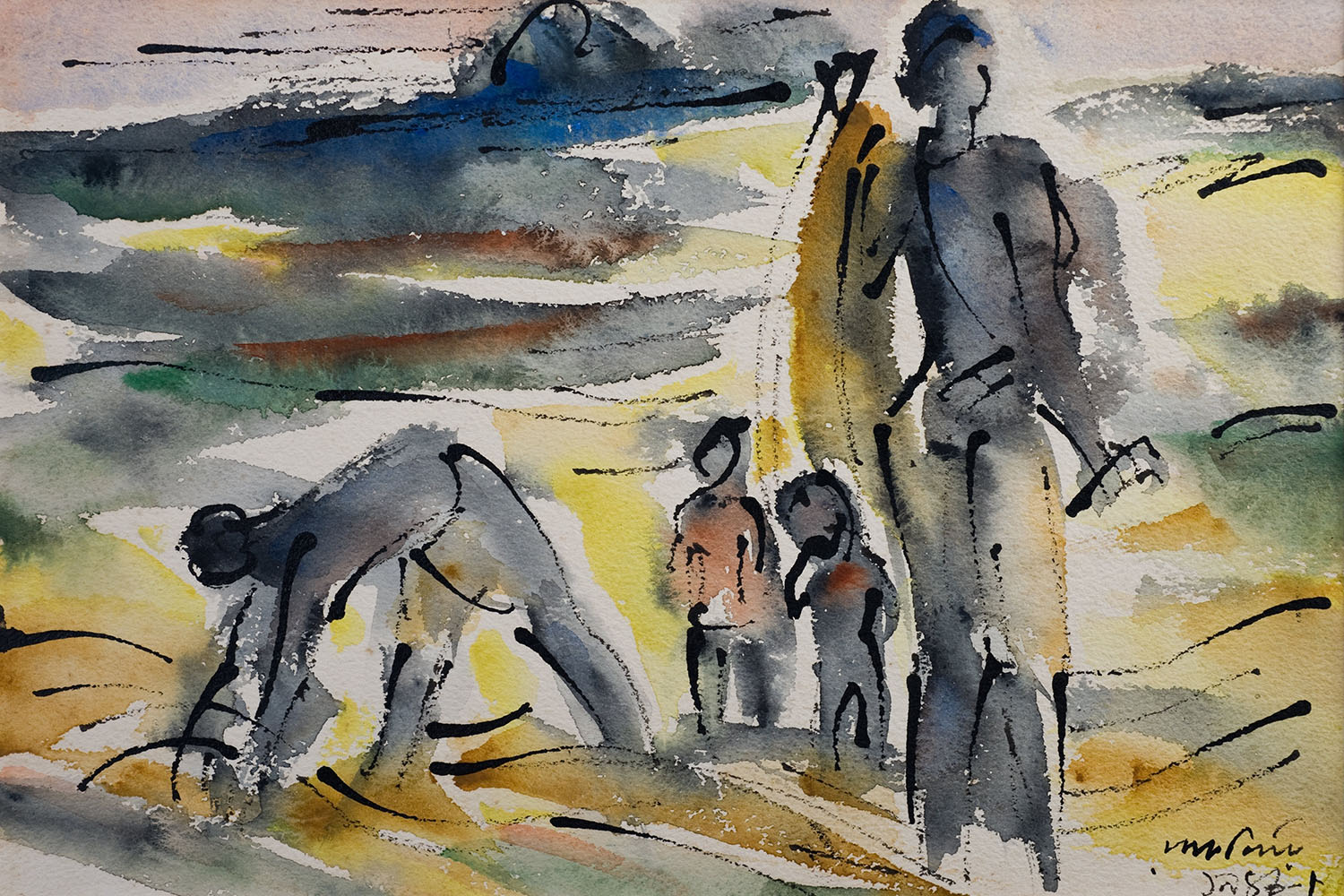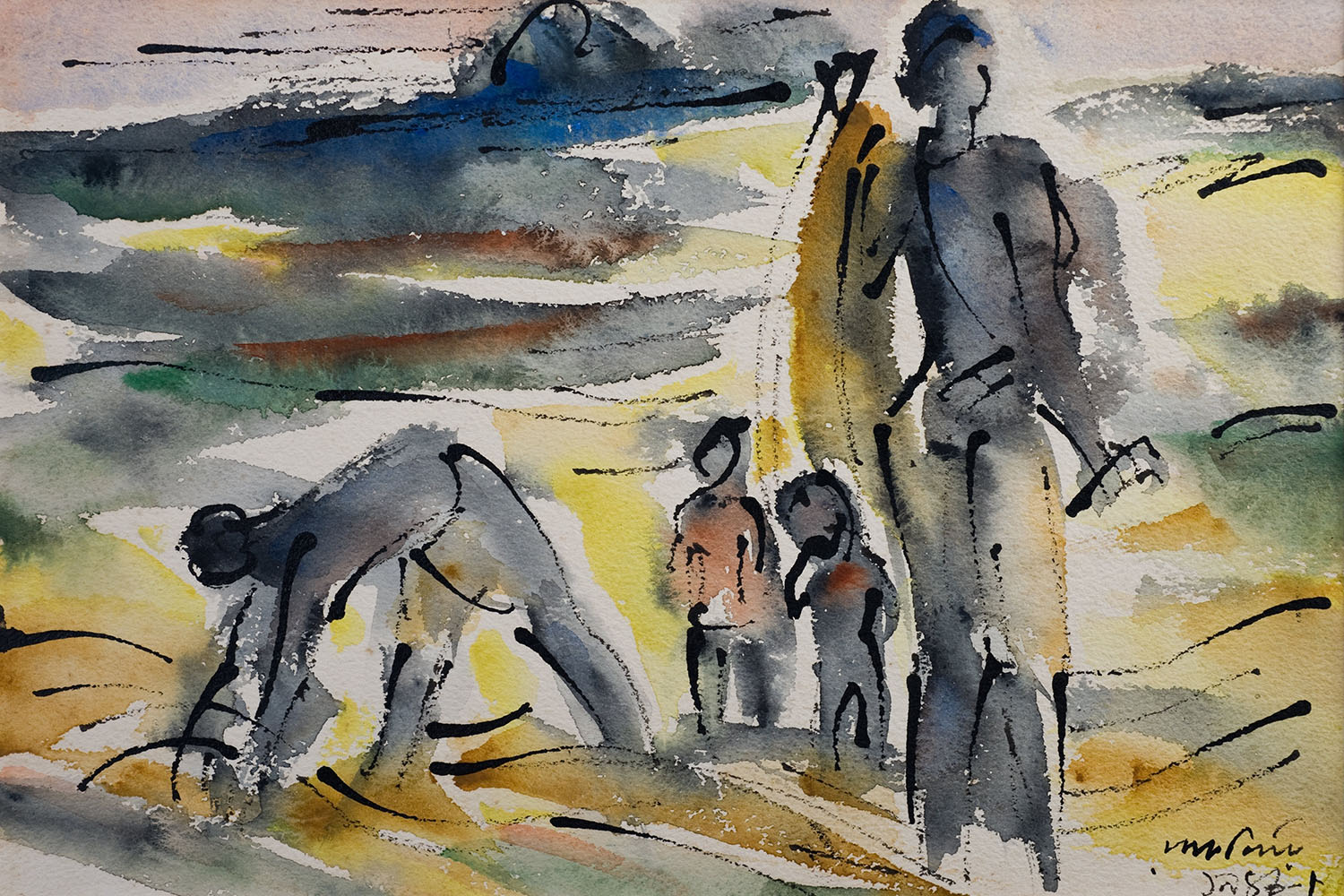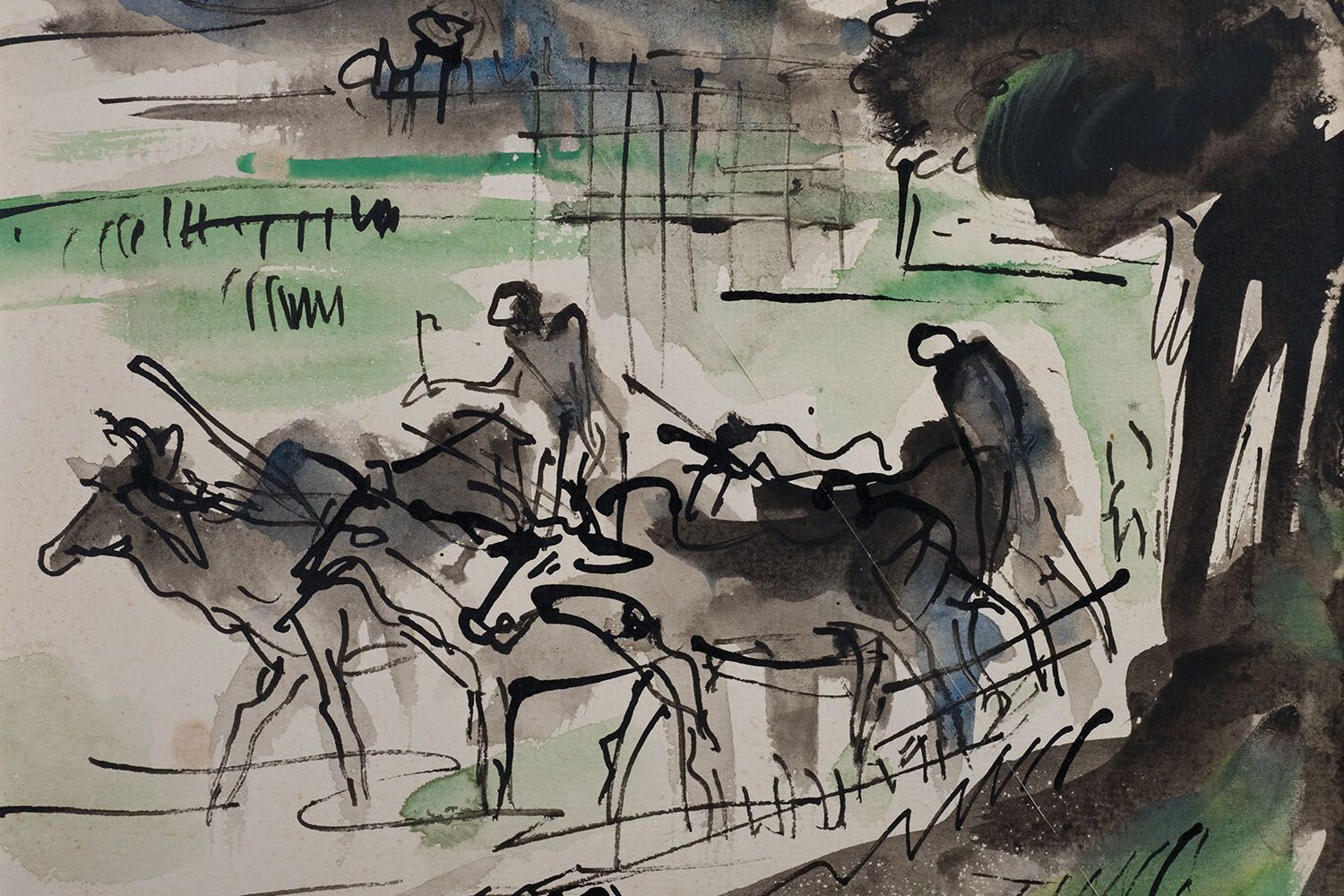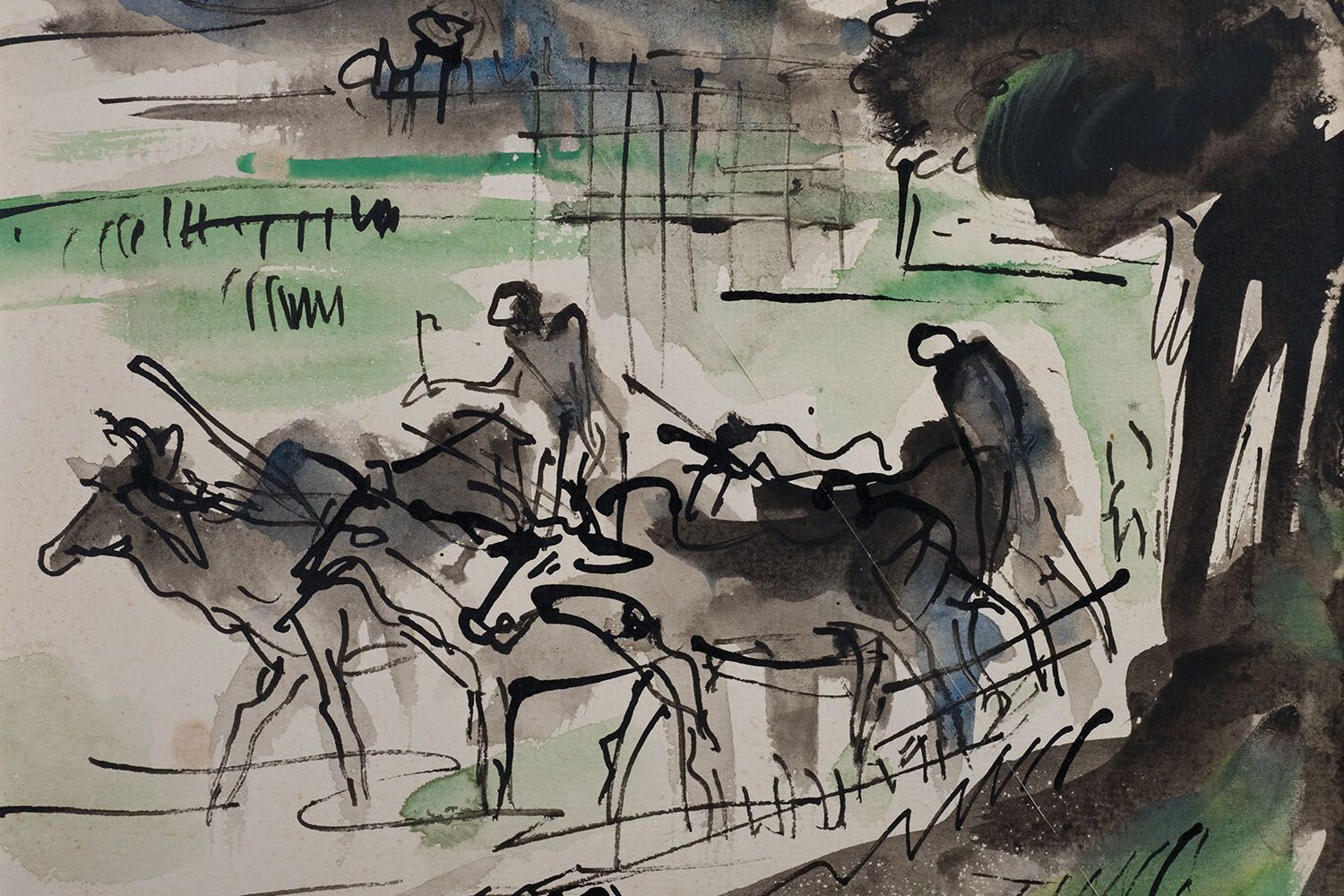 The Santhal community that lived on the outskirts of Shantiniketan was one of Baij's earliest subjects and inspired two of his monumental sculptures — Santhal Family (1938) and Mill Call (1956) — which subverted the established norms of sculpture and followed Romantic styles with delicate features. Additionally, the backgrounds in his works at the time featured thick impasto strokes that create a sense of the figures being knitted onto them. Baij also produced multiple portraits, including Pramod Ganguli (1935), Rabindranath Tagore (1940) and Binodini (1948/1949), often representing the whole body as opposed to just the bust in order to give the viewer a better sense of the subject. In 1943, he also produced the sculpture Famine to document the horrors of the famine that had ravaged Bengal in the same year. In 1955, he was invited by the Indian government to make two sculptures of a yaksha and yakshi for the building of the Reserve Bank of India, New Delhi. 
Baij's work has been displayed at the Salon des Réalités Nouvelles (1950) and the Salon de Mai (1951), Paris; Birla Academy of Art & Culture, Kolkata (1972); and the National Gallery of Modern Art, New Delhi (NGMA) (2012, 2020). In 1970, he received the Padma Bhushan for his pioneering contribution to Indian art, and in 1976, he was made a fellow of the Lalit Kala Akademi and conferred the honorary doctoral degree of Desikottama by Visva-Bharati University. Baij's works are part of the permanent collections of NGMA as well as other public and private collections. In 1984, a bronze bust of Rabindranath Tagore, fashioned from a 1940 study of the poet by Baij, was installed on the shores of the lake Balaton in Hungary on a promenade named after the poet. The sculpture, which was meant to commemorate Tagore's stay in the city in 1926, faced heavy criticism for being an inauthentic image of the poet — Tagore looked pensive and unlike any other popular image of himself. In the early 2000s, the sculpture was replaced by an Academic Realist sculpture of the poet. 
Baij died in Kolkata in 1980.
Bibliography
Appasamy, Jaya. "Ramkinkar Baij – His Contribution to Contemporary Art." Critical Collective. Accessed September 18, 2020. https://criticalcollective.in/ArtistInner2.aspx?Aid=429&Eid=604.
Delhi Art Gallery. Manifestations II: Indian Art in the 20th Century. New Delhi: Delhi Art Gallery, 2004.
Dhar, Arshia. "Remembering Ramkinkar Baij, the Legendary Sculptor who Laughed at Critics and Leaking Roofs Alike." Firstpost, May 28, 2019. https://www.firstpost.com/living/remembering-ramkinkar-baij-the-legendary-sculptor-who-laughed-at-critics-and-leaking-roofs-alike-6690631.html. 
Ghosh, Nandini. "Gaganendranath Tagore." In Art of Bengal: Past and Present, edited by Jogen Chowdhury. Calcutta: Centre of International Modern Art, 2001.
Kazmi, Nuzhat. "Ramkinkar Baij: An Indian Modernist from Bengal Revisited." Art Etc. Accessed September 18, 2020. https://web.archive.org/web/20171021035447/http://www.artnewsnviews.com/view-article.php?article=ramkinkar-baij-an-indian-modernist-from-bengal-revisited&iid=32&articleid=947.
Kumar, R. Siva. "Baij, Ramkinker." In Oxford Art Online. 2003. Accessed September 18, 2020. https://doi.org/10.1093/gao/9781884446054.article.T005758. 
Mitter, Partha. The Triumph of Modernism: Indian Artists and the Avant-Garde, 1922-1947. London: Reaktion Books, 2007. 
Ningthoujam, Diana. "A Portrait of the Muse." Financial Express, September 10, 2012. https://www.financialexpress.com/archive/a-portrait-of-the-muse/999854/. 
Ray, Pranabranjan. "Ramkinkar Baij's Santhal Family." Art Etc. Accessed September 18, 2020. http://web.archive.org/web/20200204213332/http://www.artnewsnviews.com/view-article.php?article=ramkinkar-baij-s-santhal-family&iid=35&articleid=1052
Sen, S. C. "An Interview with Ramkinker." The Visvabharati Quarterly 34, no. 1–4 (January 1971): 81–84.
National Gallery of Modern Art. "Portrait of Rabindranath Tagore." Google Arts & Culture. Accessed on August 31, 2023. https://artsandculture.google.com/asset/portrait-of-rabindranath-tagore-ramkinkar-baij/XgHAxT-ow7FmFA?hl=en