ARTICLE
Nandalal Bose
(b. 1882; d. 1966)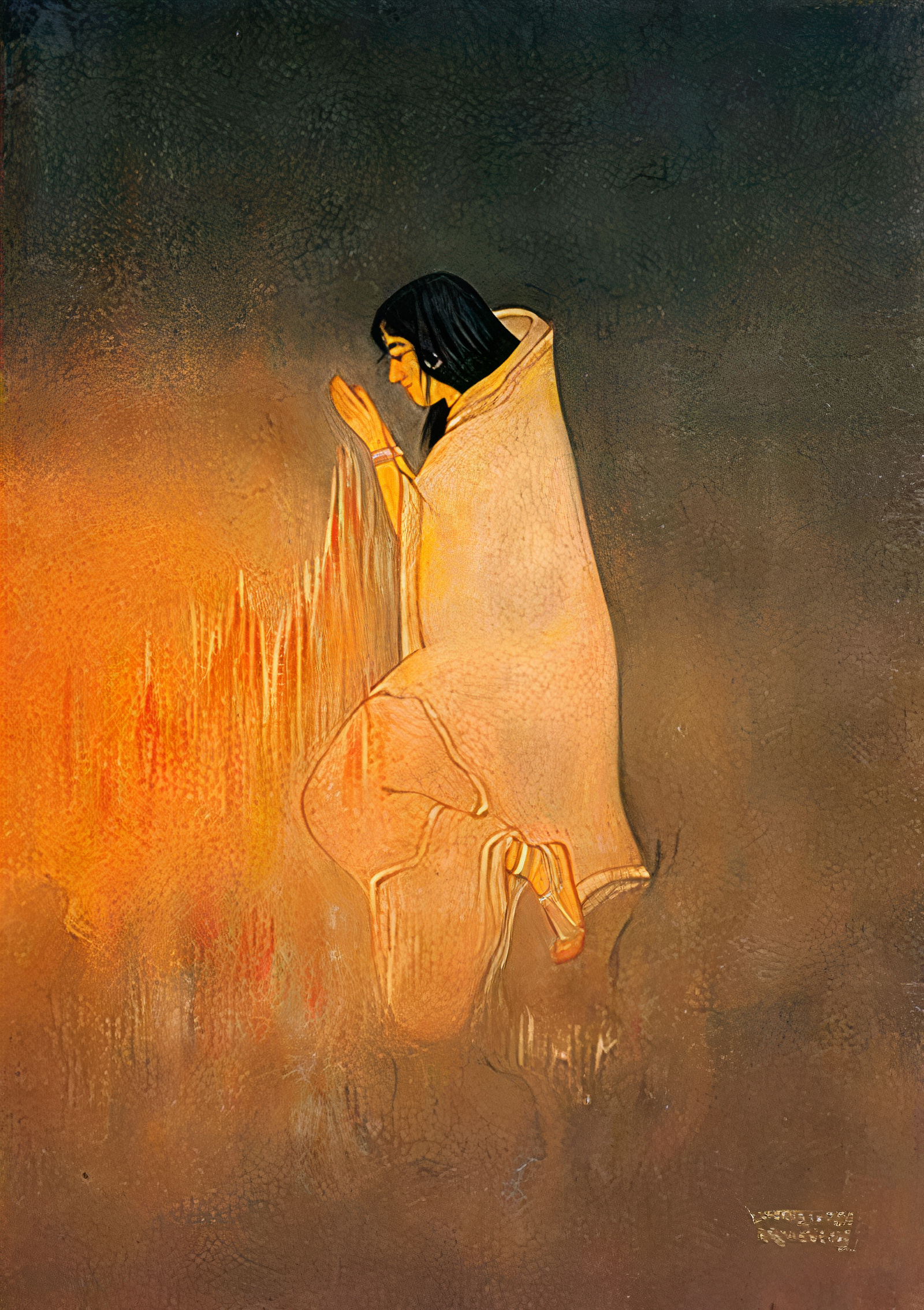 Sati; Nandalal Bose; c. 1943; WikiArt
Born to a middle-class Bengali family at Haveli Kharagpur, in the Munger district of Bihar, Nandalal Bose was an Indian modern artist and pedagogue. His works demonstrate a range of styles and influences, including the Revivalism and cultural nationalism of the Bengal School, as well as the ideas of scholars such as EB Havell and Sister Nivedita. His later, more individualistic work was informed by his direct and indirect associations with influential personalities such as Rabindranath Tagore, Mahatma Gandhi, Ananda Coomaraswamy and Okakura Kakuzo, along with his documentary study of the Ajanta murals. Most of his art was made using watercolours, although he was also well known for his linocuts, a number of which were rendered on postcards that later came to acquire significant value as collectibles. Bose is also among the earliest and most influential art educators in India, having helped set up the pioneering Kala Bhavana in 1920, taking on the role of principal and teacher there, influencing students who later became eminent artists, including Ramkinkar Baij and Benode Behari Mukherjee. Bose also published his own books on art: Drish o Srishti and Shilpa Charcha.
Bose was introduced to art at a very young age. When he was a child, his mother, Kshetramoni Devi, would fashion innovative toys and dolls to keep him entertained. Nandalal, who picked up his dexterity from his mother and was especially adept at clay modelling, put his talents to use during the annual celebration of Durga Puja, which involved decorating the pandals, or floats. He moved to Calcutta in 1897 to study at the Central Collegiate School and later pursued commerce as his major at the Presidency College in 1905 upon his family's insistence. He eventually managed to convince them — by dint of his poor performance — to let him attend the Government School of Art (now the Government College of Art and Craft), Calcutta, where he was practiced under the tutelage of Havell and Abanindranath Tagore, along with his peer Surendranath Ganguly.
His first exposure to the works of Raja Ravi Varma and Abanindranath was through the monthly Bengali magazine Probasi (or Prabasi), which began publishing in 1906. Abanindranath's paintings from this time made a particularly strong impression on young Bose, and his own work, such as the exemplary Mahasweta, reflects this early influence. His other early watercolour paintings, such as Sati (1907-08), internalised the nationalist politics of the time, causing him and his art to be noticed even while he was a student. In 1907, he obtained a travel scholarship from the then-newly established Indian Society of Oriental Art, for which he accompanied the scholar OC Gangoly on a study tour of the temple art of South India.
A decade or so later, Bose's artistic outlook and aesthetic sensibilities underwent a change after two related events: his first personal encounter with Japanese art through the work of Arai Kempo in 1916, and his first visit to China and Japan in 1924. When he took over the reins of the newly established Kala Bhavana in 1920, he had already made his mark under the ideological guidance of the Bengal School, with which he had grown dissatisfied. His engagement with Rabindranath deepened his distrust of the prevailing nationalist doctrines and opened his mind to the possibility of a modern Indian art that could be as original as it could be universal. His subsequent experiences of teaching and practising at Shantiniketan, therefore added specific flavours to his oeuvre, which was influenced in equal measure by the pedagogic philosophies of the school as by the local, vernacular cultures. Thus, in his most productive phase in the 1930s and 40s, Bose brought his wide range of styles and influences to bear not just on his art, but also in his contributions to Kala Bhavana as well.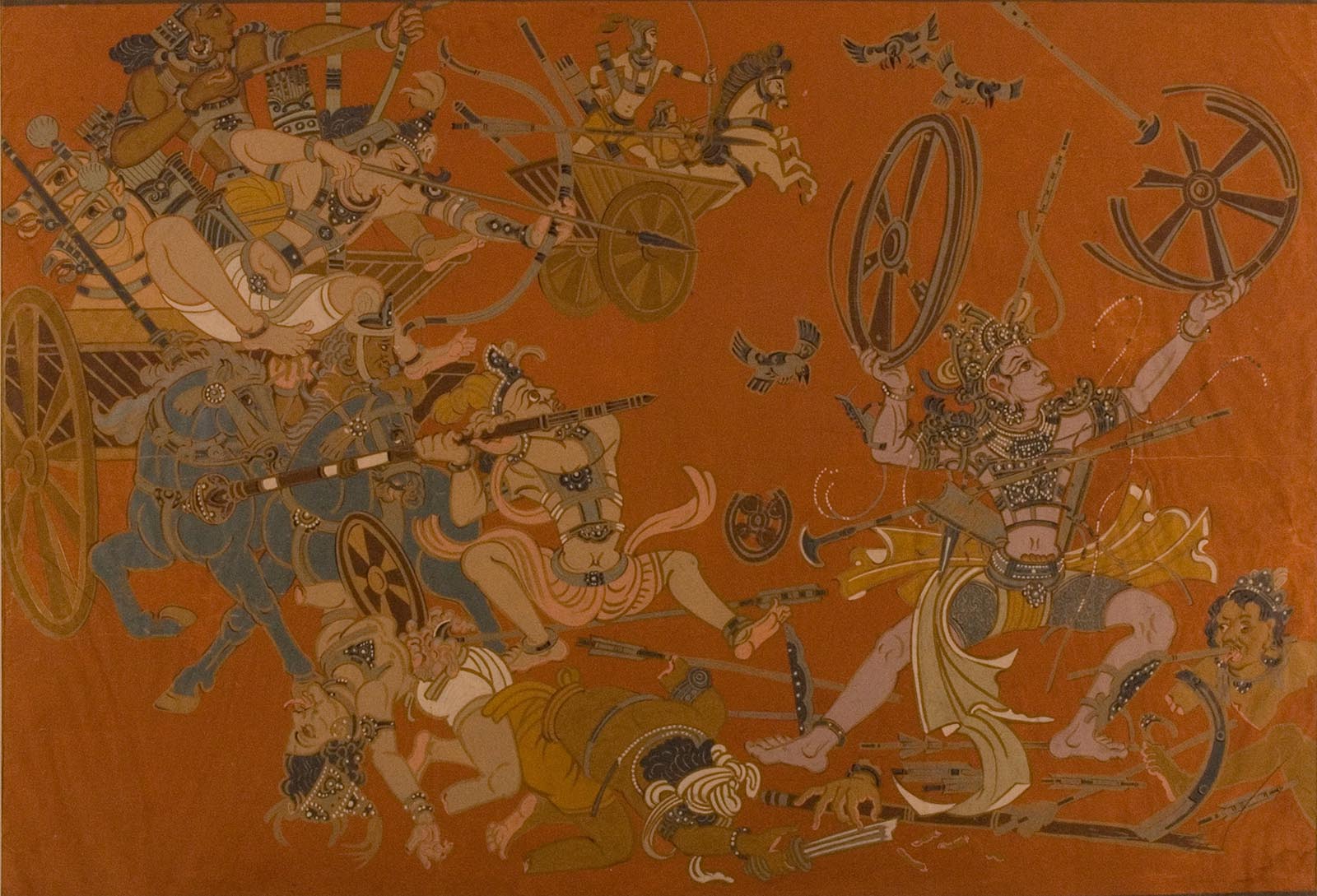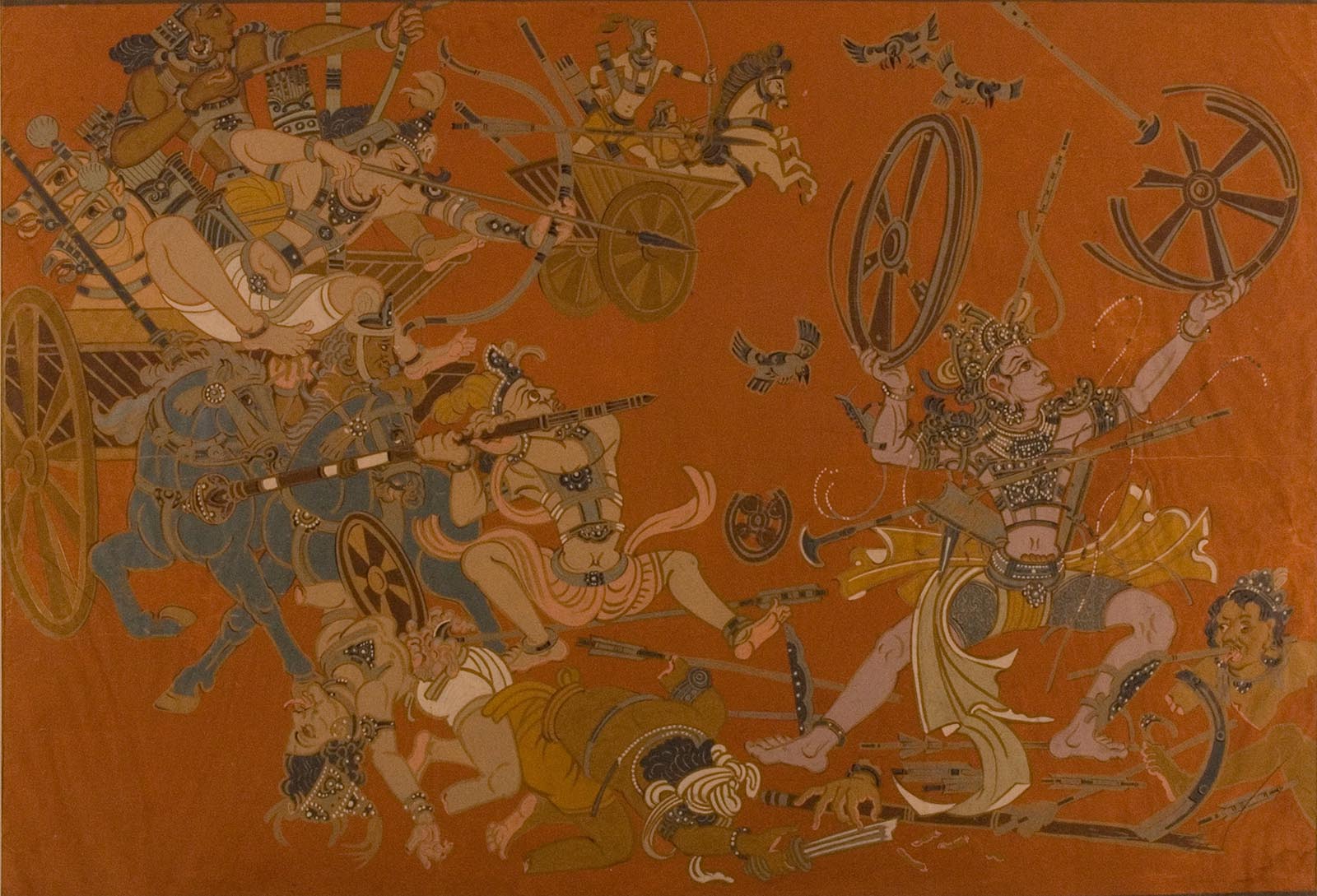 In 1930, when Gandhi launched the Dandi March, Bose commemorated the event with a linocut image of him with his walking stick – which has now become an archetypical image. On Gandhi's request, he also made a number of posters for the Indian National Congress' Haripura Session in 1938, drawing on the art traditions, celebrations and everyday scenes of rural India. He also illustrated Rabindranath Tagore's book collection Sahaj Path (first published in 1937) with linocut prints. Bose also produced a number of paintings in his distinctive idiom, among which was the celebrated work, Sabari in Her Youth (1941-42), depicting a scene from the Ramayana in which a young girl, possibly of indigenous background, perched upon the branches of a tree waiting for Rama to redeem her. The painting is also considered an homage to Tagore's vision for Shantiniketan and its spirit of oneness with nature and humanity.
Inspired to revive the mural painting tradition of India, he produced important works such as the landscape Bagadar Road (Hazaribagh) (1943) — rendered in tempera, like the frescoes at the Ajanta Caves, which it sought to pay tribute to — and Abhimanyu Vadh (1946-47), a narrative scene from the Mahabharata that portrays the entrapment and killing of the mythological hero, Abhimanyu. In 1946, he also created wall murals for the Kirti Mandir, a memorial for Mohandas and Kasturbhai Gandhi in Baroda.
Among the many testaments to his commitment to building a visual and cultural national identity, and his stature as an artist at the forefront of the newly independent India, was the original manuscript of the constitution of India (enacted in 1950), which he, along with his students, hand-illustrated. He was also famously requested by India's first prime minister Jawaharlal Nehru to sketch the emblems of the Government's highest civilian awards: the Padma Shri and the Bharat Ratna.
Bose was, arguably, the most influential and historically referenced artist of his era. His public participation in nationalist discourses, his pedagogic contributions and the unparalleled visibility of his art have cemented his position in the ranks of the new Indian Modernists, earning him numerous accolades, including the Padma Vibhushan in 1954, Fellowship of the Lalit Kala Akademi in 1956, an honorary D.Litt from the University of Calcutta in 1957 and the Tagore Birth Centenary Medal by the Asiatic Society of Bengal in 1965. In 1993, the Government of India issued a postage stamp of Bose's painting Pratiksha, to commemorate his birth centenary.
Most of his paintings are held today by the National Gallery of Modern Art, New Delhi, and in private collections in India and abroad. Throughout his life, Bose was adored by both his teachers and students and, after his death in 1966, has been remembered as a sensitive and encouraging teacher as well as a dauntless explorer who constantly sought new avenues and modes of expression.
Bibliography
Chatterjee, Prerna. 2018. "Celebrating Nandalal Bose, artist who rejected everything British & designed India's constitution." The Print, December 3, 2018. https://theprint.in/features/celebrating-nandalal-bose-artist-who-rejected-everything-british-designed-indias-constitution/156874/
Google Arts and Culture. n.d. "Nandalal Bose." Accessed September 23, 2020. https://artsandculture.google.com/entity/nandalal-bose/m0bsxtb?hl=en&date=1943
Kowshik, Dinkar. 1985. Nandalal Bose, the Doyen of Indian art. New Delhi: National Book Trust, India.
Kumar, R. Siva. 2003. "Nandalal Bose." In Grove Art Online. Oxford Art Online. https://doi.org/10.1093/gao/9781884446054.article.T010273
Mallik, Sanjoy Kumar. n. d. "Nandalal Bose." Art. Etc. News & Views. Accessed September 23, 2020. http://www.artnewsnviews.com/view-article.php?article=nandalal-bose&iid=22&articleid=558.
Tagore, Rabindranath, O. C. Gangoly, Ramkinkar Baij, et al. 1971. "Nandalal Number." The Visvabharati Quarterly 34, no. 1–4 (January 1971).