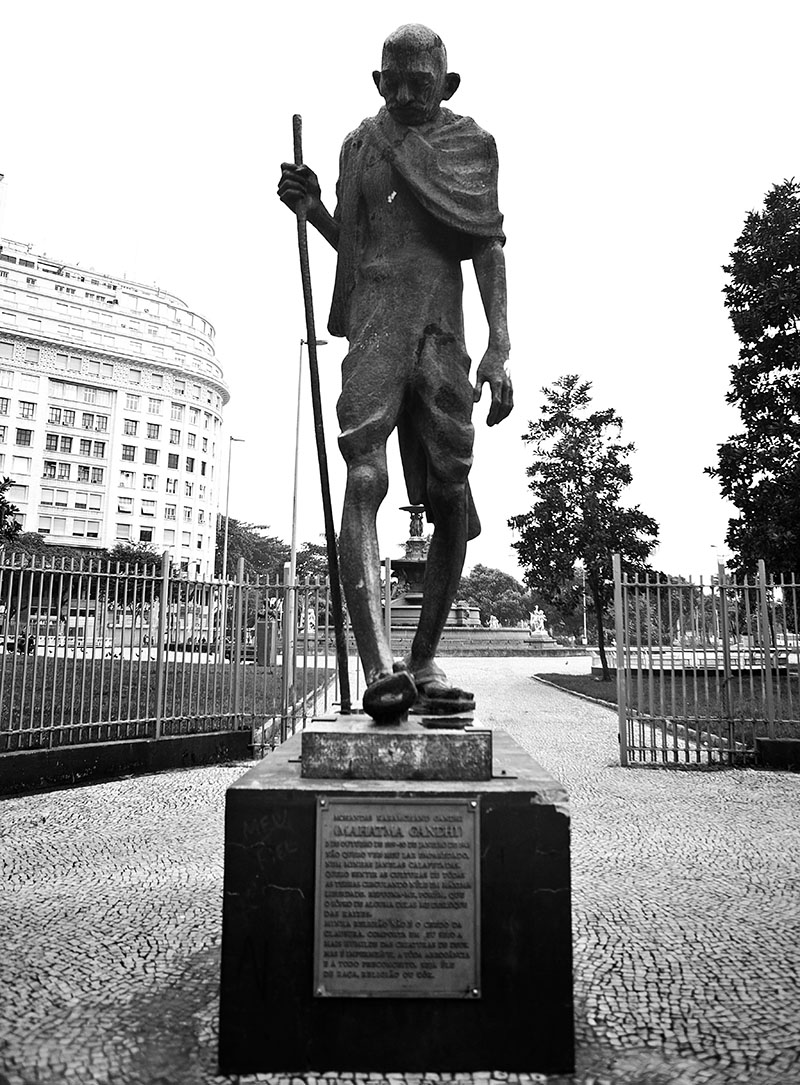 Gandhi; Sankho Chaudhuri; c. 1969; Rio de Janeiro Department of Conservation, Google Arts and Culture
A renowned sculptor with a career spanning most of the twentieth century, Sankho Chaudhuri was one of the first artists to move Indian sculpture into its Modernist and Abstract phase, as a counterpoint to the prevalent style of European Naturalism. Born in Santhal Pargana, Bihar in 1916, Chaudhuri graduated from Shantiniketan (in present-day West Bengal) in 1945 and founded the sculpture department at the Faculty of Fine Arts (FFA), Baroda in 1949, where he continued to teach and work until the 1970s.
While at Shantiniketan, Chaudhuri came into contact with other artists, including Nandalal Bose, Benode Behari Mukherjee and KG Subramanyan as well as potter Ira Chaudhuri, whom he later married. He was also taught and majorly influenced by Ramkinkar Baij, a leading Modernist sculptor. It was under Baij's tutelage that Chaudhuri experimented with abstraction and began to move away from Naturalism. He also worked with Baij on large commissions, such as the War Memorial in Nepal in 1945, where he picked up the lost wax method of metal casting. In 1949, while on a study tour of Europe, Chaudhuri visited Paris, where he was introduced to the work of Romanian sculptor Constantin Brancusi. Brancusi's focus on pure, unadorned form inspired Chaudhuri to incorporate similar qualities in his own work. After returning from Paris, he was invited to set up and teach at the sculpture department at the FFA in Baroda, where he would continue as head of department until 1970, also briefly serving as dean of the faculty. From the 1970s onwards, Chaudhuri was affiliated with various other institutions, briefly teaching at Shantiniketan, Banaras Hindu University and the University of Dar-es-Salaam in Tanzania. He also served as the secretary, and later chairman (1984), of the Lalit Kala Akademi, where he initiated art camps, the first of which was held in 1962. Chaudhuri was also instrumental in setting up the Garhi Artists' Studios, Delhi, as well as the Museum of Man, Bhopal, Madhya Pradesh.
Chaudhuri's works reflect a preoccupation with natural elements and the human form, as well as the idea of a subtle preservation of the original shape of the wood or stone block from which the sculpture was carved. As a result, his works, even when identifiably figural, often hint at a more geometric than human form and are characterised by clear lines. A notable example of this is Untitled (Figure of a Woman) (1956), a wooden sculpture of a seated woman that is sharp and angular in its occupation of space but smooth and fluid in its figural details. Chaudhuri was also known to work with different sizes using a variety of materials, such as bronze, steel and other metals as well as wood and marble.
Chaudhuri's works have been shown at major exhibitions, including a 1954 Exhibition of Contemporary Sculpture at the National Gallery of Modern Art (NGMA), New Delhi; a solo show in 1957 held in Delhi and sponsored by the Keehn family; and a retrospective at the NGMA in 1997. Chaudhuri has also received significant commissions, such as the 1957 work Music for All India Radio and the monumental bronze statues of Mahatma Gandhi installed at Rio de Janeiro and Copenhagen in 1964 and 1986 respectively. Chaudhuri was also the recipient of the Indian government's first grant-in-aid to young artists in 1948. He was awarded the Lalit Kala Akademi's National Award in 1956 for his statue Untitled (Figure of a Woman) and the Padma Shri in 1971. Throughout his life and career, Chaudhuri produced work that existed outside the bounds of a particular school or style, always experimenting with different materials and approaches. He passed away in 2006, at the age of ninety.
Bibliography
Our website is currently undergoing maintenance and re-design, due to which we have had to take down some of our bibliographies. While these will be re-published shortly, you can request references for specific articles by writing to hellomapacademy@map-india.org.