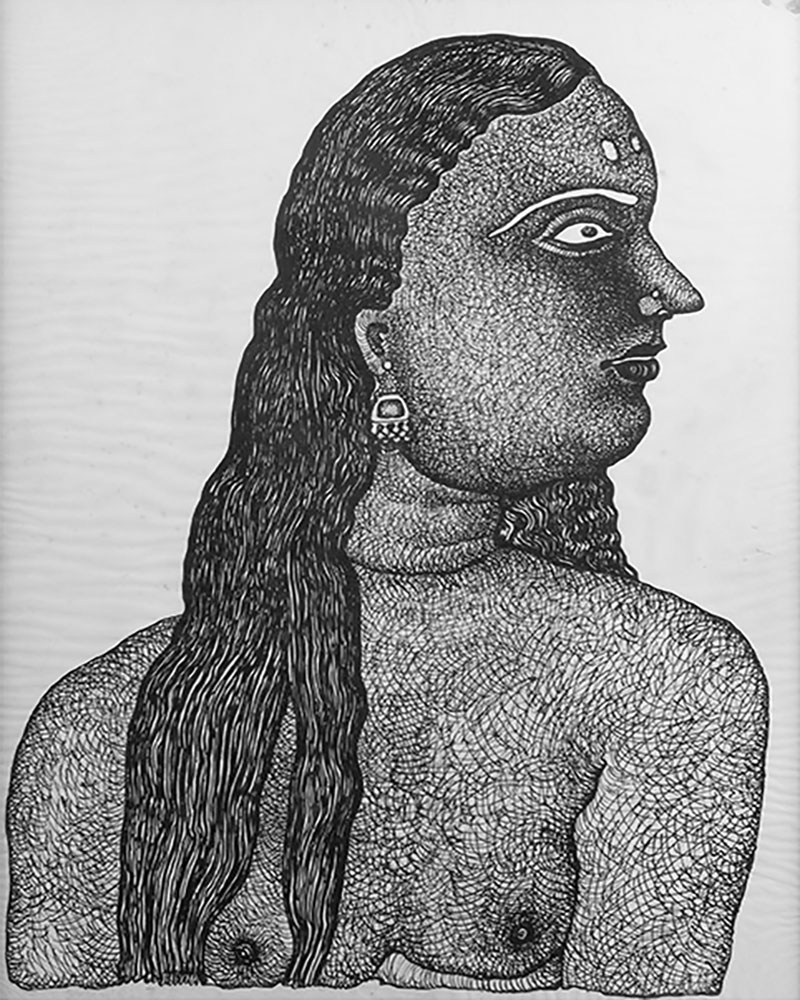 Girl.; Jogen Chowdhury; c. 1989; Ink on Paper ; 48 x 37 cm ; Museum of Art & Photography (MAP), Bengaluru
Born in Daharpara village in the Faridpur district of present-day Bangladesh, Jogen Chowdhury is a contemporary artist renowned for his ink, watercolour and pastel-based paintings. Although Chowdhury's work spans a variety of subjects — such as botanicals, still lifes and animals — he is best known for his human figures, rendered using line contours and cross-hatching. His depiction typically features flaccid, disfigured and contorted human forms, which are intended to embody both the decadence and decay of society. The languid, flowing figures are inspired by his childhood fascination with creepers and tendrils, which were commonplace where he grew up, and the deep connections he forged with the environment.
In 1955, at the age of sixteen, Chowdhury moved to Calcutta (now Kolkata) with his family. He enrolled at the Government College of Arts and Craft, Calcutta, with a specialisation in painting, where he was introduced to the work of artists such as Abanindranath Tagore, Jamini Roy, Benode Behari Mukherjee, Nandalal Bose and Ramkinkar Baij. After his graduation, he taught art at Howrah Zilla School for two years. During this time, he also worked on his personal practice and began making drawings using the cross-hatching technique in black ink on cheap paper, newsprint and coated pasteboards. The imagined subjects of his drawings and oil-paintings reflected the socio-political and sectarian strife in Calcutta, along with his own melancholy.
Still undecided about his career and keen to explore his options, he joined the Handloom Board, Calcutta, where he worked as a textile designer from 1962, until he received a scholarship from the French government in 1965. He then left for Paris to study at L'Ecole Nationale Supérieure des Beaux-Arts, with a specialisation in fresco and mosaic, also joining William Hayter's Atelier 17 to learn printmaking while there. His discovery of the "European masters" and the larger cultural ethos of European Modernism through his numerous visits to museums, galleries and churches left him overwhelmed and unsure of the space he occupied as an Indian artist and the form his art ought to take. It is during this time that the human body had begun to appear as a central motif in his art.
When he returned to India in 1968, he did so with the clarity that he wanted to develop a style that neither relied on Western techniques and conventions nor on India's past, but one that arose from personal experience, unbound by time or tradition and responding instead to the present. That same year, he began working as a textile designer at the Weavers' Service Centre in Madras (now Chennai), where he met eminent artists such as KCS Paniker and Sultan Ali, and also held two exhibitions. In 1969, Chowdhury began experimenting with pen-and-ink black line drawings, producing a series of works titled Reminiscences of a Dream — an homage to his childhood in East Bengal (now Bangladesh) — which featured flora and fauna as well as his memories, expressed in a surreal manner. In 1970, while in Chennai, he became a member of the Calcutta Painters Group in support of their quest for an artistic idiom that was free of conventions (both of the Bengal School and of international Modernist art more generally).
Two years later, Chowdhury moved to Delhi, where he was invited to curate for the President's estate at the Rashtrapati Bhavan. While there, his explorations of the human form continued in his depictions of men, women, gods and political figures. In 1975, Chowdhury and other Delhi artists founded Gallery 26 and Artists' Forum, and in 1981, he launched the journal Art Today along with Shuvaprasanna Bhattacharjee. During his fifteen years in Delhi, Chowdhury produced paintings such as Noti Binodi, Sundari, Life-1, Life-2, Tiger in the Moonlit Night and Ganapati. Joining Kala Bhavana as a professor of painting in 1987, Chowdhury continued using mediums such as pen-and-ink, pastels, pen-and-brush, watercolours and oil colours, but with an emphasis on line. This imbued his subjects with sensual, corporeal and dream-like qualities. Across his body of work, his choice of material and style was a conscious gesture of individuality, which later became the hallmarks of his work.
Chowdhury was considered a maverick painter, who formulated a unique idiom and language in his art. His artistic prowess received much attention and accolades, some of which include the Kalidas Samman by the Government of Madhya Pradesh, India (2001); the Prix de la Jeune Peinture, Paris (1966); and an award at the second Havana Biennial, Cuba. Internationally, his work has been displayed at the 15th São Paulo Biennale; the International Exhibition, Cagnes–sur–Mer; Indian Painters, Nogent le Rotrou, France; Gajah Gallery, Singapore; Foundation for Indian Artists (FIA), Amsterdam; Fine Art Resource, Berlin; and Indigo Blue Art, Singapore. His more recent shows in India include those at the Lalit Kala Akedemi, New Delhi; DAG, New Delhi; Gallery Veda, Chennai; ICIA, Mumbai; and Vadehra Art Gallery, New Delhi.
At the time of writing, Chowdhury continues to work at Kala Bhavana and lives in Shantiniketan.
Bibliography
Our website is currently undergoing maintenance and re-design, due to which we have had to take down some of our bibliographies. While these will be re-published shortly, you can request references for specific articles by writing to hellomapacademy@map-india.org.