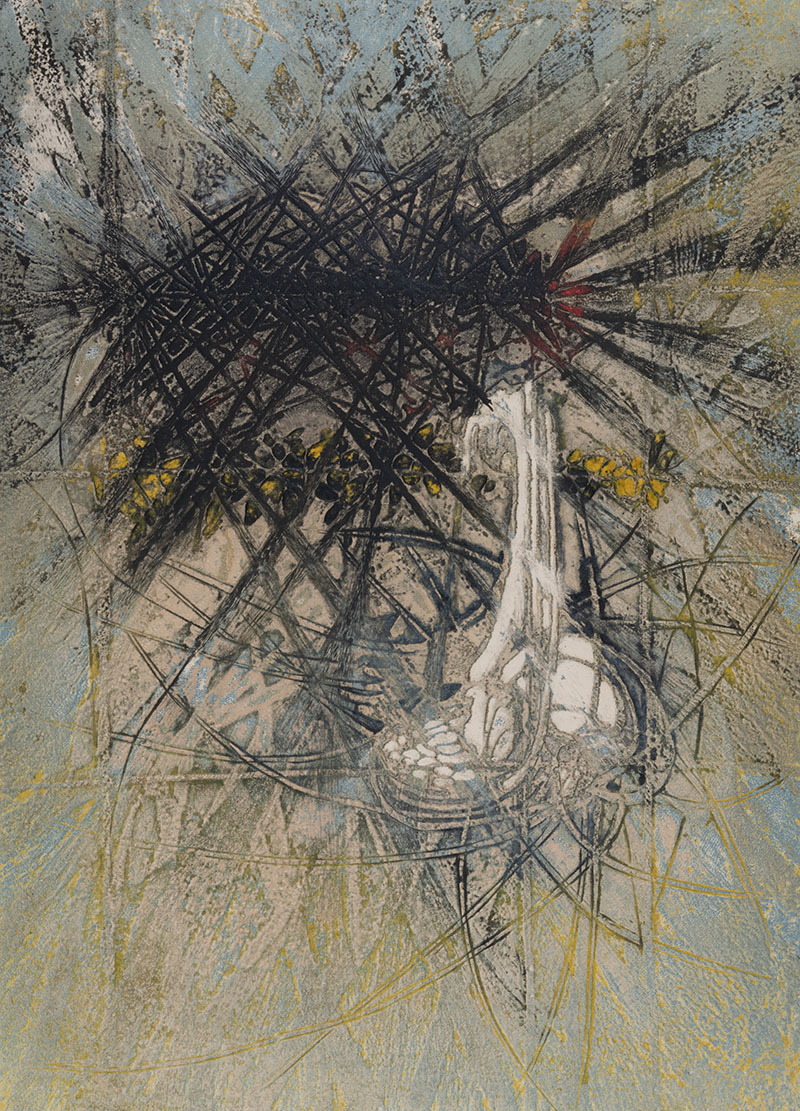 Maternity; Krishna Reddy; c. 1954; Colour intaglio on paper; 45.1 x 33 cm; Museum of Art & Photography (MAP), Bengaluru
A printmaking technique that uses variations of scratching, cutting or incising to create images and designs on metal sheets — typically copper or zinc. The sheet is coated in thick ink which is then wiped off the surface, retaining only the ink inside the grooves of the image. The image is then pressed on a sheet of paper using a high-pressure roller press to catch the gathered ink. The resulting print is slightly raised along the portions containing the ink as these areas are rolled the hardest. The most commonly used intaglio methods are aquatint, mezzotint, drypoint, engraving and etching.
In the sixteenth century, intaglio succeeded woodcut printing as the most widely used printing method in Europe. The technique was subsequently introduced to India in the early eighteenth century by Danish missionary Bartholomaus Ziegenbalg, whose book The Evangelists and the Acts of The Apostles contained the first recorded etching of a colour image in the subcontinent. Gramatica Damulica, another work by Ziegenbalg, contains the earliest example of plate engraving in the country. By the late eighteenth century, intaglio became an established practice in India, particularly in Calcutta (now Kolkata), where several workshops catering to British and European artists visiting the subcontinent had been set up. Prominent among these were Thomas Daniell and his nephew William Daniell, whose compilation of etched prints, Twelve Views of Calcutta (1786), was the first application of mass-produced single sheet intaglio printing in India.
Among Indian artists, the earliest large-scale printmaking studio was established in 1919 at Kala Bhavana by the Tagore family. The Jorasanko residence provided a more informal space for experiments with printing and was the site of regular gatherings of the Bichitra Club, a collective comprising the Tagores and other artists. A notable member of this group was Mukul Chandra Dey, who used intaglio and other printmaking techniques to depict Indian legends and everyday life. Other prominent Indian printmakers include Laxma Goud, known for his etchings and aquatints focusing on rural and folk art, and Krishna Reddy, who set up his own press in 1955 and was known for his experiments in multicolour intaglio. Artists from the Baroda School, particularly Jyoti Bhatt, also showed a keen interest in printmaking and also introduced the medium to artists such as Jeram Patel, who went on to make a name primarily as a printmaker. Notable studios for printmakers in the country include Garhi Studios in New Delhi, founded by Sankho Chaudhuri in 1976, and Chhaap, a cooperative printing studio in Baroda founded by Gulammohammed Sheikh, Vijay Bagodi and Kavita Shah in 1999.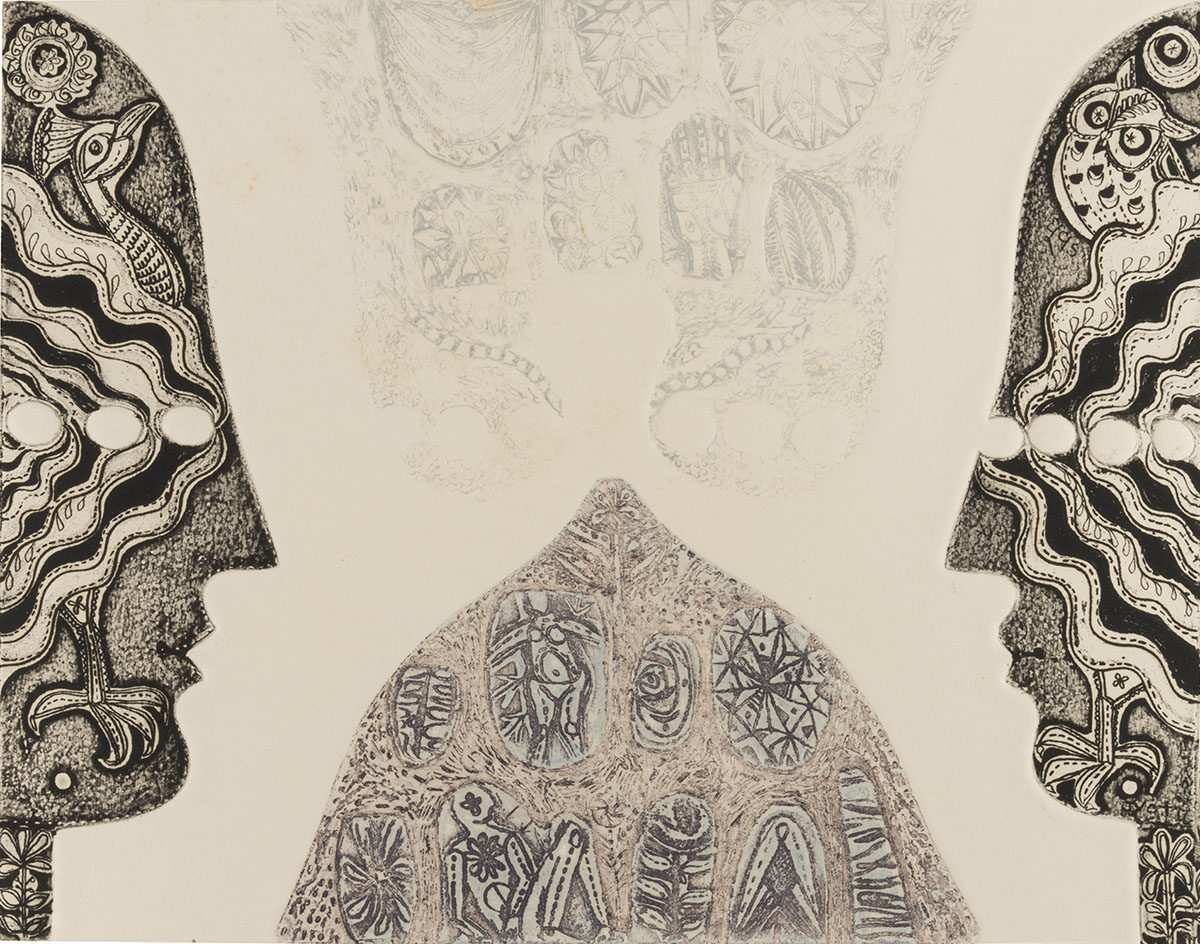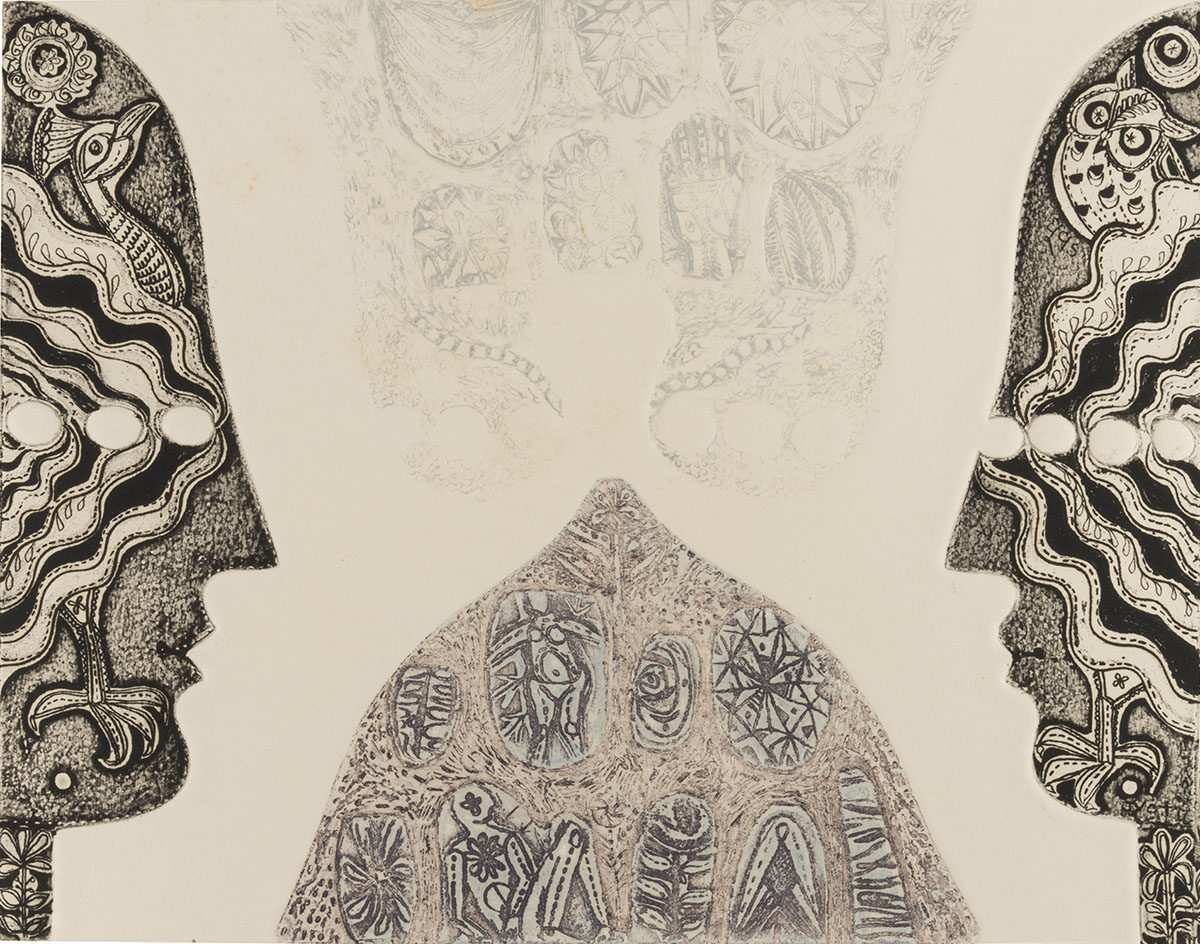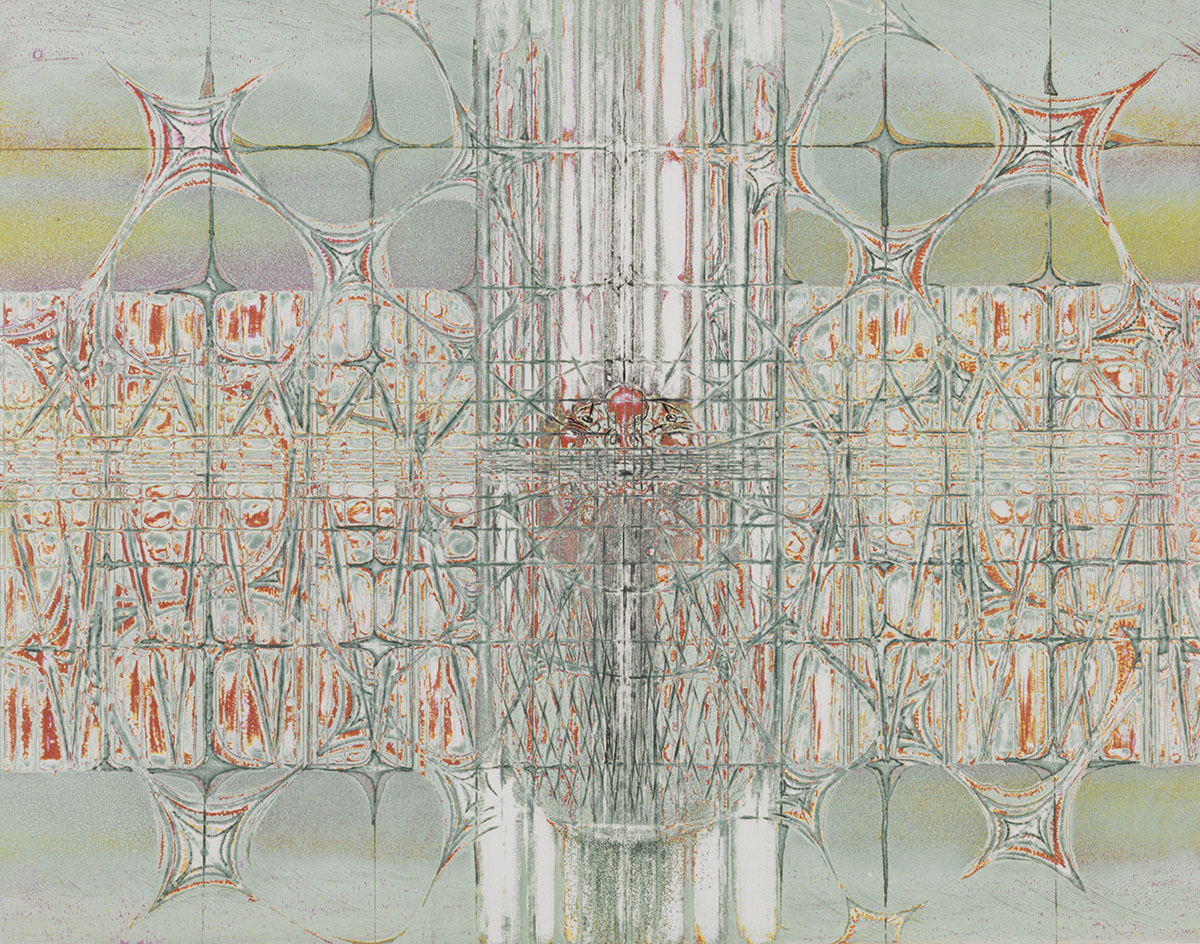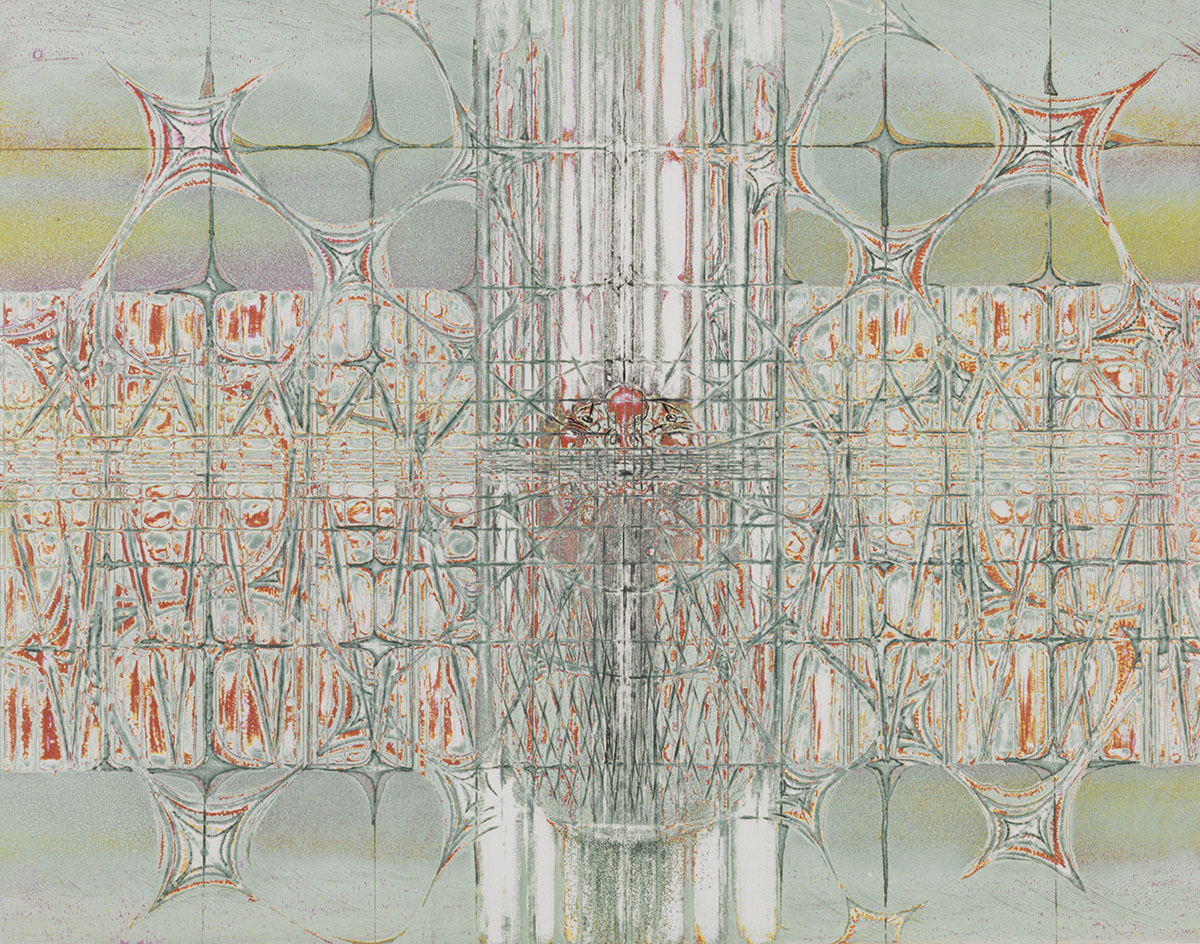 Intaglio prints have come to be associated with precision, reproducibility and clarity, making it a choice medium for artists such as Anupam Sud and Zarina Hashmi, both of whom used the technique's traits as core ideas in their work; for instance, Hashmi used etched or engraved maps of the subcontinent to convey the history of rigid borders and migration in the region's recent past.
Over the years, the process of intaglio has been adapted to accommodate varying textures, strokes and colours, increasing the reproducibility of the print. Outside of art, intaglio is used to print currency notes, passports and rare postage stamps. Today, intaglio printmaking also includes certain kinds of plastic sheets and treated paper, although zinc remains the most commonly used material.
Bibliography
Our website is currently undergoing maintenance and re-design, due to which we have had to take down some of our bibliographies. While these will be re-published shortly, you can request references for specific articles by writing to hellomapacademy@map-india.org.